September is National Preparedness Month!
Last Updated September 24, 2021
|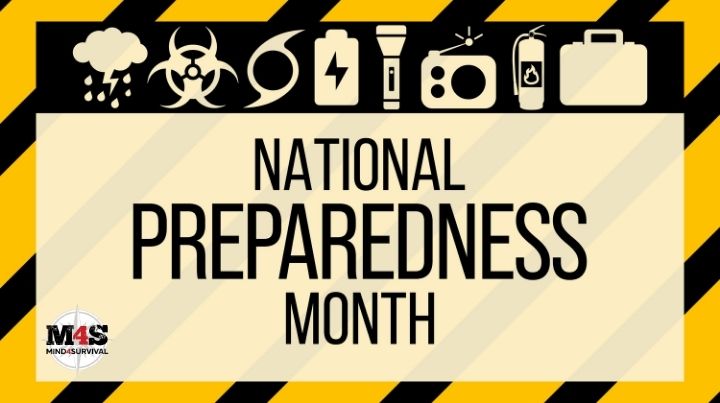 In honor of September being National Preparedness Month, we're bringing you our list of top mini-preps and activities that you can tackle in a short period of time. Take a few minutes each day and tackle the mini preparedness task du jour. Bookmark this page and check back daily for new tips during the entire month of September.
National Preparedness Month Week 1:
9/1/21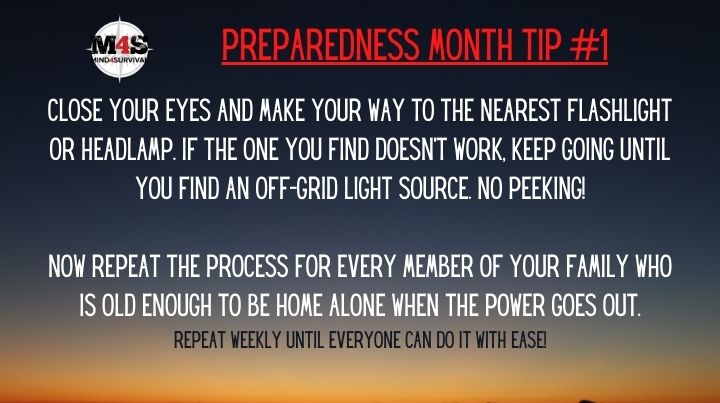 9/2/21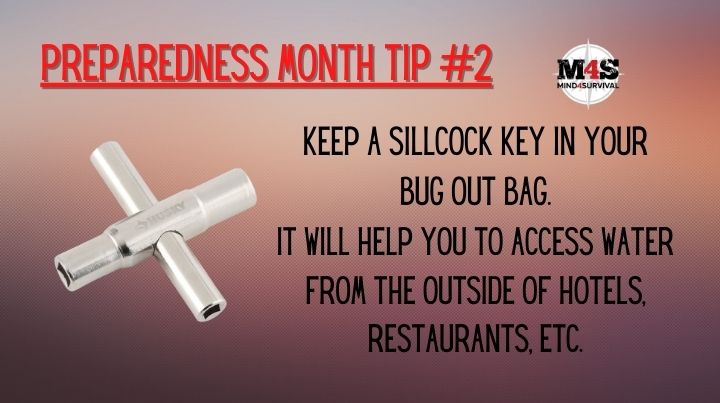 At under $10, you can't go wrong by adding a sillcock key to your kit. Many office buildings, hotels, restaurants, and municipal buildings have water access points on the outside of their buildings, but you need the handle or a sillcock key to turn the water on. (Think hotels watering their landscaping) Sillcock keys are designed with the four most common valve sizes and can get you water in many situations where others can not. Not sure where to find them? You can get one here!
Bonus mini tip: Turn counterclockwise to turn valves on!
9/3/21
Swap them around and be sure to use up the oldest pills first every few months!
9/4/21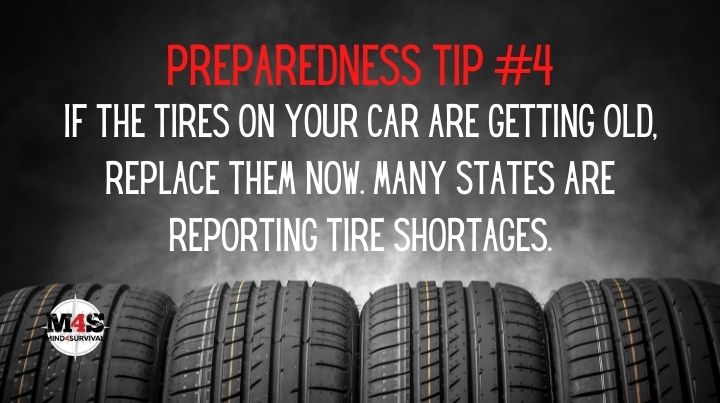 The last thing you need is to lose the ability to travel due to supply chain shortages. Depending on your location, you may depend upon your vehicle for access to income, supplies, and/or medical care. Tire shortages are beginning to pop up all across the country, with many people waiting weeks or months for them to be in stock. If you know your car, truck, or trailer will need tires soon… Buy. Them. Now. You will be very glad you did!
9/5/21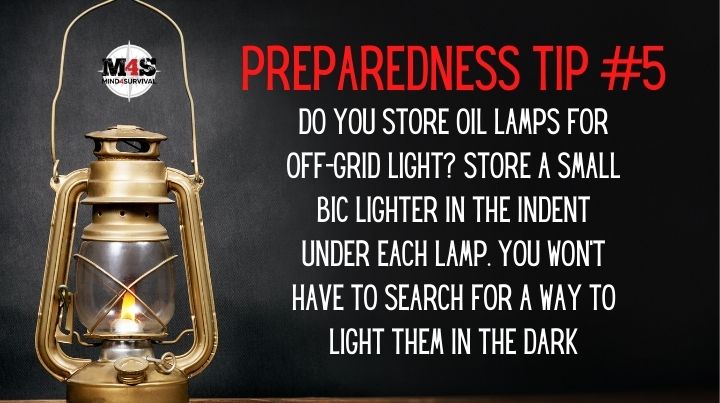 Also, remember that your lamp oil will evaporate over time. Set a yearly reminder on your calendar to refill all of your lamps and check the lighters. I recommend doing it in the fall so that you know they are full during the part of the year with the most darkness.
9/6/21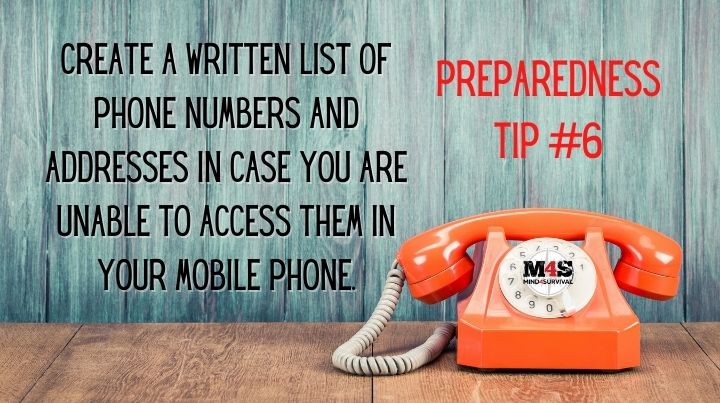 If you lose your phone, would you know anyone's number if you had the chance to use someone else's? Create a paper list of important phone numbers. Think family members, doctors, pharmacies, supervisors, etc.
Keep a copy in your car, on your fridge, and in your emergency binder.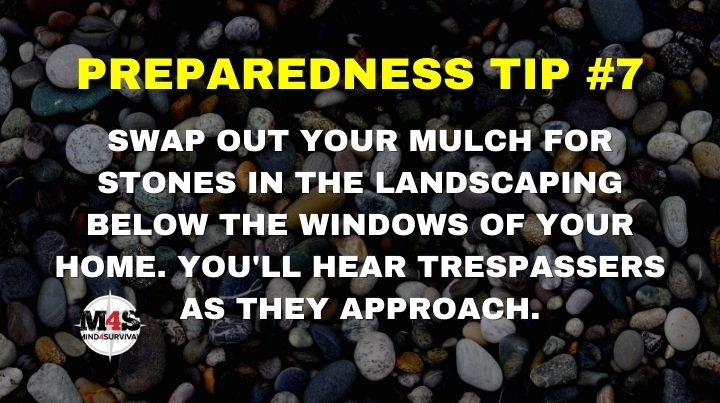 9/8/21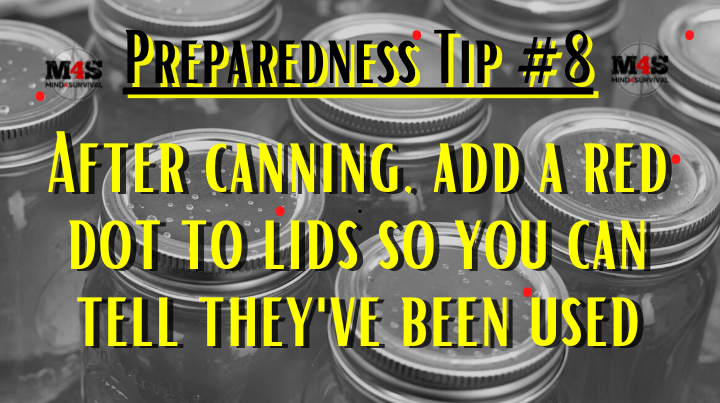 Did you ever end up with a jar full of lids and no way to tell if they have been used for canning before? Canning guidelines caution against reusing lids, so it's important to know if they're new or not. After you have used a lid to can with, take a red Sharpie and make a small but visible dot on the lid. Spotting used lids will be a breeze!
9/9/21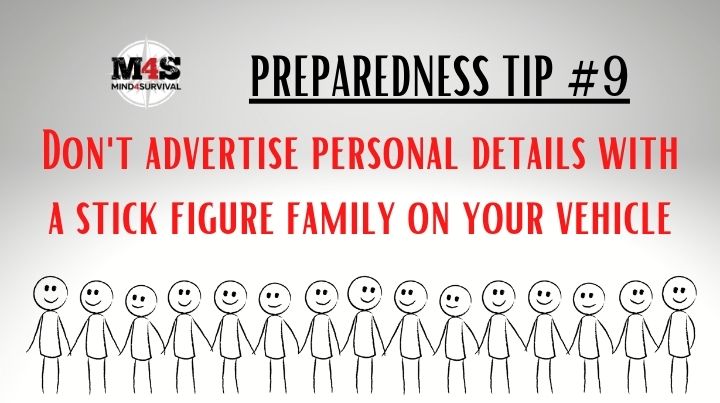 Stick figure families give out a ridiculous amount of details about your daily life to potential criminals. The more you customize them, the worse it gets.
Single mom? Don't tell the creep in the car behind you.
Newborn at home? That's what your stroller sticker says!
Teenage boy football player on the window? No one is home on Friday nights.
Are you all wearing Disney ears? Bad guys should use the princess angle with your small daughter.
Is this sticker visible from your driveway? Now they have all of the above details as well as your address.
Think about it. The list goes on and on…..
9/10/21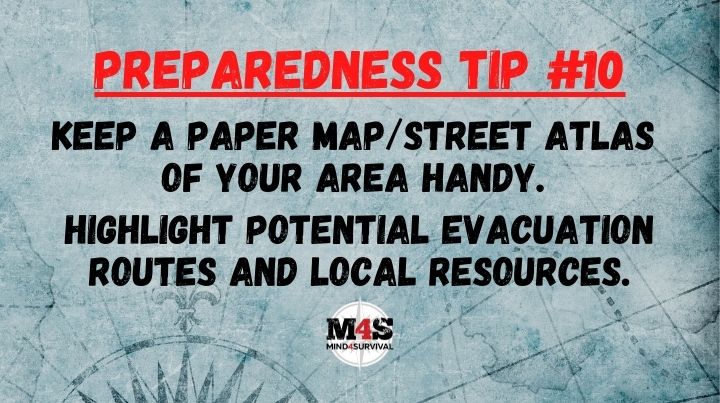 Don't rely on your internet service for an alternate evacuation route. When the SHTF, you'll want a paper map available to help you navigate dangerous situations. Use it to find local resources like streams, parks, and farms as well as for off-the-beaten-path routes out of town. If you see something noteworthy while you're out, jot it down on your map as soon as you can.
Keep your map handy, preferably in your Bug Out Bag or Bug Out Vehicle.
Bonus Tip: If you are a AAA member, request a TripTik for any location and they'll give you free, turn-by-turn, spiral-bound, paper directions with lots of zoomed-in feature pages great for finding alternate routes.
9/11/21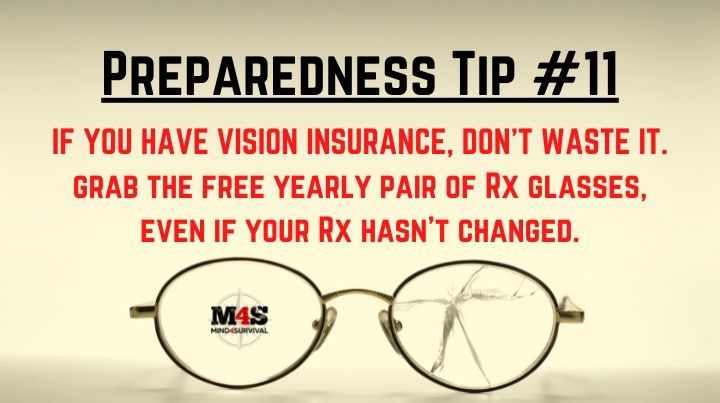 A LOT of people skip their yearly eye appointments if they aren't having any vision problems. But, in doing so, you may be overlooking an important prep. SPARE GLASSES!
Most vision insurance programs will give you a free pair of prescription eyeglasses every year. I know, I know, the frames aren't always the best…. but these are FREE spare glasses. What are you going to do when SHTF and you run out of contact lenses or worse yet, break your glasses? You can never have too many spares. After all, you never know how long they are going to have to last.Bonus tip: Already have a few pairs? Consider grabbing a pair of prescription sunglasses next time!
9/12/21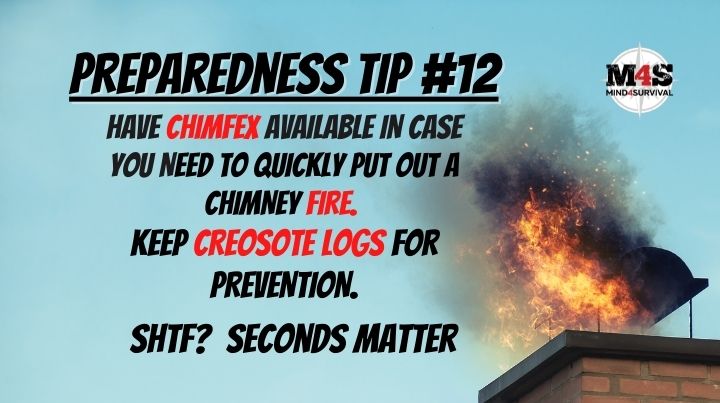 Chimney fires are a nightmare because they are so difficult to extinguish. If the fire department takes more than a minute or two to arrive, it may already be too late. When professional chimney cleanings get hard to come by, don't forget to maintain your fireplace! Burn creosote logs to help keep build-up at bay, especially when you may be burning less than ideal materials. Keep Chimfex on hand to put a chimney fire out in seconds… because seconds matter, especially when the fire department might not be coming as quickly as we are used to.
9/13/21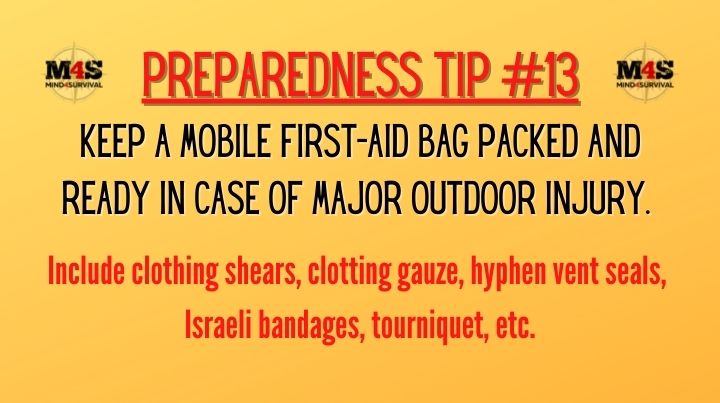 Unfortunately, accidents rarely happen in front of our medical supplies. What happens though if something major happens outside, whether it be down the block or in the backyard? How long will it take to find and gather all of the supplies you may need? For many injuries or wounds, seconds matter. Have a 'jump bag' prepared ahead of time with some of your medical preps geared towards major accidents. While you should always call 911 first, responding quickly can help the injured stay alive until professional help arrives or you can move the person inside where they can be thoroughly assessed.
9/14/21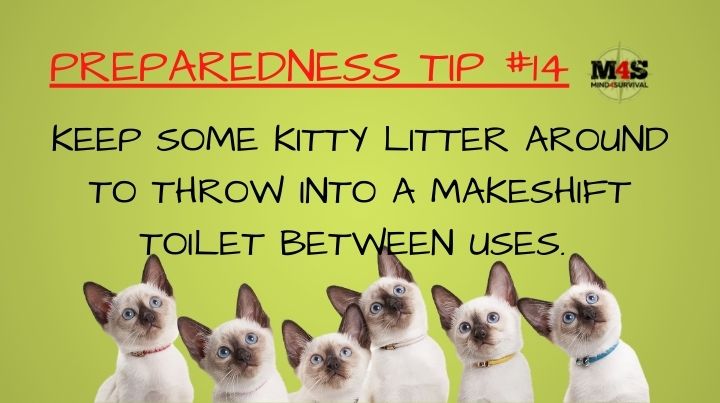 You definitely need to spend a bit of time thinking about emergency sanitation. Whether you're in a city high-rise or a country acreage, you could find yourself faced with bathroom facilities that no longer operate. Sure, you need a seat, a frame or bucket, and a few bags…. but are you forgetting something? Keep some kitty litter around and throw a scoopful in after each use to get the most bag for your buck.
9/15/21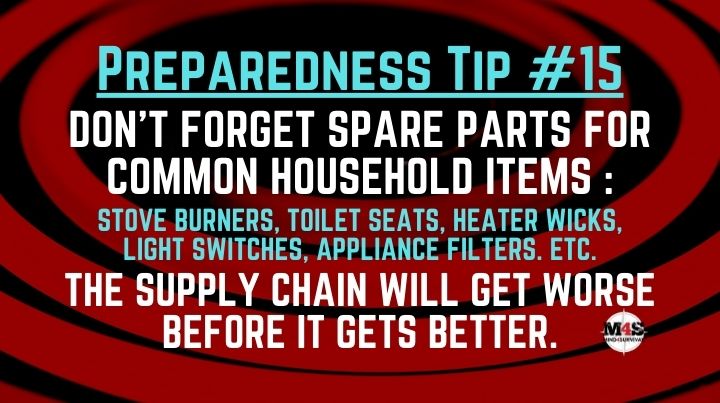 Don't put all of your eggs in the off-grid basket. What if utilities still work, but replacement parts continue to get harder to find? Take a look-see around the house and make a note of items that need replacing occasionally. One is none, and two is one!
9/16/21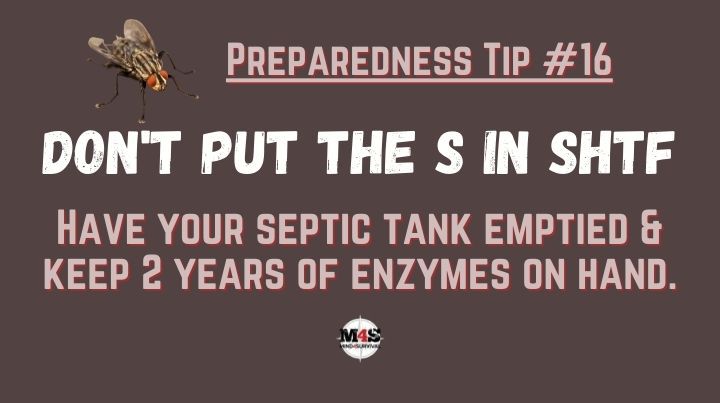 Don't start the apocalypse with a full septic tank! Keep in mind, chances are that your household spent A LOT more time at home last year than usual. That translates into a lot more in your septic system.
Also, keep one step ahead with your septic enzyme supply before inventory issues begin to spread!
9/17/21
Take a quick peek inside anything that already has batteries in it. Make sure everything is still looking good in there. Replace any corroded batteries unless permanent damage has been done to the item.
While you're at it, take a quick minute to double-check that everything still turns on. Set a reminder on your phone to check everything again in a few months.
You'll be glad you did!
9/18/21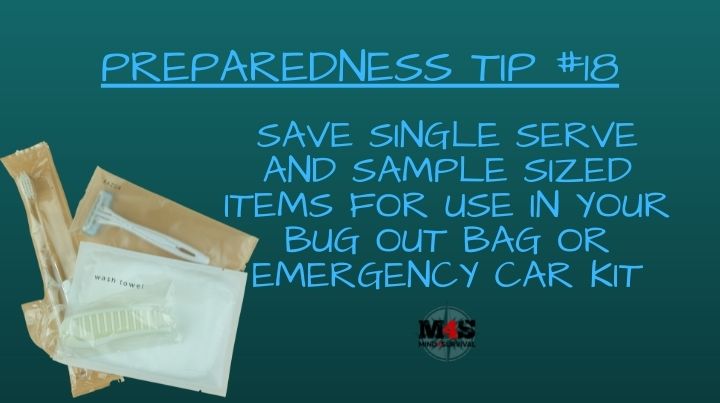 Whenever I can get my hands on anything travel sized for free (think hotel or warehouse club), or I can request a complimentary sample item (the sky is the limit online!) I grab it and add it to my preps.
I especially love individually wrapped items for emergency kits that I hand out as gifts. They're great for bug out bags and car kits, too!
09/19/21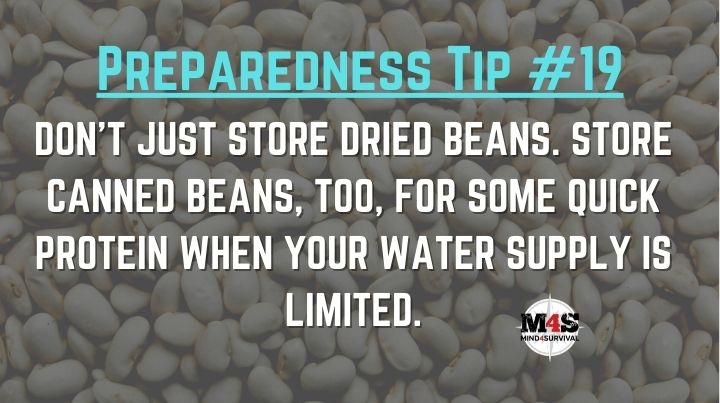 Dried beans are a great SHTF food. Stored properly, they'll last for years, and they don't take up a ton of room.
But if times get really tough, you may not have the money, the time, or the patience to soak and cook your beans.
Keep lots of canned beans on hand, too. They're ready to eat and won't blow through tons of your valuable water resources.
9/20/21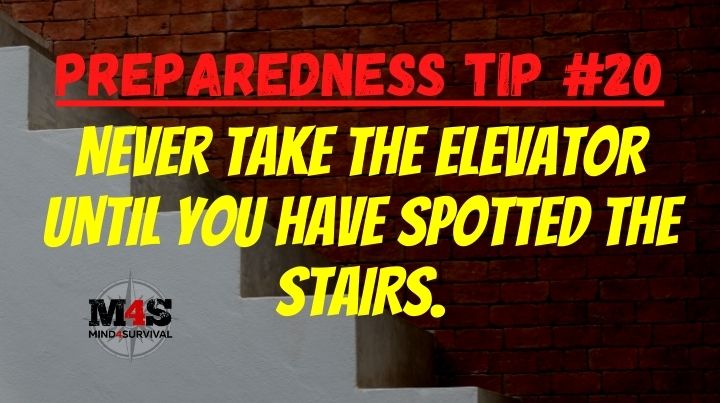 Preparedness isn't all freeze-dried meals and improvised weapons. Situational awareness is absolutely vital to survival.
Whether it's a city high-rise apartment building, a multi-story doctor's office, or a luxury hotel, if you are headed up on the elevator, take moment to look around and find the fire stairs. There are hundreds of scenarios where this could mean the difference between life and death.
9/21/21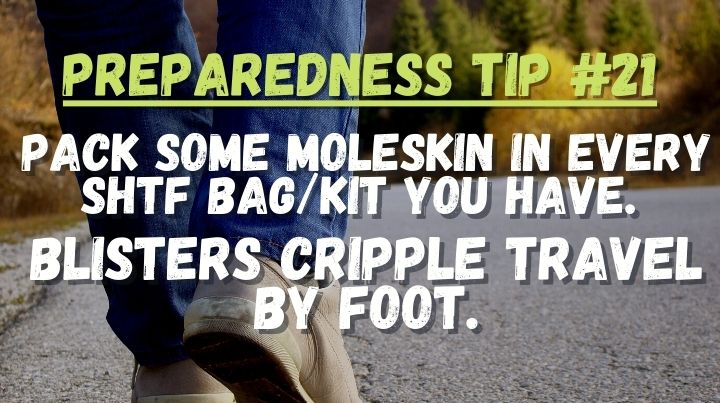 Moleskin takes up virtually no weight or space, so it's pretty much worth its weight in gold.
9/22/21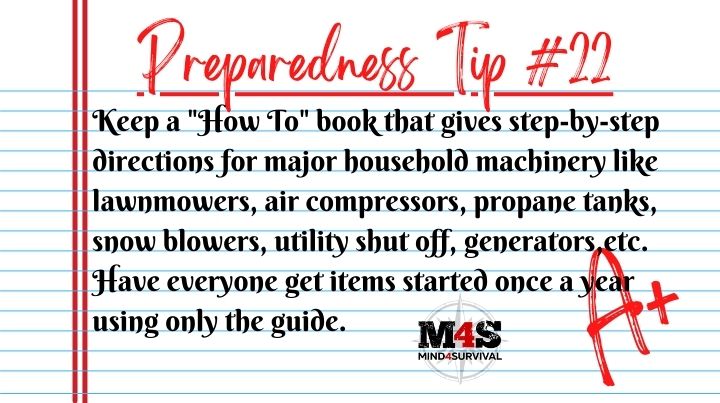 In a lot of households, certain people always handle certain tasks.
What happens though if they become unavailable?
Does anyone else know how to handle the equipment?
Have written instructions in a designated notebook so no one is left unprepared.
Give yourself bonus points if you include diagrams for visual aids!
9/23/21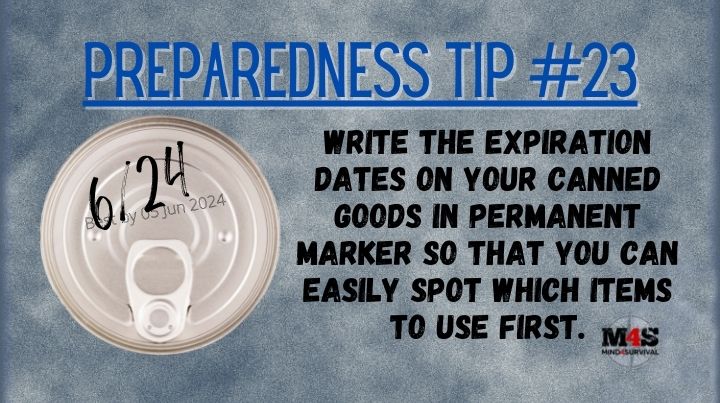 Maybe it's just me, but I spend a lot of time squinting and trying to line the can up with the overhead light juuuuuust so, in a desperate attempt to see the expiration date. While I don't have a problem using most expired cans, I still try to abide by the 'first in – first out' rule.
Once you have squinted the first time, write the date on the can with a Sharpie, and you'll save your eyes the next time you check for the date.
9/24/21
Think about it. If you have gold and silver as coins, bars, or jewelry, you will never get full value during a SHTF trade situation. You also run the risk of making people wonder if there is more where that came from.
However, if you can spot the difference between the real-deal and the fakes, accepting precious metals may be a smart idea. Hold onto it until the situation begins to resolve itself and sell it for closer to its actual worth after things have settled down.
Don't forget to check back tomorrow for the newest
National Preparedness Month Mini-Prep!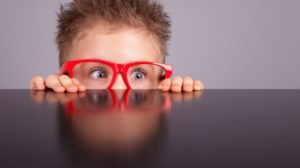 Do you know how to teach children how to face a disaster without scaring ...
Read More

→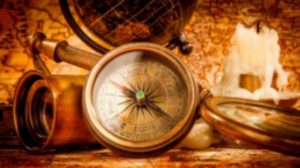 Getting ready for disasters or preparing for a time that is not abundant is ...
Read More

→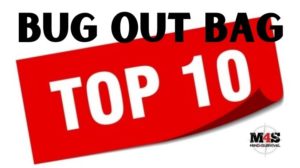 One discussion that often heats a prepper conversation is what you should be on ...
Read More

→
Expand Your Mind4Survival!
Some of the links on this website are affiliate links. This means that I may, at zero cost to you, earn a small commission if you click a link to any of the products we post on this site. Thank you for your support! tay safe! ~Brian