Endgame: When It Counts, Get Advice from the Experts
Last Updated May 19, 2021
|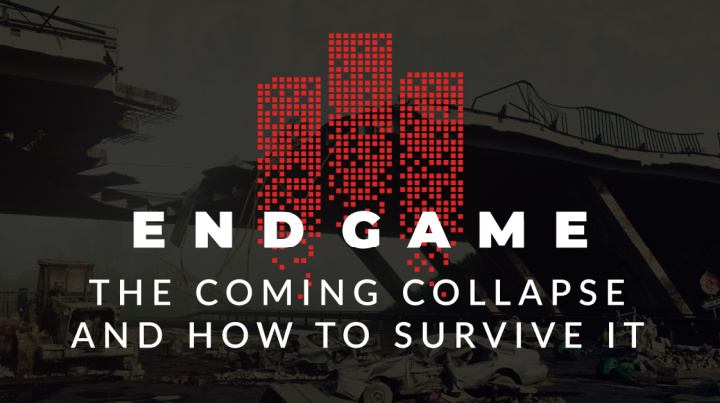 If you knew we were down to the wire, down to the Endgame, and that everything had changed, would you want to just muddle along, prepping as you always had? Or would you want advice from the experts?
If you had a life-threatening illness, would you try to treat it at home with herbal tea or would you seek out an expert in that disease? If your home's foundation developed a crack, would you squirt in some liquid cement and hope for the best, or would you call in a contractor?
When you have a major threat to your home, your livelihood, your savings, your family, to your freedom, do you want to just hope for the best or do you want to get expert advice from people who are truly in the know? I know what my choice is.
Sign Up to Watch This Free Docuseries Called Endgame
Hi! It's Daisy from The Organic Prepper, and Brian very kindly allowed me to write you a little note and let you know about a project I'm participating in that I think you'll find beneficial.
I recently took part in a docuseries that you can watch absolutely free if you sign up now. (After it begins airing on the 25th, all the free seats will be gone and it'll cost you money.) It's called End Game. Selco, Toby, and I all represented The Organic Prepper and we found ourselves in amazing company.
Folks like…
Tom Woods: Coolest libertarian around, a fellow of the Mises Institute, and head kahuna of The Tom Woods Show
Robert Kiyosaki: Yeah, THAT Robert Kiyosaki, who wrote Rich Dad, Poor Dad, the best selling personal finance book of all time
Kati and Vernon Evans: They've said "forget this" to the public school system and homeschooled all over the world
Larry Yatch: A commissioned officer and former Navy Seal
Sean Whalen: The founder of Lions Not Sheep
Roman Zrazhevskiy: An international figure in the preparedness sphere who has appeared on HBO, the BBC, and CBS, as well as numerous documentaries emphasizing the importance of preparedness.
Peter Schiff: Yep, I'm in the same series as Peter Freakin' Schiff and I couldn't be more excited.
Jane Christensen: An herbalist who will walk you through the remedies you should have at home
Jim Kwik: He's the "brain coach" who helped folks like Elon Musk and Will Smith and has advice on recession-proofing your brain
Josh Rhodes: He's an electrical grid scholar who's an expert on fuel, heat, and power – he'll explain what to do now, and… what to do "just in case".
Tons Mores…
There are tons more experts in the financial field, in the mental health and resilience fields, and the business arena. We're going to be talking not only about watching all this crumbling around us, but also about WHAT TO DO ABOUT IT.
I'm an optimist. To me, preparing is the most optimistic thing you can do because it means you are determined to survive.
But I'm also a realist.
Things have occurred over the past year that have shaken my outlook. Changes are coming hard and fast. I believe things are about to get much, much harder. Be ready to face the future with all the information possible from the people who are in the know, answering the questions that you yourself are asking.
Watch this docuseries and get the answers that you need. Save your seat by registering your email address at this link: https://www.ro20trk.com/6RNXHT/6JHXF/
What You'll Find Out on Endgame
Here are some of the questions that will be answered.
If you have investments or retirement funds, what should you be doing with your money?
How do you start if you aren't at all prepared for this?
How do we get prepared for the looming shortages ahead?
Are we safe from civil unrest if we don't live in the big city?
How do we improve our mindsets to adapt to the coming changes?
What is the best way to educate our children now that the school system has gone full-on indoctrination (if the schools are running at all?)
How can we improve our health so we are less likely to need to avail ourselves of an overwhelmed system?
Ways we find out the truth about what is going on and why?
How can we be less dependent on the grid and the system?
There's all this information and much more that will help you make better decisions for your family in the months ahead. Things won't be pretty, but personally, I'd rather know the brutal truth so I can prepare for it.
Register here
Go to this link to register with your email: https://www.ro20trk.com/6RNXHT/6JHXF/
Privacy Notes:
The only thing you must include to register is your email address.
It will ask for your phone number. Only put that in if you'd like to receive text message reminders.
Some people said it asked for their mailing address. Skip that, no problem.
It will ask if you want to share on social media. You can, or you can skip that too.
The only thing you must include is your email address, so don't be concerned about these other questions. It may take a couple of days to get your registration email. If you don't see it, check your promotions and spam folders. If you're still having issues, write to me at hello (@) theorganicprepper.com
Thanks a lot!
Daisy Luther