M4S 028: Great Prepper Gift Ideas for Any Occasion
Last Updated April 28, 2022
|
Are you looking for some great prepper gift ideas for the survival-minded person in your life?
Do you ever wonder what to get for those who are into preparedness? Maybe you're not a prepper, or perhaps you're shopping for the prepper who seems to have everything. If so, we've got some great prepper gift ideas for you.
Whether it's a birthday, Christmas, or "just because", this prepper gift idea list is for you.
This list of prepper gift ideas is a collaboration of ideas from influencers across the preparedness community. Some are podcasters and bloggers. Others have preparedness-focused Facebook groups with tens of thousands of members. Heck, we even have a well-known dystopian fiction author weighing in.
You won't find a more collaborative listing of prepper gift ideas on the internet. So, if you're stumped on what to get or just want unique prepper gift ideas, this is where you want to come.
When you're here, take a look at the list below for ideas. If you're unsure why something is a good idea, just head up top and click on the podcast player and hear why from the experts themselves.
Have fun shopping!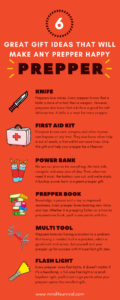 ---

Prepper Website
Todd Sepulveda
Todd is the founder of Prepper Website and host of The Prepper Website Podcast.
Click on the link if you'd like to see a short Prepper Website promo video.
Todd's prepper gift ideas:
Schrade SCHF9 Extreme Survival Fixed Blade Knife: This knife is under $40.00 on Amazon with a 4.5-star rating with over 1100 reviews. It is made of 1095 carbon steel and built to last.


Tapp Collections Premium Shemagh Head Neck Scarf: The shemagh is a great piece for your kit, with a wide variety of uses. It has nearly a 5-star rating with over 2500 reviews, which with a low price tag of under $15.00 makes this a great gift! You can use it as a headcover, dust mask, sling, field-expedient water filter, and on, and on, and on.


Solar Charger, Hiluckey 25000mAh Portable Solar Battery Charger: 25,0000mAh charger with over 5000 great reviews that can keep your electronics powered up and going when others are in the dark. Rugged design and compact size, shockproof and rain-splash. Easy to hold in hand and carry, it will be your first choice for outdoor activities.
---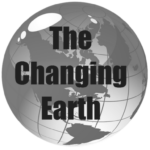 The Changing Earth Podcast
Sara F. Hathaway
Sara is the host of The Changing Earth Podcast and the author of The Changing Earth series.
Sara's prepper gift ideas:
The Changing Earth Series: Get Sara's books HERE cheaper than Amazon.


Tops Knives Tahoma Field Knife: The Tahoma Field Knife has over 100 reviews and a nearly 5-star rating. It is designed to provide anything the outdoor professional would need in a knife. The tip has a double edge, used as a backup blade in the event the main edge should become dull during an extended period of time without a means to sharpen.


Alexapure Pro Stainless Steel Water Filtration System – 5,000 Gallon Capacity: Water is life. The Alexapure removes up to 99.9999% of 200+ water impurities, including lead, bacteria, viruses, cysts, chlorine, fluoride, TCP, and E. coli. Pour unfiltered water in, get sparkling clean drinking water out; Performance of filters may vary due to source water conditions, water turbidity, and seasonal water conditions.
---

Matter of Facts Podcast
Phil Rabalis and Andrew Bobo
Phil and Andrew are great guys who host the Matter of Facts podcast.
Phil's prepper gift ideas:
Tourniquet: Both the Combat Application Tourniquet (CAT) and the Rapid Application Tourniquet are great pieces of life-saving kit. The odds that you'll need one might be low, but if you need one and don't have one, the odds are high that you'll have a bad outcome. No self-respecting prepper should be without a tourniquet. At under $30 and with hundreds of reviews each, either one of these is worth their weight in gold when needed.


Rescue Tape: Rescue Tape, with its 900 reviews and a 4-star rating, is a self-fusing silicone repair product with infinite uses. First used by the U.S. Military and now seen at consumer and industrial trade shows across America, this is the most versatile and easy-to-use emergency repair product available. Incredible 950 psi tensile strength. Insulates 8,000 volts per layer. Withstands 500F of heat and remains flexible to -85F (-60c). Creates a permanent, airtight, and watertight seal in seconds! Resists fuels, oils, acids, solvents, saltwater, road salt, and UV rays.
Mountain House 2 Day Emergency Food Supply: This is a great gift for preppers and non-preppers alike. Everyone can use a few days of emergency food just in case. Give this to someone, and you're giving them life insurance they can eat. This package includes 15 total servings with approximately 2,100 calories per day and a 30-year taste guarantee.
---

Preppers Survive SHTF Facebook Group
Mike Carman
Mike runs the non-political Preppers Survive SHTF Facebook group.
Prepper gift ideas based on Mike's suggestion:
---

The Wasatch Report
Suzanne Sherman
Suzanne is the fantastic host of The Wasatch Report on the Cerebrus Radio Network.
Suzanne's prepper gift ideas:
IPOW Car Safety Hammer and Seatbelt Cutter: When the doors are jammed and you have freed yourself from the seat belt, the window is the next challenge. Break free and shatter a side window or front window depending on where you sit and escape fast. Pointed steel head excellent for breaking windows and shattering glass in cars and vehicles alike. Exlight escape tool has a sharp razorblade seatbelt cutter which cuts off seatbelts webbing easily. With over 400 reviews and close to a 5-star rating, you can't go wrong with this gift.


TACT Bivvy Emergency Survival Sleeping Bag: This nearly 5-star bivvy sack is made out of ultra-lightweight HeatEcho™ reflective polyester film and weighs just 4.8 ounces. It also compresses into a tiny stuff sack to carry this sleeping bag with your survival kit everywhere you go without weighing yourself down. It's made for emergencies and incredibly durable.


GoGirl Female Urination Device: Go Girl is a simple, sanitary device made from germ-resistant medical-grade silicone that allows women the benefit of going to the bathroom standing up. The easy-to-use device is reusable or disposable and the small storage tube fits easily in a purse or backpack. Go Girl is for active, traveling, germ-conscious women who don't have access to a sit-down toilet or don't want to use unfit facilities. With over 1200 reviews and plenty of colors to choose from (including camo), you probably can't go wrong.
Follow Suzanne on Twitter here.
---

Preppers Are We
John Morgan
John is the founder of the Preppers Are We Facebook sales page.
John's prepper gift ideas:
Pink Curing Salt #1: Not to be confused with Pink Himalayan Salt, pink curing salt is a mixture of sodium chloride and (table salt) and sodium nitrite. If you're looking to cure your own meats using pink curing salt, or Prague powder, our Pink Curing Salt 1 is gluten-free and batch tested for perfection. Pink curing salt is ultimately used to cure meat, meaning that it makes it so that the botulinum toxin cannot produce. Once known as sausage disease or sausage poisoning, botulism was derived from "botulus," the Latin word for sausage. It's important to remember that pink curing salt by itself is 100% toxic to humans. It should never be used as regular table salt and should not be sprinkled on food for flavoring.


JavaPresse Manual Coffee Grinder: Whether you're brewing fine-ground espresso or coarse-ground french press, our grinder has a built-in adjustable grind selector with over 15 settings ensures you have 100% control over the coarseness of your grind. We also include quick start guides, grind charts, and how-to videos to help you use your grinder to its fullest. Take it anywhere.
---

21st Century Preppers
Pete Orndorff
Pete is the founder of and key figure in several preparedness-minded Facebook pages, including 21st Century Prepper.
Pete's prepper gift ideas:
---

Survivalist Prepper
Dale and Lisa Goodwin
Dale and Lisa are the super-duo behind the Survivalist Prepper blog and podcast and The Budget Equestrian.
Make sure you check out Dale's Unique Prepper Gifts for Christmas and Holidays post. It will also give you some great ideas for prepper gift giving.
Don't forget to take a look at Dale's Bug Out Bag First Aid Kit too. It's a great piece of kit!
Dale and Lisa's prepper gift ideas:
TITAN SurvivorCord: TITAN SurvivorCord is a patented parachute cord that integrates 3 potentially life-saving survival strands into our popular high-performance MIL-SPEC 550 cord. Our paracord is made from 100% Nylon, is 5mm in diameter, and contains 21 individual strands, braided into seven seriously strong 3-strand yarns. We've then integrated a single strand of waterproof waxed jute for starting fires, a 25-lb. mono-filament fishing line for catching food, and a 30 AWG wire that is usable for snares, conductive wire, and other emergency needs. SurvivorCord is the ultimate paracord replacement and is also known as Survival Cord.

Cold Steel Bowie Bushman 95BBUSK: For the money, the Bushman knives might be the strongest survival/outdoor knives in the world! Unlike most hollow handled survival knives, there is no joint or seam between the blades and handles that requires a mechanical fastener. Instead, the Bushman's blades and integral handles are each expertly cold forged out of a single piece of 2.5mm thick SK-5 high carbon steel. This 5-star gift would make anyone concerned with their readiness happy!


GRDE Zoomable 3 Modes Super Bright LED Headlamp: Super bright headlamp, waterproof, adjustable, handsfree, zoomable. Rechargeable 18650 parallel design, a battery also can work. Single-button control switch. 3 switch modes: high output, Low output, and strobe. Great gift for friends/family to make tasks that much easier. This headlamp has over 2000 reviews and a nearly 5-star rating. You won't be disappointed.

15,000 Non-GMO Heirloom Vegetable Seeds Survival Garden: 32 varieties of all-natural vegetable seeds: on-hybrid, non-GMO, heirloom. 100% Naturally grown and open-pollinated seeds with a high germination rate. Vegetable growing and seed harvesting guide included with seeds tested for maximum germination and yield. USA seeds stored in an airtight, moisture-proof resealable bag for safer, long-term storage. Carefully selected seed and vegetable varieties to provide a well-balanced healthy diet.
Budget Equestrian Links; The Budget Equestrian, YouTube, Instagram,
---

Mind4Survival Facebook Group
Don Abbott & Jenny Smith
Don and Jenny are awesome and active members of the Mind4Survival Facebook group.
Here are Don and Jenny's prepper gift ideas:
---

Mind4Survival Podcast
Brian Duff
This is so awesome. I get to pick readiness-related gifts that I'd love to give! Hi, I'm Brian Duff, the creator of Mind4Survival and host of the Mind4Survival podcast.
MY prepper gift ideas:
Stay safe, secure, and prepared,