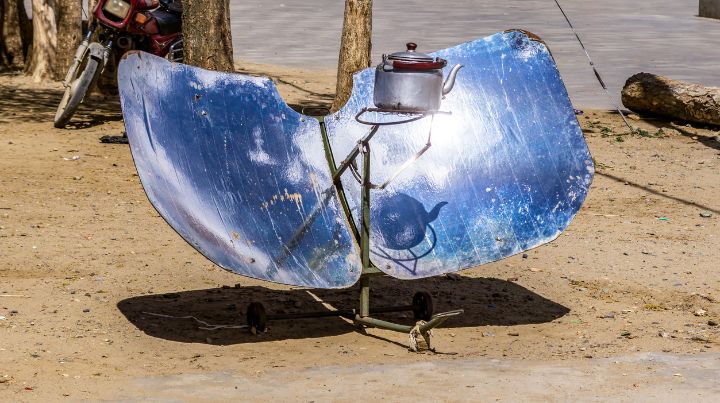 What will you do about preparing food when the power goes out? It's well and good to have prepper supplies stashed away, but unless you have a way to fix them, the biggest stockpile in the world won't do you much good. Having multiple ways to cook off-grid will elevate your level of preparedness.
Have you thought about how you will cook off-grid? This round-up will supply suggestions, links to recommended products, and the best instructions on the internet.
7 Ways to Cook Off-Grid When the Power Goes Out
Here are seven different ways to prepare food without the grid.
Volcano 3-Way Stove
One of my favorite emergency stoves is the Volcano 3-Way Stove. What I like about it is that you can use it with multiple different fuels, making it incredibly flexible. It's collapsible, so you can break it down for a bug-out bag, and it comes with a grill to cook off-grid with even more versatility. The Volcano uses propane, charcoal, and wood for fuel. It's far more stable than many of the other survival stoves on the market.
Kelly Kettle
The Kelly Kettle is one of the best ways to cook off-grid if your food supply contains a lot of dehydrated or freeze-dried items. This stove comes in multiple sizes and brings water to a boil within a matter of minutes. You can get them with a whistle (think of those whistling tea kettles), but for survival purposes, you may want to have the silent version. You can burn whatever you want in the Kelly Kettle, and it requires very little fuel to boil your water.

Solar Cooker
There are many different kinds of solar cookers, and you can even find free plans online to make your own. My favorite to purchase is the All-American Sun Oven. It isn't the least expensive, but out of all the ones I've tried, it seems to be the most reliable.
There are many different ways to cook with a solar cooker to cook off-grid, but I prefer treating it like a crockpot and slow-cooking a meal all day long. This link has two different models you can make and several recipes and cooking techniques to try out.
Thermos Cooking
If you have a way to boil water, did you know that you can cook food right in your thermos? Sailors pioneered this technique, but it's ideal for preppers who are bugging out. Simply preheat your thermos with boiling water, then add your food and more boiling water. Close it up and put it in your backpack. By the time you stop, you'll have a hot, tasty meal all ready to enjoy.
To learn more about thermos cooking, check out this article.

Barbecue Grill
One method that nearly everyone is comfortable with when it comes time to cook off-grid is using your handy-dandy barbecue grill. Whether you use a charcoal grill or a propane one, this is a fantastic way to prepare the meat from your freezer before it goes bad in the event of a power outage. Most folks already have this method. Simply make sure you stock up on the necessary fuel to power your grill, and you'll be good to go.
As a prepper, it's a great idea to learn how to make your own charcoal. This helps make your grill a viable, long-term option for off-grid cooking.

Campfire Cooking
A favorite activity for my family is cooking meals on the campfire. There's nothing like going outdoors and preparing meals the old-fashioned way. We generally rely on foil packet meals or meals on a stick, but if you have a tripod, a Dutch oven, and a spit, you can cook nearly anything.
It's very important to practice cooking over an open fire before the SHTF. If you don't do it correctly, there's a higher risk of getting burned when cooking over a campfire. You should never reach over the fire to place food or to rescue food from falling into the fire. This article has some awesome tips for campfire cooking safety.
Chafing Dish
Bear with me here – chafing dishes are not actually designed for cooking or heating up food. They're designed instead to keep food warm. Think about the breakfast buffets at hotels – there are often stainless steel vessels with either a candle underneath them, an alcohol fuel pod, or a can of Sterno burning merrily away. This heats some water in a container above it which in turn warms the food above that with a moist heat that prevents it from drying out.
However, if you're in a bind and have no other way to cook off-grid inside your house, this will work to warm up canned goods and other items that are already thoroughly cooked. It probably won't get them blazing hot, but it will warm them enough to be more appetizing.
It will take a while for the food to heat up in your chafing dish. Make sure the one you have has a lid that fits well to keep the heat in and start heating your soup or veggies about an hour before you plan to eat them.
How Do You Cook Off-Grid?
It's important to have multiple options for multiple black-out scenarios. Whether you'll be preparing food away from home or simply dealing with a power outage, it's nice to have more than one solution.
How will you cook when the power goes out?
Additional Resources: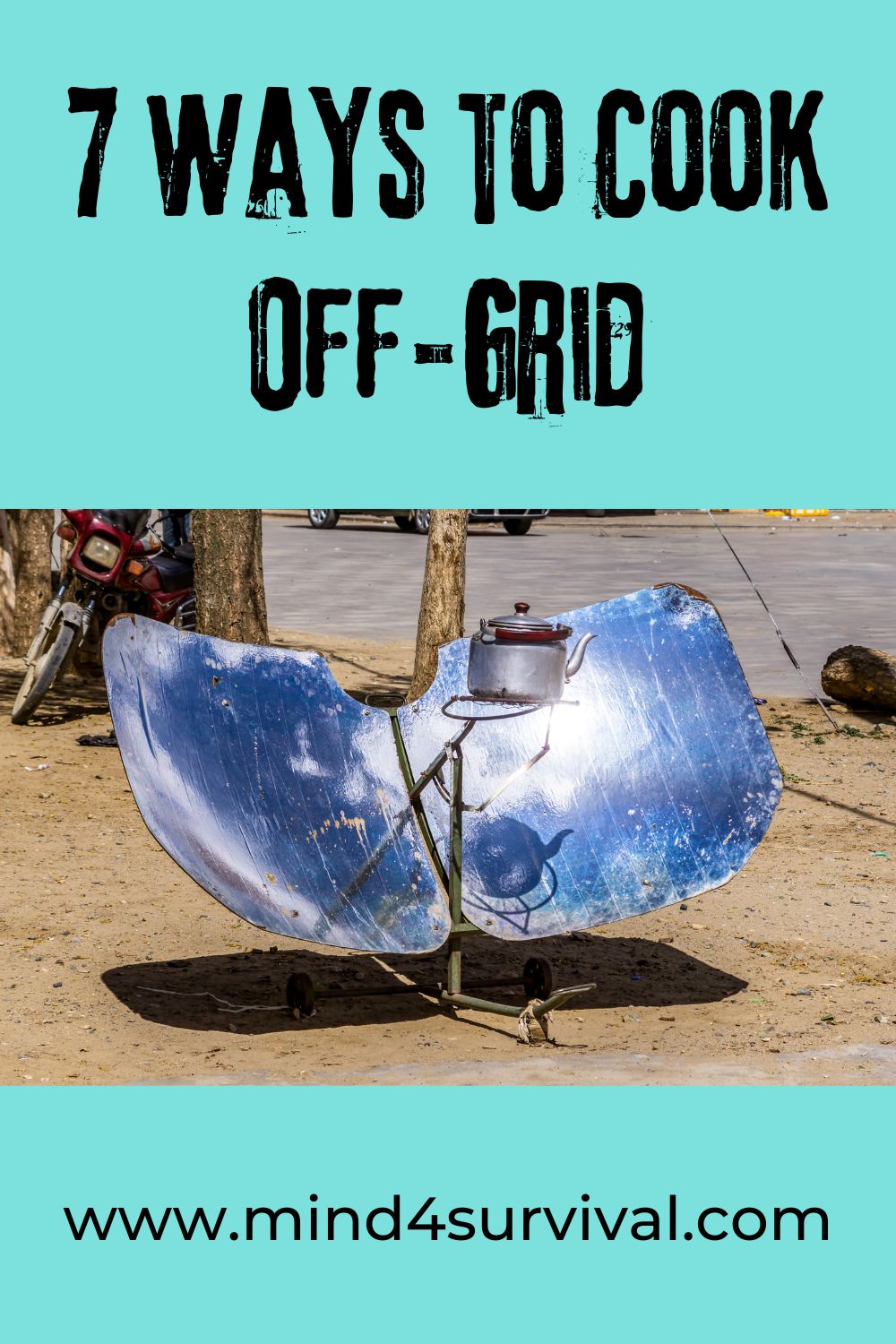 Stay informed by joining the Mind4Survival! 100% Secure! 0% Spam!
Mind4Survival is a free, reader-supported information resource. If you make a purchase through our link, we may, at no cost to you, receive an affiliate commission.