Best Freeze Dryer for Sale & Home Use (2023 Guide)
Last Updated August 14, 2023
|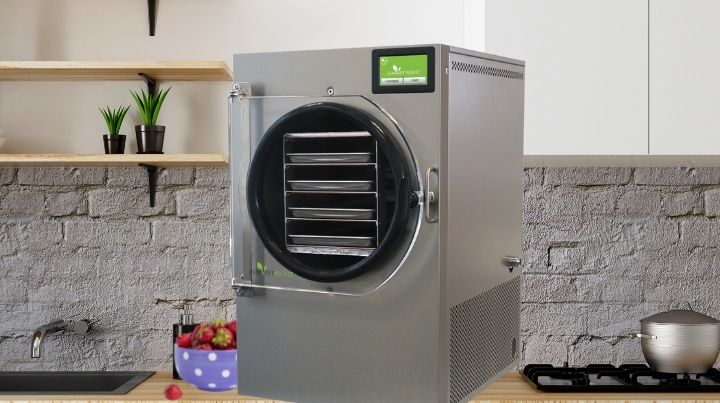 We all know freeze-drying is the best way to preserve food, but deciding on the right frozen dryers for sale can be challenging.
Even though freeze-drying has become a popular way to preserve food, finding a cheap freeze-dryer is rare at best. Likewise, for people new to freeze-drying, everything from what it is to what freeze-dryer to buy can feel overwhelming and confusing.
This article will provide seven tips for buying your freeze-dryer and, in so doing, will eliminate the overwhelm and confusion right out of freeze-dryers for home use.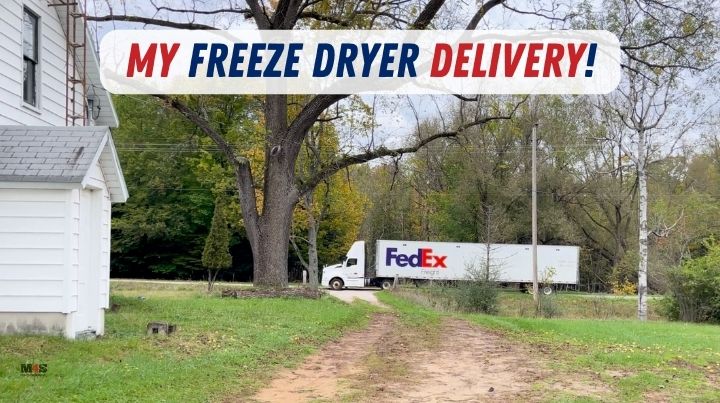 Disclaimer: This article is based on my very satisfying experience with my Harvest Right freeze dryer. This article also contains affiliate links that I may receive a small commission for at no cost to you if you choose to purchase a product through a link on this page.
Here are my picks for the best freeze dryer for sale:
What is the Best Freeze Dryer for Sale?
These are my three picks for the best home freeze dryer for sale. Yes, these are all Harvest Right freeze dryers. If you'd like to know why Harvest Right is the only manufacturer listed, read my explanation below.
With that, here are my picks for creating the best freeze-dried food possible
Harvest Right Small Freeze Dryer


The Harvest Right Small Freeze Dryer is an excellent option for people with limited space or freeze-drying needs. This freeze dryer is a plug-and-play option that makes it super easy to set up and use. Had I not purchased my large freeze dryer, this is the model I would have used.
At 25 inches high and with a small 18.5-inch footprint, this freeze dryer is perfect for small homes and apartments.
This freeze dryer is an excellent option for single people and new families starting their preparedness journey together. Just imagine a new family preserving food that will last them for decades!
One HUGE advantage of the small freeze dryer is that it does not require a 20-amp circuit. In other words, you can set a small freeze dryer in place, plug it into a standard 110-volt wall outlet, and start creating your stockpile of freeze-dried foods.
At $2,495, with occasional sale prices of $2,395, this is an investment that will pay you excellent dividends for years to come.
---
Harvest Right Medium Freeze Dryer


The Harvest Right Medium Freeze Dryer is the perfect freeze dryer for the average person and family. The medium size offers a great compromise between size, power, and food output.
The medium freeze dryer is sized right for most countertops and people with limited space. Its compact size and the ability to produce 312 gallons of freeze-dried food each year (62 5-gallon buckets) make this an excellent choice for people who want more than a small freeze-dryer can produce.
While this freeze dryer uses a 110-volt outlet, Harvest Right recommends a 20-amp dedicated circuit. So, be sure to check your electrical before making your purchase.
This freeze dryer has a price tag of just over $3,195 and, with discounts by Harvest Right, can be purchased for $2,895.
---
Harvest Right Large Freeze Dryer


(Disclaimer: This is the freeze-dryer I own and love!)
The Harvest Right Large Freeze Dryer is a significant step forward for the person who wants to produce a lot of food and not break the bank by purchasing an X-large freeze dryer. This model is an excellent option for large families and people with bountiful gardens and too much food to eat.
At 30.75 inches tall and nearly 24 inches deep, this freeze dryer has a large footprint that may be best suited for a dedicated freeze-drying area or large kitchens.
Price-wise, the large freeze dryer rings up at $3,895 with sales prices of $3,595. While more costly, the large freeze dryer gives you nearly double the food production capacity of the medium freeze dryer.
Note: When considering the large freeze dryer, make sure to consider the electrical needs of a 110-volt (NEMA 5-20) outlet on a dedicated 20-amp circuit.
---
Harvest Right X-Large Freeze Dryer


The Harvest Right X-Large Freeze Dryer is the most recent addition to Harvest Right's line of home freeze dryers. With an annual production capacity of 1200 gallons of freeze-dried food (240 5-gallon buckets), this model can create massive volumes of freeze-dried food!
This freeze dryer takes up a lot of space at 35.6 inches tall, 23.25 inches deep, and nearly 34 inches wide.
Regarding cost, the x-large freeze dryer rings up at approximately $4,800 and can leave an x-large hole in your wallet. However, in the right situation, such as a group purchase, this freeze dryer can be the perfect addition for people who want to make a lot of food.
One other budgetary consideration is that, according to Harvest Right, this unit will cost approximately $4.00 per day to use.
Note: As with the large freeze dryer, when considering the x-large freeze dryer, make sure to take into account the electrical needs of a 110-volt (NEMA 5-20) outlet on a dedicated 20-amp circuit.
---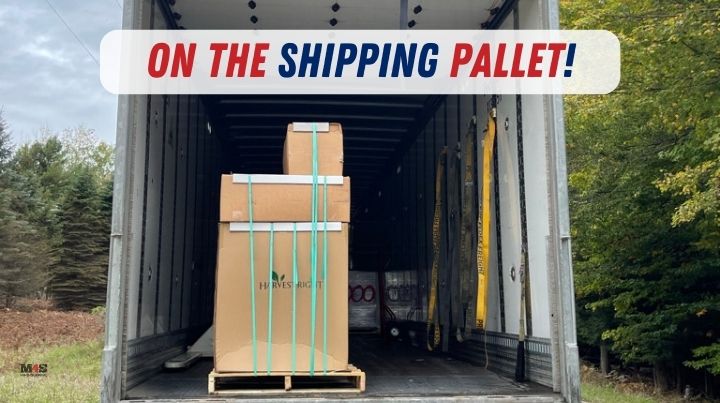 Why is Harvest Right the Only Brand?
I quickly became frustrated when researching freeze dryers before purchasing my Harvest Right Large Freeze Dryer. I became frustrated because the used home freeze dryer market was relatively nonexistent, and all I could find were high-priced pharmaceutical freeze dryers or Harvest Right freeze dryers. A commercial freeze dryer is definitely not what I was looking for.
If you're like me and wondering what in the heck the deal is, here's the simple answer—Harvest Right is the Only Game in Town!
The Reality of the Freeze Dryer Industry
While there are many freeze-dryer manufacturers, such as Telstar, Tofflon, and Labconco, only Harvest Right offers a line of easy-to-use home-use freeze dryers.
The rest specialize in manufacturing freeze dryers for commercial applications such as the pharmaceutical industry. These industrial-sized freeze dryers are not applicable for most home use.
The Truth About Used Freeze Dryers
Unfortunately, for the average home user, used freeze dryers are not a realistic option for creating your own freeze-dried foods. There are three primary reasons for this—cost, size, and Harvest Right's quality and reliability.
Size and How Much is a Freeze Dryer
Used industrial freeze dryers are typically much larger than home freeze dryers. In the commercial setting, they are often operated in a purpose-built freeze-drying facility that far exceeds the capacity of most homeowners.
Cost-wise, as the below images show, used freeze dryers in poor shape start at $5000 and quickly climb to over $100,000.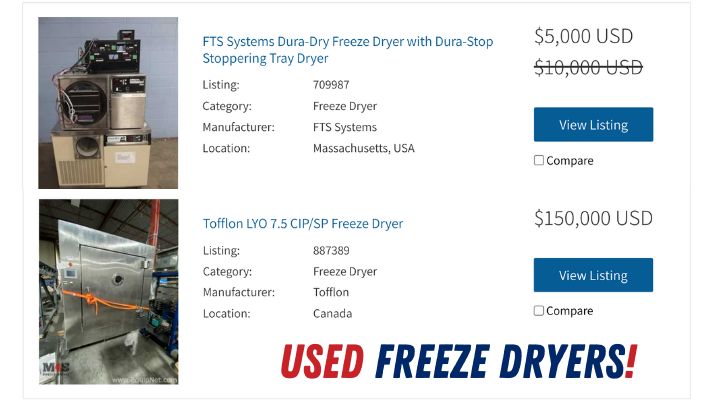 Harvest Right's Quality and Reliability
Based on my research and experience with my Harvest Right freeze dryer, the reason there are so few home freeze dryers on the market is that people are happy with their Harvest Right freeze dryers.
When it comes to creating in-home freeze-dried food, Harvest Right stands in a league of its own. Harvest Right is the go-to brand if you're trying to save leftovers and fill your food storage with tasty freeze-dried foods.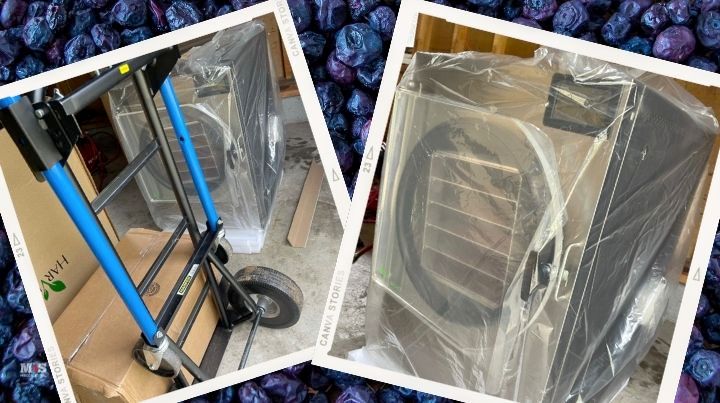 About Harvest Right
Harvest Right is the leading freeze-dryer manufacturer in the United States. Based out of Salt Lake City, Utah, Harvest Right spent years designing, engineering, and testing their freeze dryers.
According to Harvest Right, "…when you choose to purchase a Harvest Right Freeze Dryer, you're not only getting an innovative appliance that is built to last, you're also investing in a product that you can trust to preserve the foods you and your family love for years to come."
Harvest Right Freeze Dryer Accessories on Amazon
I purchased all of my accessories through Harvest Right. However, Amazon carries a wide range of accessories for your home freeze dryer. Whether you're looking for vacuum pump oil, freeze dryer trays, or oxygen absorbers, you can find many freeze-drying accessories on Amazon for purchase or comparison.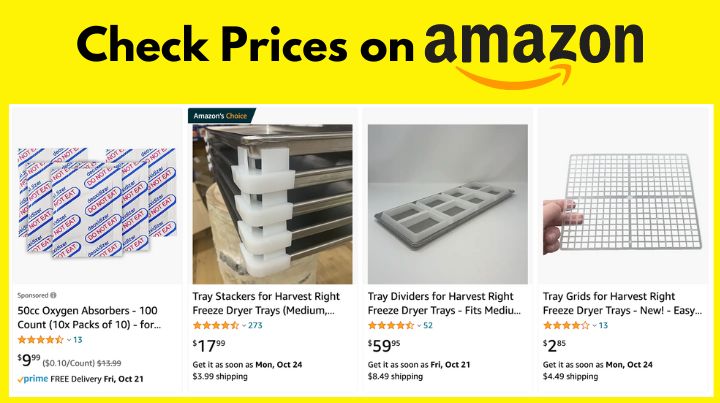 Freeze Dryer Frequently Asked Questions (FAQ):
Here are answers to some of the more common freeze-dryer-related questions
1. What is a Freeze Dryer?
A freeze dryer is an appliance that freeze-dries food. The freeze dryer operates by removing all of the water from food.
The freeze-drying process relies on extremely cold temperatures between -30F to -50F. Once frozen, the food is placed under a vacuum and slowly warmed. As the food thaws, it releases its moisture, which the vacuum removes. (Source)
When finished, the freeze-dried foods are ready for sealing, storing, and eventual rehydration and eating.
Is Freeze Drying Food Safe?
Yes, creating your own freeze-dried food is not only wise—it's safe too! As with any food prep, the focus should not only be on the tasty outcome but on the food safety process involved. As long you approach preparing your food using clean and sanitary techniques in alignment with manufacturer recommendations, you should have a safe and healthy outcome.
2. Freeze Dryer vs. Dehydrator
The freeze dryer and food dehydrator are two different methods of preserving food.
A freeze dryer consists of freeze-drying the food under extremely cold temperatures and a vacuum, which removes all the water from it. The process of freeze-drying helps the food retain its original taste, texture, and nutritional value.
Food dehydration is done by exposing the food to air currents that remove the water. Dehydrating food often results in less tasty food with textures that can be hard or gummy.
Dehydrated food can last for months without spoiling. However, freeze-dried food is a better option if you want to store the food for an extended period.
3. What Are the Benefits of Owning a Freeze Dryer?
Owning a freeze dryer has many benefits, including:
Preserving Food for Years:
Freeze-dried food can last for years without spoiling, making it the perfect way to store food for long periods. Because freeze dryers preserve food for years, owning your own allows you to stockpile longer shelf-life food inexpensively, making it the perfect purchase for preparedness-minded people.
Additionally, freeze-drying not only preserves your food but also does so while retaining up to 97% of the original nutritional value of your food. That's a much better nutritional return than dehydrated food or preserving it through the standard freezing process.
Create Your Own Tasty Recipes
Freeze dryers provide you with another significant preparedness advantage. Owning your own freeze-dryer allows you to freeze-dry the food and recipes you and your family like best. With your own freeze-dryer, gone are the days of relying on the expensive, limited freeze-dried products of commercial freeze-dried food manufacturers.
Manage Your Families Health and Special Dietary Needs
Do you or any of your loved ones have special dietary needs? Perhaps they have problems with gluten or eat an all-organic diet.
If so, owning a freeze dryer allows you to create a stockpile full of healthy, family-focused long-term food storage.
Additionally, because the freeze-drying process removes all the water from the food, it helps to prevent bacteria and mold from growing. It also eliminates the need to use preservatives, which allows you to create the healthy and natural meals your family deserves.
The fact is home freeze dryers allow self-reliant people to freeze-dry healthy, fresh foods from raw ingredients. With your own freeze dryer, you can prepare healthy, on-the-go meals that are perfect for road trips, camping, or as a backup when time is short and your hunger is high.
Saves Money on Groceries
Another great advantage of owning a home freeze dryer is the opportunity to save money on groceries. By using freeze-drying food preservation methods, you will be set to buy fresh food in bulk or when on sale, eat what you want, and freeze-dry the rest.
4. What Types of Food Can Be Freeze-Dried?
One of the benefits of freeze-drying is that you can use it to preserve a wide variety of food. This includes fresh fruits and vegetables, meat, fish, dairy products, and even baked goods.
Do you have a particular type of coffee that you like? No problem, brew a pot, freeze-dry it, and you will be set for years to come with your morning cup of hot goodness. Regardless of your taste in food, owning a freeze-drier allows you to be more self-sufficient with your food choices.
5. How Much Does a Freeze Dry Machine Cost?
Freeze dryers come in a wide range of prices. Harvest Right freeze dryers range in price from $2600 for a small freeze dryer to $3600 for a large freeze dryer. If you're in the market for something more robust than a home freeze dryer, contact Harvest Right directly for commercial freeze dryer pricing.
6. Are Freeze Dryers Worth It?
When it comes to freeze dryers, the answer to whether they are worth it is a resounding yes. Freeze dryers offer a wide variety of benefits that make them perfect for home and commercial use.
They are an efficient way to preserve food, helping to extend its shelf life while keeping it safe from bacteria and mold growth.
Freeze dryers also allow you to create your own recipes, ensuring that you have healthy, delicious food available no matter the circumstance.
Finally, freeze-drying offers a money-saving food preservation solution, helping you buy in bulk and freeze-dry the rest.
With all these benefits in mind, it's easy to see why freeze dryers are quickly becoming a must-have for every prepared individual.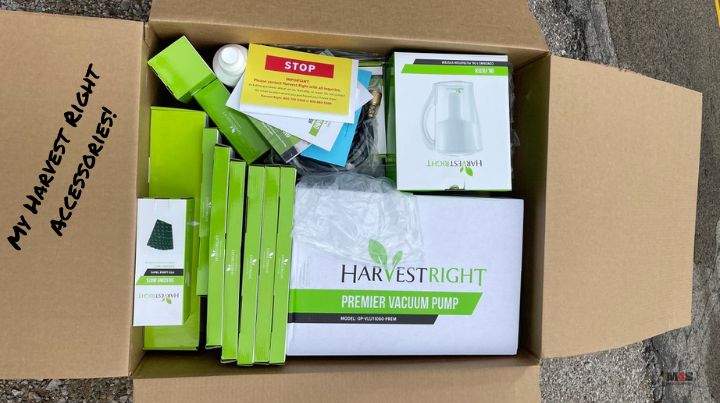 7. Freeze Drying Tips for Beginners
Now that you know a little more about your home freeze dryer, you may be wondering how to start freeze-drying. Here are a few tips for beginners:
Start by freeze-drying small amounts of food items at a time. This will allow you to get comfortable with the process and understand how your freeze dryer works.
Freeze dry fruits and vegetables. These are the easiest raw foods to freeze dry, and they make an excellent healthy snack, such as fresh pineapple or an addition to a meal.
Freeze dry raw meats, fish, and dairy products. These items can be a little more challenging to freeze-dry, but you can create freeze-dried versions of your favorite dishes with a bit of practice.
Experiment with freeze-drying your favorite baked goods. By freeze-drying baked goods, you can create a healthy and convenient snack that is perfect for on the go.
The Bottom Line When Considering a Freeze Dryer for Sale
As my freeze dryer shows, home freeze dryers are an excellent way for self-reliant people to preserve food. They allow you to buy fresh food in bulk, freeze-dry the rest, and create your recipes.
With a wide variety of freeze dryers available on the market, there is sure to be one that fits your freeze-drying-foods needs and budget. If you're looking for a way to save money on groceries and have healthy, delicious long shelf-life food available no matter what, a freeze dryer is a perfect solution.
Now that you know a little more about freeze dryers, be sure to check out your best freeze dryer. With so many great options, you're sure to find the perfect freeze dryer for your needs.
As a fellow Harvest Right owner, I am excited to say you won't go wrong buying yours today!
Additional Resources
Happy freeze-drying!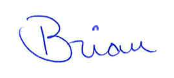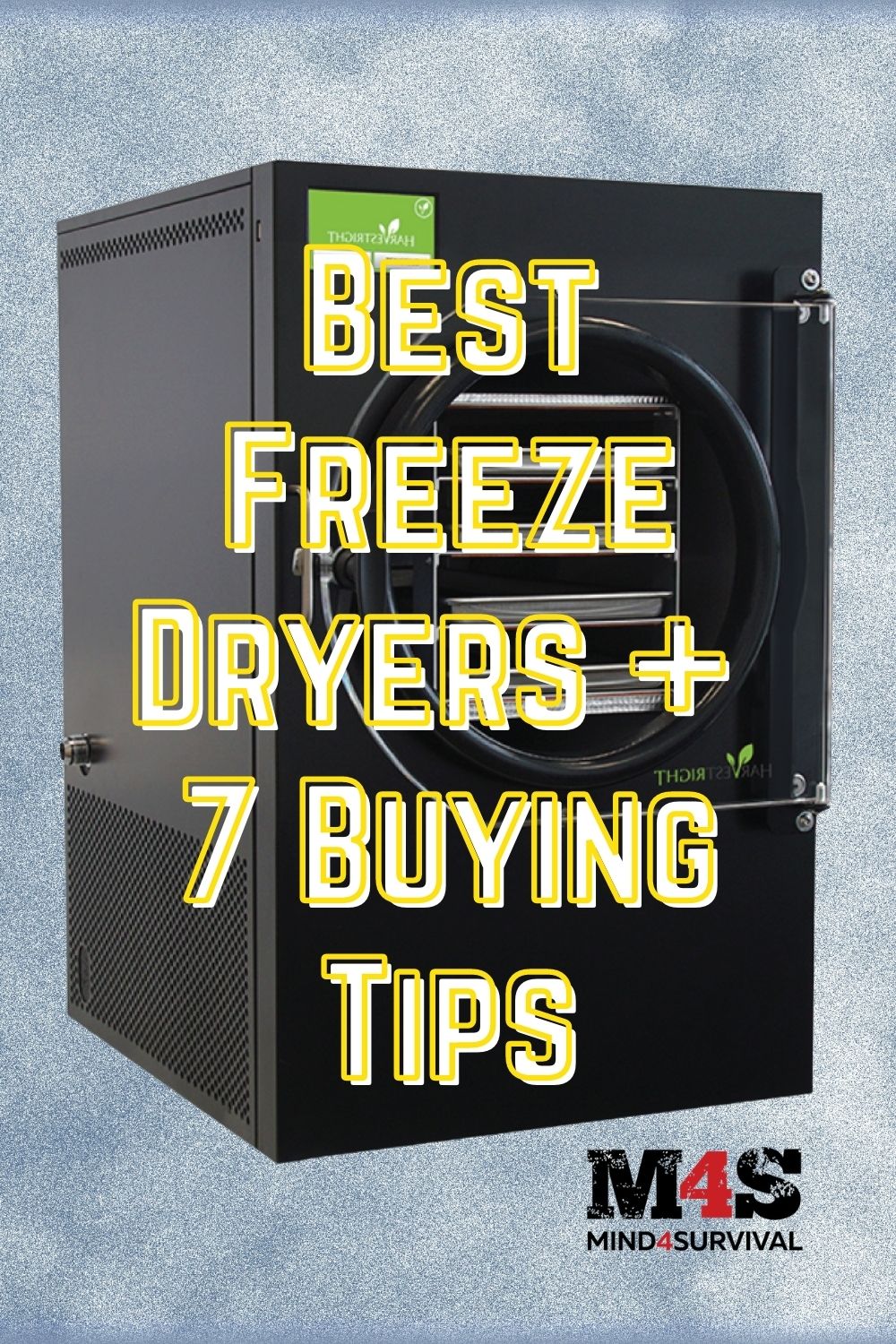 Stay informed by joining the Mind4Survival! 100% Secure! 0% Spam!
Mind4Survival is a free, reader-supported information resource. If you make a purchase through our link, we may, at no cost to you, receive an affiliate commission.