7 Best Tasers for Women | Self Defense Stun Guns (2023)
Last Updated September 7, 2023
|
Tasers are an excellent self-defense tool for women, but choosing the right tasers for women can be difficult.
Tasers come in many different shapes and sizes, so it is essential to find one that fits your needs. We have put together this list of the best tasers along with a mini-guide to help you choose the perfect taser for your needs!
What Are the Best Tasers for Women?
In my opinion, one thing that determines which stun gun is best—PROVEN POWER. That means the stun gun with the most verified power wins. After all, it's the amount of electricity that you can send through an attacker's body that determines how well your self-defense weapon performs.
The key to the strength of Tasers is not microCoulombs (µC). MicroCoulombs is a measure of the discomfort caused by the Taser. The more the discomfort (pain) the greater the effect on the bad guy. Therefore, the primary focus of this review is on microCoulombs, followed by secondary considerations such as size, popularity, etc.
Disclaimer: This article contains affiliate links that I may receive a small commission for at no cost to you if you choose to purchase a product through a link on this page.
---
1. SABRE 2.762 µC
This Sabre 2.762 µC stun gun tops the best Tasers for women list because it packs a punch. At nearly micro coulombs, this powerful stun gun stands the best chance to immobilize attackers giving you time to get to safety. In addition to black, this self-protection device is also available in pink and a patriotic flag print.
Stun Gun Features:
2.762 µC of power
120 Lumen Flashlight
Compact 1.5 x 1 x 3.75 inches
Packaging includes links to free training videos
---
2. VIPERTEK VT-880
The ViperTek VT-880 is the most highly reviewed of all the stun guns on the market. While it doesn't carry the same knock down punch as the Sabre 2.762 µC stun gun, its 1+ µC of power will give a blast of unbearable pain to any assailant. The Vipertex VT-880 is available in black, purple, and pink.
Stun Gun Features:
1.05 µC of power
Flashlight
Small 2 x 1 x 4 inches
Lifetime Warranty
---
3. DIABLO 2
The Diablo 2 takes the third spot on our best tasers for women list because, because it not only exceeds the National Institute for Justice pain threshold, it does so with the looks of a small, unassuming flashlight. A flashlight that projects a 320-lumen beam, making it the brightest LED light of any model on the list.
Stun Gun Features:
1.072 µC of power
Bright 320-Lumen LED light
Durable: Made of Type III Aluminum Alloy
Lifetime Warranty
A Note About Stun Guns Camouflaged as Flashlights
The advantages a discreet, self-defense stun gun, combined with a light, provides cannot be understated.
These self-defense weapons, camouflaged as a flashlight, allow you to carry your stun gun out and at the ready, with no one the wiser as to self-defense weapon sitting in your hand. Their light not only gives you the ability to see in the dark but to also disorient a threat by shining the light in their eyes.
All things considered, these stun guns disguised as a flashlight are great options that are worth considering.
---
4. VIPERTEK VT-195
The ViperTek VT-195 is another stun gun disguised as a flashlight. With over 14,000 Amazon reviews and a 4.5-star rating, this 1.193 microCoulombs produces enough power to cause serious problems for any would-be attacker.

Stun Gun Features:
1.193 µC of power
Bright LED light
Aircraft Grade Aluminum Alloy Construction
Lifetime Warranty
---
5. SABRE 1.82 µC
This is another stun gun disguised as a flashlight addition to our stun guns list. With nearly 2 microCoulombs of power, this Sabre flashlight-looking self-defense stun gun can rival the effects of most stun batons. Unlike the others, this piece of self-protection kit has a nifty pocket/belt clip to keep it at the top of your pocket and at the ready. This model also comes in Army Green.
Stun Gun Features:
1.82 µC of power
120 Lumen LED light
Small 1.5 x 6.38 x 1.5 inches
---
6. TASER Pulse
Unfortunately, I can't find the microCoulomb rating of the Taser Pulse stun gun. However, Taser is a well-known and successful brand that has manufactured self-protection devices for both the law enforcement and civilian markets with great success. One of their Tasers performed so well that it exceeded 100 µCs of stopping power.

The reason I am including the Taser Pulse in this list is twofold. First, I trust the Taser brand to exceed the minimum threshold of 1 µC. Secondly, the Taser Pulse has a range of 15 feet, which is a significant advantage over the others that require an attacker to be up close and personal. The Taser Pulse also looks more intimidating than the other stun guns for women on this list.
For those reasons, I'm including it on this list for your consideration. Hopefully, Taser will get on board with making its microCoulomb more readily available.
Taser Features:
15-foot range
9.1 x 9.1 x 9.1 inches
Taser is a trusted brand
Here's an Informative Stun Gun vs Taser Article.
---
7. Elektra Lipstick
For the last addition to this list, I'm going with a completely covert piece of self-protection gear. No, this Elektra Lipstick stun gun does not have a microCoulomb rating. However, the unassuming design of this is such that it will easily go unnoticed in a purse or pocket. That, combined with a decent overall Amazon review score and over 800 ratings, makes it worth considering.
Stun Gun Features:
Very covert
100 Lumen light
---
What are Tasers and Stun Guns
Tasers and Stun Guns are a type of self-defense device that uses electrical current to stun and immobilize an attacker.
Tasers vs Stun Guns
A good concept to understand is that while all stun guns are similar, "Taser" is a specific, well-known, brand of stun devices. Due to their popularity, "the word "Taser" and stun gun are often used interchangeably.
How Tasers and Stun Guns Work
Tasers and stun guns work by sending an electrical current through the attacker's body. This current will cause the attacker to experience muscle spasms and interrupt the communication between the brain and the muscles. This can effectively disable the attacker and will give you time to escape.
MicroCoulombs (µC)
Contrary to what many stun gun sellers advertise, the power of stun guns is measured in microCoulombs. MicroCoulombs measure the amount of electricity that is discharged to the body when you zap someone with your stun gun. The higher the µC, the greater the pain inflicted on the attacker.
According to the National Institute for Justice (link down below), less than .5 microCoulombs will be minor discomfort for the person being shocked. Likewise, an electrical shock of greater than 1 µC will result in unbearable pain.
Therefore, to be on this list, stun guns must deliver over 1 microCoulomb worth of pain. And, since pain is something we thrived on in the Rangers, the more microCoulombs, the better. After all, the best self-defense weapons are the ones that are most effective in debilitating an attacker.
What are the Benefits of Tasers and Stun Guns
There are many benefits of Tasers, including the following:
They are an effective way to defend yourself against an attacker.
Tasers and stun guns are a great option when Constitutional carry isn't allowed, and a concealed carry permit is difficult or impossible to obtain.
They provide a non-lethal self-defense option.
Most Taser guns are affordable and can be purchased online or in stores.
How to Choose the Right Taser
There are many different types of Taser stun guns available, so it is crucial to choose the right one for you. You can buy tasers online or in stores, and it is essential to learn how to use them properly for self-defense.
Here are some tips for choosing the right taser:
Choose a taser that fits your needs. There are tasers that are small and discreet, so you can carry them with you wherever you go.
Similarly, there are some stun guns that are large and intimidating.
Choose a taser that is easy to use and has safety features to prevent accidental discharges.
How to Use a Taser for Self-Defense
Tasers are effective self-defense options for women. Here are some tips for using a Taser safely and effectively:
Make sure you buy a taser that is easy for you to use confidently. There are many different types of tasers available, so it is vital to choose the right one for you.
Learn how to use your stun gun correctly. A Taser's electric shock can be dangerous if used improperly, so it is important to learn how to use them safely.
Carry your taser with you at all times. Make sure you have it readily accessible in its leather or nylon holster, etc. Use the wrist strap so you don't drop it.
Don't hesitate to use your Taser if you feel justifiably threatened. Tasers can be a very effective way to deter an attacker.
Be aware of your surroundings at all times. Don't walk around alone at night or in dangerous areas, and be situationally aware of who is around you.
Know your local laws and find out what your state requires when it comes to stun guns.
Stay calm and focused in a dangerous situation. When using a Taser or stun gun for self-defense, it is essential to stay calm and focused.
Practice using your Taser so you are familiar with how it works and prevent accidental discharge. This will help you feel more confident using it in an actual emergency.
Top Picks Recap!
The Bottom Line on the Best Stun Guns for Women
Tasers are an effective self-defense tool for women. Most stun guns for women can be used in many different ways, from a stun gun to a taser flashlight and even pepper spray. Tasers are excellent defense products that offer a great self-defense opportunity!
While you should always avoid confrontation, a Taser such as the SABRE 2.762 µC Stun Gun with Flashlight is an easy-to-gain confidence in protection weapon.
Additional Resources: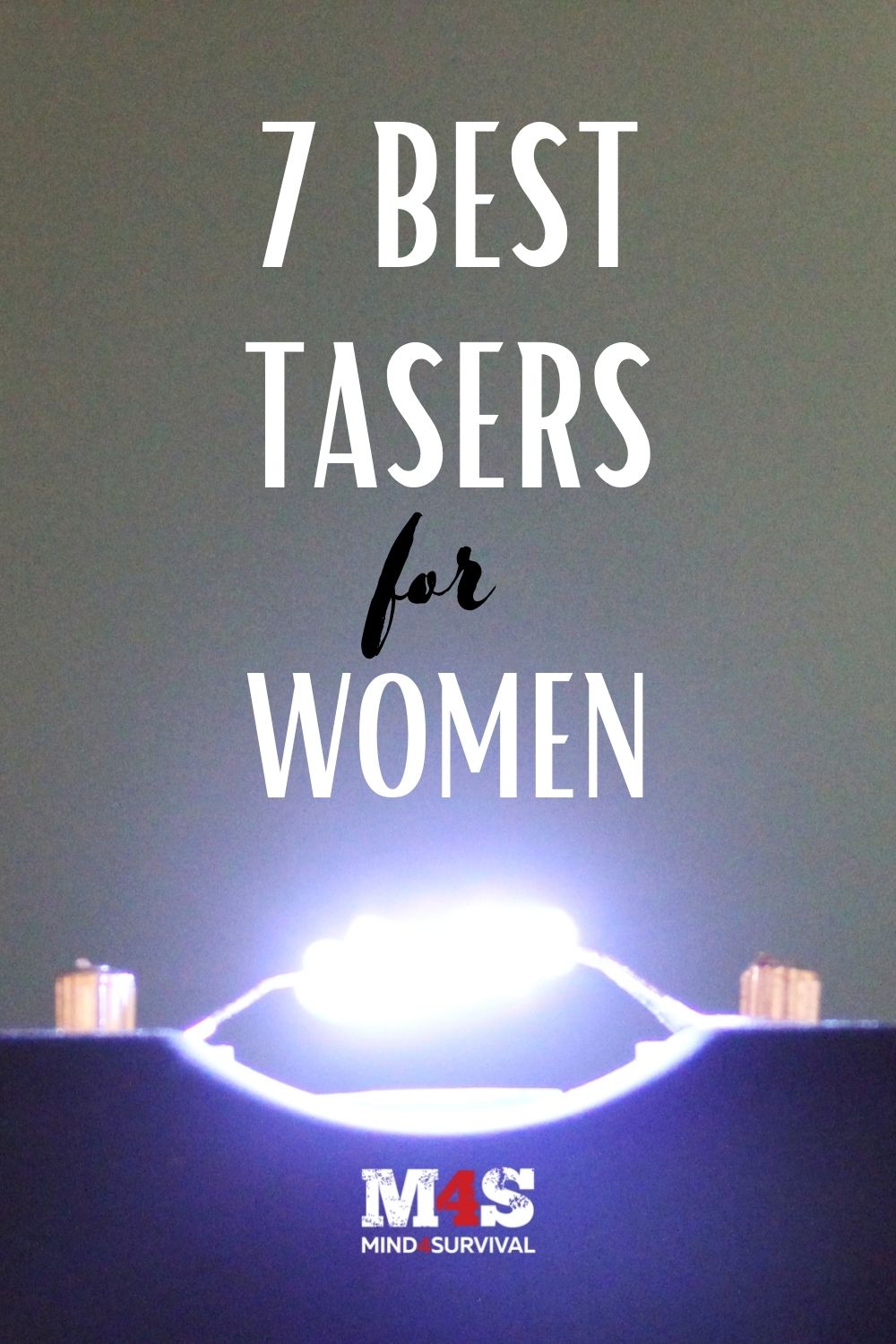 Stay informed by joining the Mind4Survival! 100% Secure! 0% Spam!
Mind4Survival is a free, reader-supported information resource. If you make a purchase through our link, we may, at no cost to you, receive an affiliate commission.