UCO Candle Lantern Review & Guide (2023)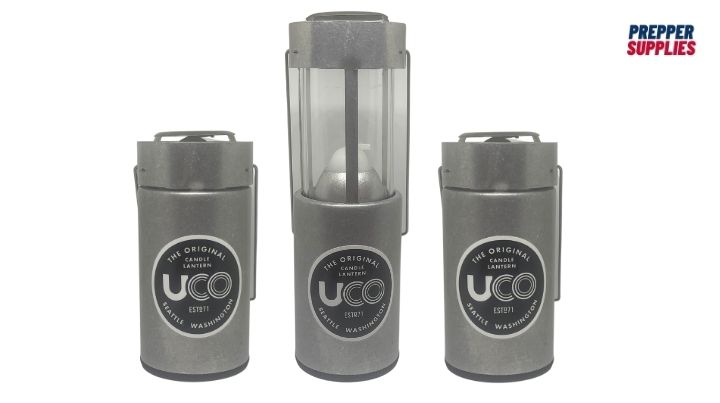 The UCO Candle Lantern is an excellent product for every outdoor enthusiast. Whether you're a weekend camper, or a prepper looking for an alternate, grid-down light source, the UCO Candle Lantern may be the reliable piece of gear you need. Its unique design, durable build, and long-lasting candle make it a great consideration for your packing list.
If you want to learn more about the UCO Candle Lantern (pronounced "you-co") and why it's a must-have for your next outdoor adventure or survival situation, this article is for you.
What is the UCO Candle Lantern?
Disclaimer: This article contains affiliate links that I may receive a small commission for at no cost to you if you choose to purchase a product through a link on this page.
The UCO Candle Lantern is a portable and lightweight lantern designed to provide a bright and warm light that can last up to nine hours with a single candle, making it an efficient and eco-friendly alternative to battery-powered lanterns.

What are the Features of the UCO Original Candle Lantern?
The lantern is made of rugged, lightweight aluminum, which ensures its durability and sturdiness. The candle lantern has an easy slide glass chimney that creates a windproof environment, which ensures your candle flame stays safe and lit in adverse conditions such as winter camping.
Adding to its functionality is the spring-loaded candle tube that keeps the candle burning even and consistently. Also, a twist-lock base makes replacing candles easy and frustration-free.
Moreover, the UCO Candle Lantern's compact size makes it easy to pack, while its handle allows you to hang it where needed to take the most advantage of its light.
What are the Dimensions of the UCO Candle Lantern?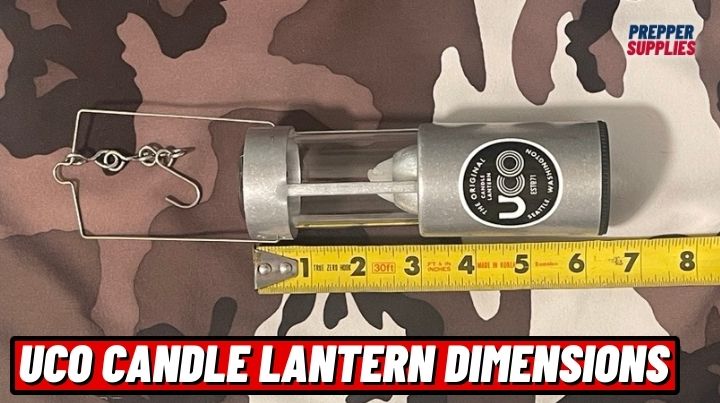 The UCO Original Candle Lanterns Specs:
Closed Height: 4.25in. (10.8cm.)
Open Height: 6.25in. (16.5cm.)
Width (Diameter): 2in. (5cm.)
Handle Length: 3.25in. (8.25cm.) above the top of the heat shield.
Chain Length: 3.75in. (9.53cm.)
Total Length: 13.75in. (34.92cm.) base to the chain hook
Weight: 6.75oz. (191.4gm.)
What Types of Candles Does the Candle Lantern Use?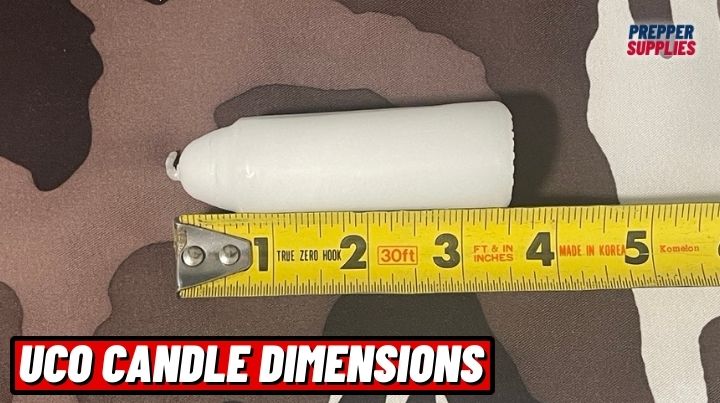 There are several types of candles for the UCO Candle Lantern.
9-Hour Standard Candle
9-Hour Citronella Candle
12-Hour Beeswax Candle
The Original Candle Lantern Candles Specs:
Height: 4.25in. (10.8cm)
Width: 1.12in (2.8cm.)
How to Light the UCO Candle Lantern
The UCO Candle Lantern is easy to light by following these steps. With that, and for the latest operational updates, please refer to the instructions that accompany your candle lantern.
UCO Original Candle Lantern Lighting Steps:
Swing the wire handle upwards.
Hold the base and slide the upper body up out of the lower body.
Slide the glass chimney down.
Light the candle wick.
Immediately slide the glass chimney back up.
Place or hang the candle in a safe place.

Are UCO Candle Lanterns Safe?
Yes, UCO Candle Lanterns are safe to use when used correctly and in accordance with the manufacturer's instructions.
The twist-lock base and the spring-loaded candle tube maintain a secure and even flame. Additionally, the protective glass chimney that surrounds the candle protects the flame from coming into contact with flammable exterior materials. The chimney also helps to regulate the airflow, ensuring efficient and safe burning.
However, it is important to note that you should use caution when using the UCO Original Candle Lantern. It should never be left unattended, and care should be taken to avoid flammable materials.
Will the UCO Candle Lantern Heat a Tent?
Let me start by asking a question. Does anyone think a single candle will provide enough heat to make a significant temperature difference in a cold tent? It takes 20 candles to make a difference in a small room.
Regarding the ability to heat tents, the great team from The Prepared released the video "Does a Candle Lantern Warm a Tent?" In their video, they conduct a field trial using a single candle lantern, in a single-walled REI backpacking tent with rainfly. The trial is conducted with an outside ambient air temperature of approximately 28°F (-2.2°C).
The Prepared does a great job of establishing a pre-field test baseline temperature by noting that before lighting the candle, the inside temperature of the tent, accounting for body heat, is 45°F (7.2°C).
After lighting the candle and waiting ten minutes, the in-tent temperature remained at 45°. In other words, there was no increase in temperature from the candle. After waiting for another 15 minutes, for a total of 25 minutes, the temperature remained under 50°F (10°C).
The Prepared's field trial shows that a single candle (candle lantern) is not a reliable heat source. That's an essential piece of information if you're considering this as a survival tool for cold climates. Again, it's just one candle.
Is it Smart to Use a Candle in a Tent?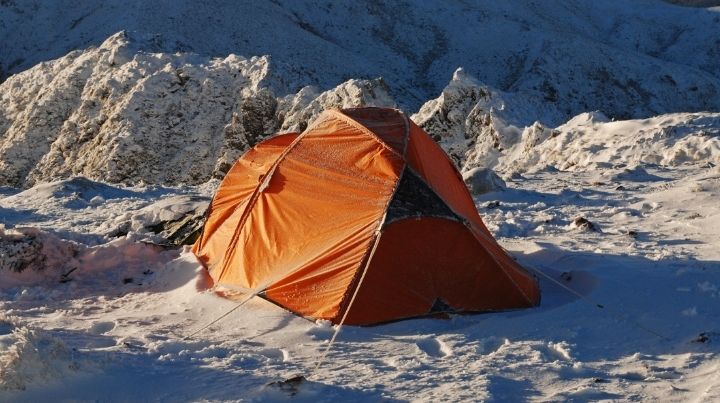 In my opinion, "No," it's not smart to use any open flame source in a nylon (aka flammable) tent. Sure, we can tell ourselves we'll be careful, and it will be alright. Unfortunately, that's normalcy bias, and using a candle while surrounded by flammable fabric is never a good idea.
It's also worth noting that the carrying handle, chain, and top of the candle lantern get hot. Therefore, you do run the risk, even with the candle contained in the body and glass chimney of the UCO Candle Lantern, of melting portions of a nylon tent should contact be made between the lantern and the tent.
Again, the former firefighter in me can't stress enough that you should not use an open flame or an enclosed candle lantern in a tent.
Pros of the UCO Candle Lantern
As a light source, the original UCO Candle Lantern is a quality piece of kit. It's compact, lightweight, and well-built. It will give you one candle's worth of friendly, warm, and inviting light for nine hours. That's a great thing.
Another great aspect of the UCO Original Candle Lantern is the number of add-ons made by UCO. For example, in addition to various candles, Amazon sells a storage bag, neoprene covers, light reflectors, and replacement parts for their candle lanterns.
Cons of the UCO Candle Lantern
The only cons I can see with this product are that the top heat shield can get hot, so be careful where you hang it and how soon you handle it after extinguishing the flame. Also, while I haven't experienced it, I have read reviews that state the chimney glass falls. So, keep that in mind when using your candle lantern.
Again, if heating an area with a candle is a capability you want, you may want to consider the three-candle UCO Candlelier Deluxe Candle Lantern. While I haven't performed a field test with it, three candles are definitely better than one.
The Bottom Line About the UCO Candle Lantern?
I love my candle lantern. As mentioned, I don't expect that it will be a reliable heat source. However, as a well-built, long-lasting, and relaxing light source, I recommend the UCO Original Candle Lantern. I love mine and feel that you will too.
Additional Resources
Stay safe,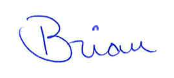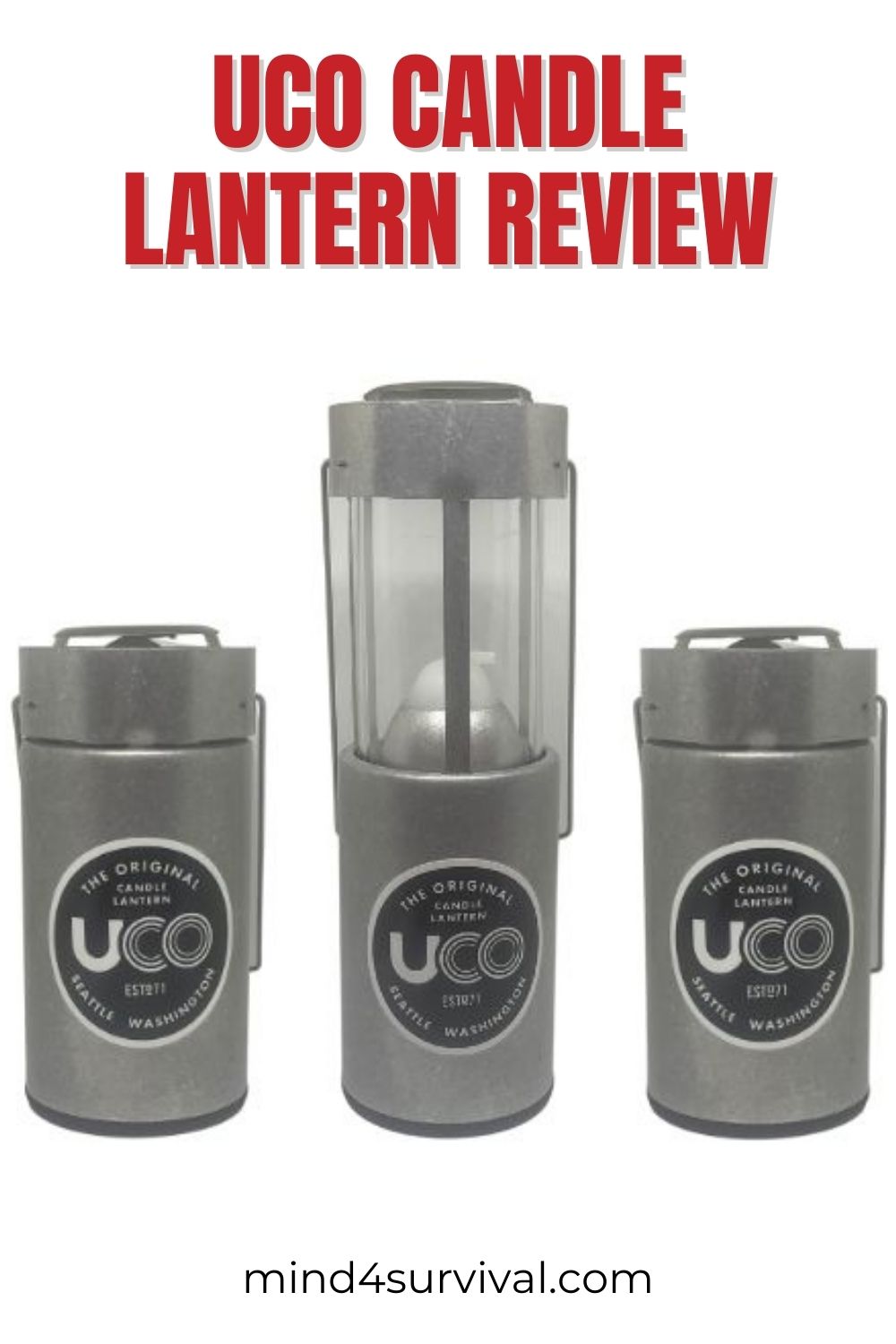 Stay informed by joining the Mind4Survival! 100% Secure! 0% Spam!
Mind4Survival is a free, reader-supported information resource. If you make a purchase through our link, we may, at no cost to you, receive an affiliate commission.