The Best Army Poncho Liner | Woobie Guide & Review (2023)
Last Updated June 22, 2023
|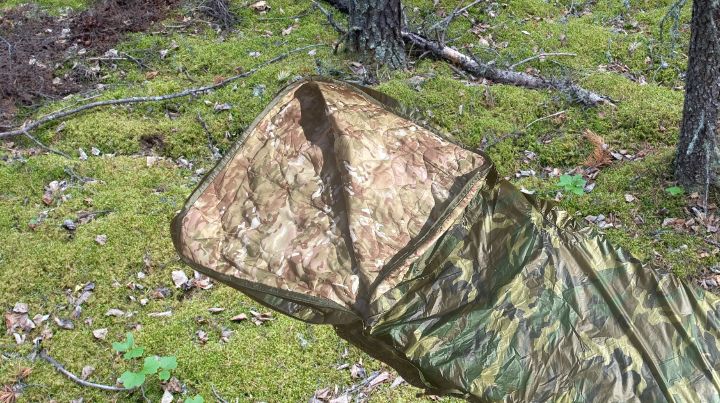 One of the best pieces of kit for anyone who wants to stay comfortable and warm outdoors is the versatile army poncho liner. The 'cho liner was a staple of my time in the military and one of the first items on every Ranger's packing list. It was such a great piece of equipment that I couldn't help but fall in love with the tried and true poncho liner during my time in the infantry.
It was so great that after the military, I carried it with me during my decade of global deployments with the Diplomatic Security Service, and that is why I still include it in my preps to this day. Based on my experience, a poncho liner is a must-have piece of gear for every outdoor enthusiast and preparedness-minded survivor!
Disclaimer: This article contains affiliate links that I may receive a small commission for at no cost to you if you choose to purchase a product through a link on this page.
The Best Poncho Liner Review & Guide:
What is the Best Poncho Liner?
The best poncho liner is the one that best suits your budget and needs. It's that simple. With that, which one brings you the best value for your hard-earned dollar? Here are my choices when it comes to the best poncho liner:
Dragoon Unlimited Poncho Liner


While there are many quality poncho liners on the market, my top pick is the Dragoon Unlimited Poncho Liner. Dragoon's woobie tops the list because, in addition to being a Veteran owned company and providing excellent customer service, Dragoon's poncho liner takes what was already a great piece of kit and expands its capability, making it the wearable, multipurpose Swiss Army Knife of poncho liners. It's the piece of kit that I wish I had when I was carrying a ruck for a living.
Benefits of the Dragoon Unlimited poncho liner:
Head Port Zipper: Centered in the middle of the poncho, the head port zipper allows it to be worn as a serape, providing a standalone insulating layer or in conjunction with a rain poncho.
Zippered on Three Sides: Quickly convert your woobie with or without your military rain poncho into a lightweight sleeping bag.
Ruggedized Materials: Dragoon's liners are constructed with ripstop material that includes an impregnated coating that allows it to shed light rain and helps it avoid soaking up water, mud, and dirt like the military poncho liners I was issued.
100% Satisfaction Guarantee: If you're not happy, Dragoon is not happy. Dragoon will fix any issue and/or refund the purchase with no questions asked.
---
Acme Approved Woobie


---
Farm Blue Military Camping Blanket

---
Pinnacle Mercantile Authentic Military Woobie


---
What is a Poncho Liner
A poncho liner, also known as a woobie, is a versatile and essential item for any prepper or survival-minded individual. It is a compact, lightweight, water-resistant blanket that, in addition, to adding a layer of warmth under a rain poncho, you can use it for various purposes, including as a sleeping bag, a blanket, a ground cover, or a shelter.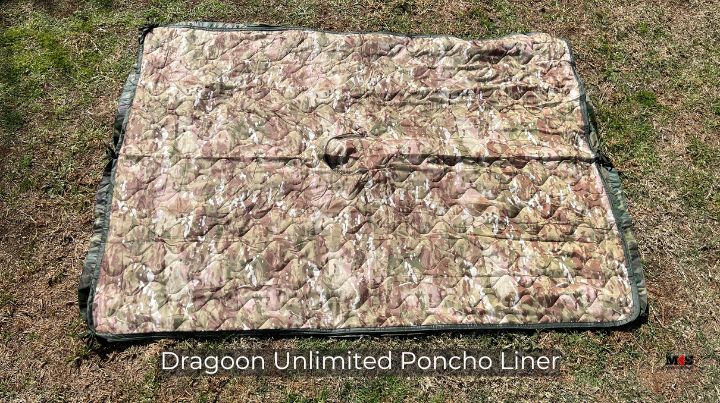 The army poncho liner can be easily packed into a small space, making it an ideal item for not only Special Forces troops but also backpackers, hikers, preppers, survivors, and any other outdoor enthusiast who needs to minimize the weight of their gear. Additionally, the woobie is easy to clean and maintain, making it a reliable item for long-term use.
Uses of a Poncho Liner
A military poncho liner is a versatile and essential item for any prepper or survival-minded individual. Here is a list of common uses for a military 'cho liner: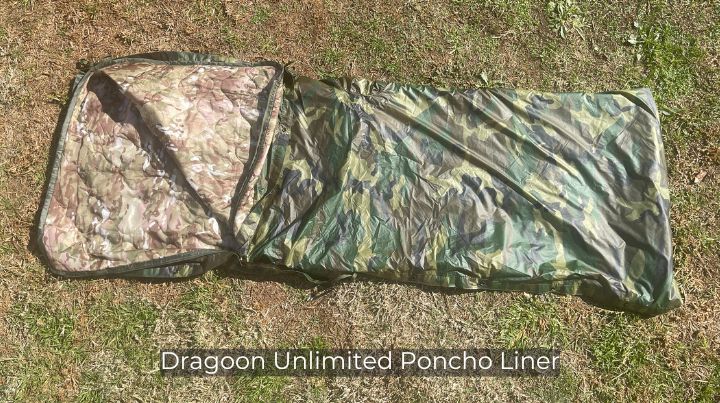 Sleeping Bag: The poncho liner can be combined with a typical woodland camo rain poncho as a lightweight and compact sleeping bag for camping and backpacking.
Blanket: The poncho liner can be used as a standalone blanket to conserve body heat and provide comfort in various conditions.
Warmth Clothing Layer: When using a versatile product, such as a Dragoon Unlimited poncho liner with zippered head openings, your poncho liner becomes an insulating layer to protect you from the cold.
Ruck Sack Padding: 'Cho liners are an excellent tool for snaking around the inside of your backpack to protect your gear and reduce the noise signature of banging and clanking items.
Shelter Floor Cover: The woobie can be used as a floor cover in a tent to provide insulation and protection from the ground.
Ground Cover: The poncho liner can be used as a ground cover to protect you from the cold when camping, hiking, or pinching.
Windbreak & Privacy Screen: The poncho liner can block wind and prying eyes when camping or hiking in windy conditions.
By having a military poncho liner, you can be prepared for a variety of situations and have a reliable source of comfort and protection when you need it.
Army Poncho Liner Construction
An army poncho liner is typically constructed from durable and lightweight materials designed to withstand the rigors of military use. The construction of an army poncho liner typically includes the following features: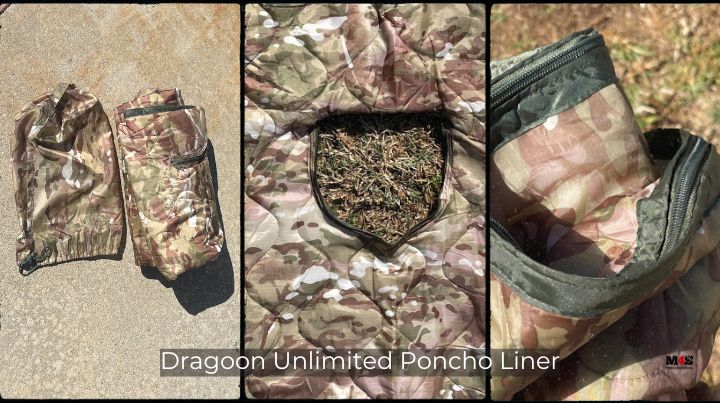 Insulation: Most 'cho liners are made with a lightweight insulating layer of polyester filling sandwiched between two layers of quilted nylon rip-resistant material.
Stitching: 'Cho liners are constructed with strong, reinforced stitching to ensure they can withstand heavy use. The stitching is typically done in a way that minimizes the potential for fraying or unraveling, even in rough conditions.
Size: They are designed to be compact and lightweight, making them easy to pack and carry. It is typically large enough to provide ample coverage and comfort but not so large as to be cumbersome to use.
By incorporating these features, an army poncho liner is designed to provide comfort, versatility, and protection in a compact, lightweight package.
How to Care for Your Army Poncho Liner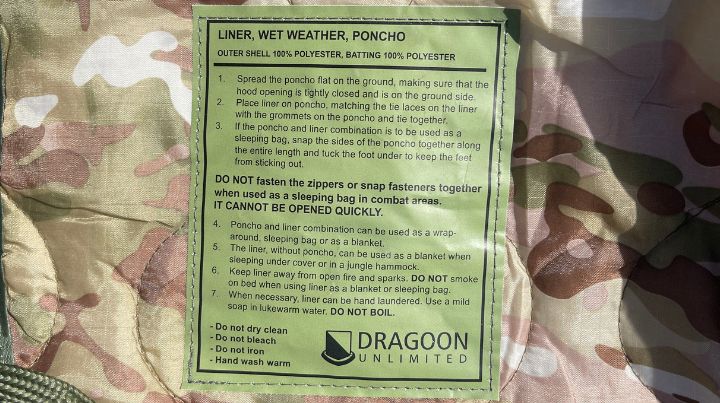 Properly caring for an army poncho liner is important to ensure its longevity and performance. Here are some steps to follow for proper care of your poncho liner:
Cleaning: After each use, shake out any dirt or debris and hang the 'cho liner in a well-ventilated area to air out. For spot cleaning, use a mild detergent and cool water. Avoid using hot water or putting the woobie in the dryer, as high heat can damage the fabric.
Storage: Store the woobie in a cool, dry place when not in use. Avoid storing it in damp or humid areas, as this can promote the growth of mold and mildew.
Maintenance: Check the woobie periodically for any signs of wear or damage, and replace it if necessary. Regular maintenance will help ensure that the poncho liner continues to perform at its best.
Repairs: If the liner becomes torn or damaged, repair it promptly to prevent further damage. Use a needle and thread or a patch to repair tears or holes.
By following these care instructions, you can help your army poncho liner provide you with comfort and protection for many years to come.

The Bottom Line on Poncho Liners
The military poncho liner is a must-have for soldiers, preppers, and outdoor enthusiasts. That's why I carry the Dragoon Unlimited Poncho Liner. It offers versatility, durability, and comfort, making it an ideal multipurpose item for everyday and emergency preparedness. Whether camping, hiking, or simply preparing for a disaster, the military woobie is a valuable addition to your gear.
Additional Resources:
Stay safe,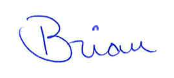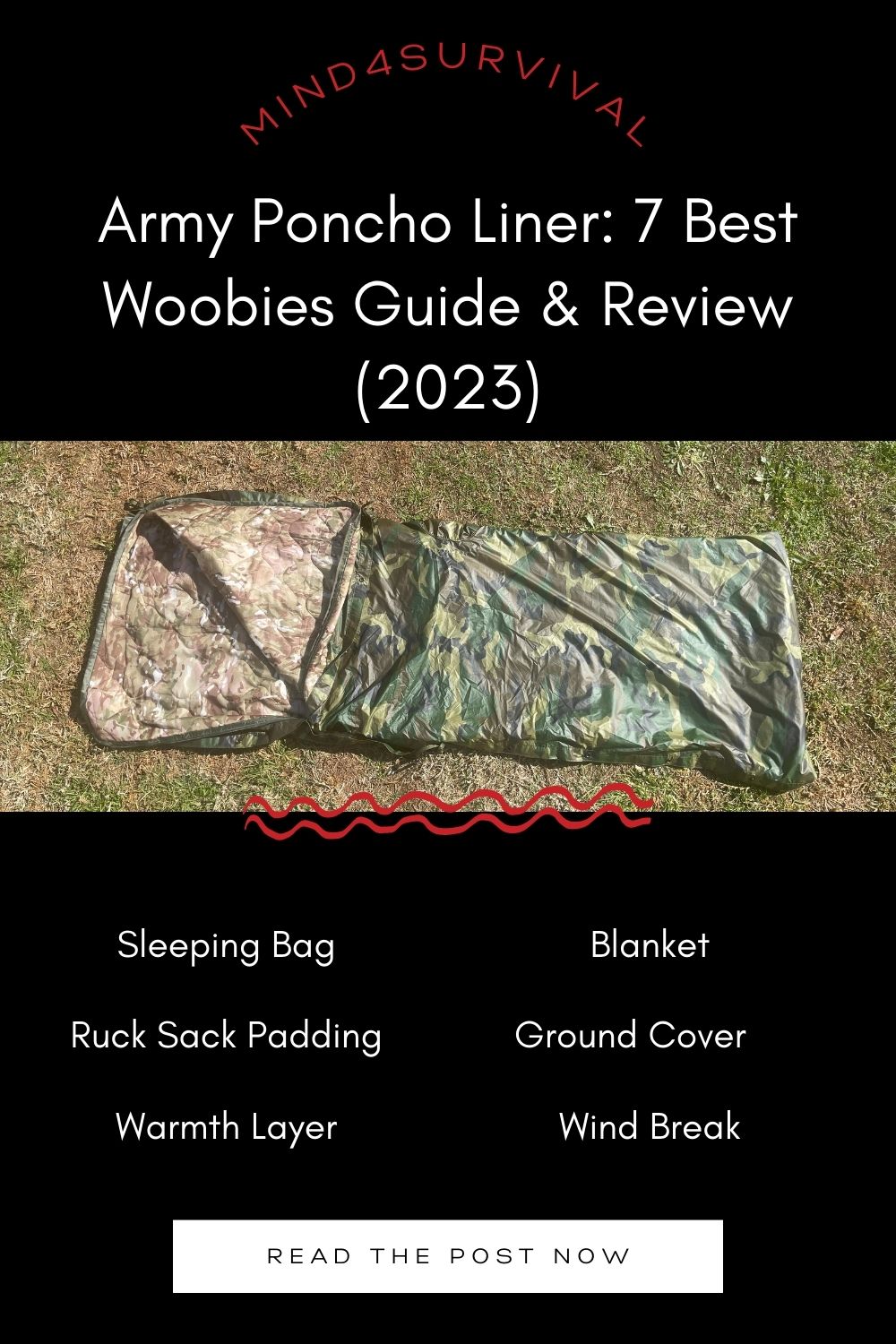 Stay informed by joining the Mind4Survival! 100% Secure! 0% Spam!
Mind4Survival is a free, reader-supported information resource. If you make a purchase through our link, we may, at no cost to you, receive an affiliate commission.