Edible Landscaping: Food Hidden in Plain Sight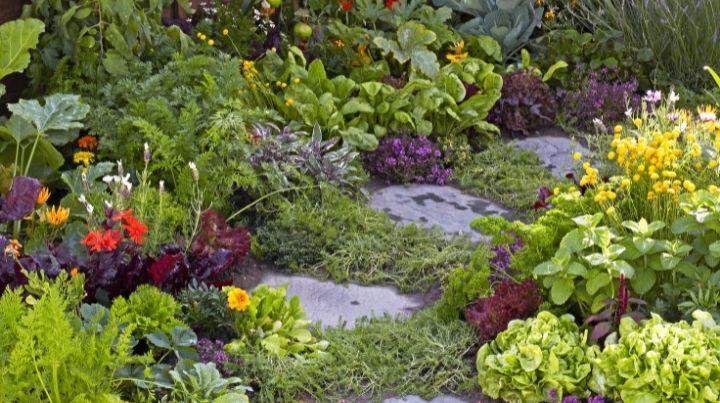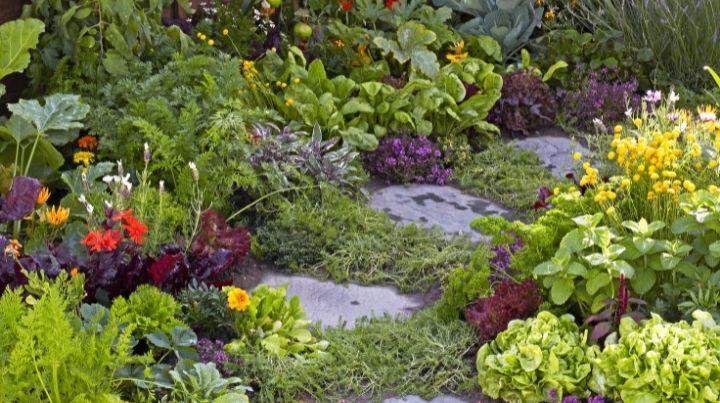 Edible landscaping, similar to permaculture, is taking off in a big way. Whether you're trying to avoid a pesky HOA rule against food gardening or hoping to hide your seasonal stockpile in pain sight, edible landscaping is the way to go.
What could possibly be better than a yard full of beautiful things that you can actually eat? Grass is so passe!
What is Edible Landscaping?
Edible landscaping is exactly what it sounds like. Instead of pots and beds full of merely decorative plants, your gardens hold food in disguise. That pretty, flowering vine? Sweet potatoes! Those beautiful flowering shrubs growing along your fence? Blueberry bushes.
Some neighborhoods have very restrictive rules about food being grown. Who can forget the hullabaloo in 2012 about a front yard vegetable garden being grown in Orlando, Florida? The homeowner put it there because it got the best sunlight. But city bylaws stated that people were not allowed to grow vegetables in the front yard. The city bulldozed the thriving garden, destroying months of work. A massive lawsuit ensued, and in 2019, the state of Florida passed a law allowing front yard gardens.
However, regular laws don't apply in properties ruled by a homeowner's association (HOA). A homeowner's association can pass incredibly stringent rules that mean you have to garden with stealth if you want to grow food on your property.
Are Edible Landscaping and Permaculture the Same Thing?
You might be wondering if edible landscaping is the same thing as permaculture. The answer is…sometimes. Permaculture is "permanent agriculture," and plants that will keep producing year after year are deliberately chosen. Here's a more thorough definition.
Permaculture integrates land, resources, people and the environment through mutually beneficial synergies – imitating the no waste, closed loop systems seen in diverse natural systems. Permaculture studies and applies holistic solutions that are applicable in rural and urban contexts at any scale. It is a multidisciplinary toolbox including agriculture, water harvesting and hydrology, energy, natural building, forestry, waste management, animal systems, aquaculture, appropriate technology, economics and community development.

Permaculture (the word, coined by Bill Mollison, is a portmanteau of permanent agriculture and permanent culture) is the conscious design and maintenance of agriculturally productive ecosystems which have the diversity, stability, and resilience of natural ecosystems.
On the other hand, edible landscaping often includes annual plants that must be replanted every season. It can be more versatile and the plants are often grown in attractive pots that add to the home's decor.

What Plants Can You Use?
The plants you use vary widely depending on what part of the country you're in. For example, blueberries that would run rampant in Maine would wither quickly in the blazing Arizona sun. It's best to look to nature for your initial inspiration. What edible plants grow naturally in your area? (Another bonus to native plants is they'll require far less maintenance since they're meant for your particular ecosystem.)
Once you've established your local fauna, it's time to start researching what will a) do well in your area and b) grow under the radar. Some popular "secret" plants are:
Kale
Sweet potatoes
Scarlet runner beans
Herbs
Tomatillos
Sunflowers
Violets
Rhubarb
Winter squash/pumpkins (Fall decor, right?)
Jerusalem artichokes (also known as sunchokes)
Asparagus
Nasturtiums and other edible flowers
Chard
Fruit trees
Nut trees
Ginger
Berry bushes
Red cabbage
Leeks
Carrots
Collard greens
Grapes
Hops
Kiwi
Passionfruit
Maple trees (to tap for syrup)
If you can put it in a pot or make it look pretty, you can probably slide it past the powers that be, and let's face it, unless they're gardeners, most people would walk right past a potato plant with no idea what it is.

Want Some Resources?
Before investing in seeds, plants, and gardening books, decide if you are trying to sneak one past the HOA vegetable police or if you want a secret food garden so that you can grow edibles in plain sight without hungry passersby realizing you have a goldmine of food.
If you're going for esthetics, there are several books on secret gardening. Looking for inspiration? Check out Gardening Like a Ninja: A Guide to Sneaking Delicious Edibles into Your Landscape by Angela England and Wendy Piersall. Another great, HOA-defying book is The Beautiful Edible Garden: Design A Stylish Outdoor Space Using Vegetables, Fruits, and Herbs by Leslie Bennett and Stefani Bittner.
If you are hoping to hide your hoard from the hordes during the zombie apocalypse, Rick Austin has two books on gardening just for preppers. The Secret Garden of Survival and The Secret Greenhouse of Survival are both classic tomes on growing a camouflaged "food forest."
Do You Practice Edible Landscaping?
Do you have a permaculture garden or food forest? Are you selecting ornamental plants that are also edible for your yard? What are your best tips for edible landscaping? Let's talk about it in the comments.
Additional Resources: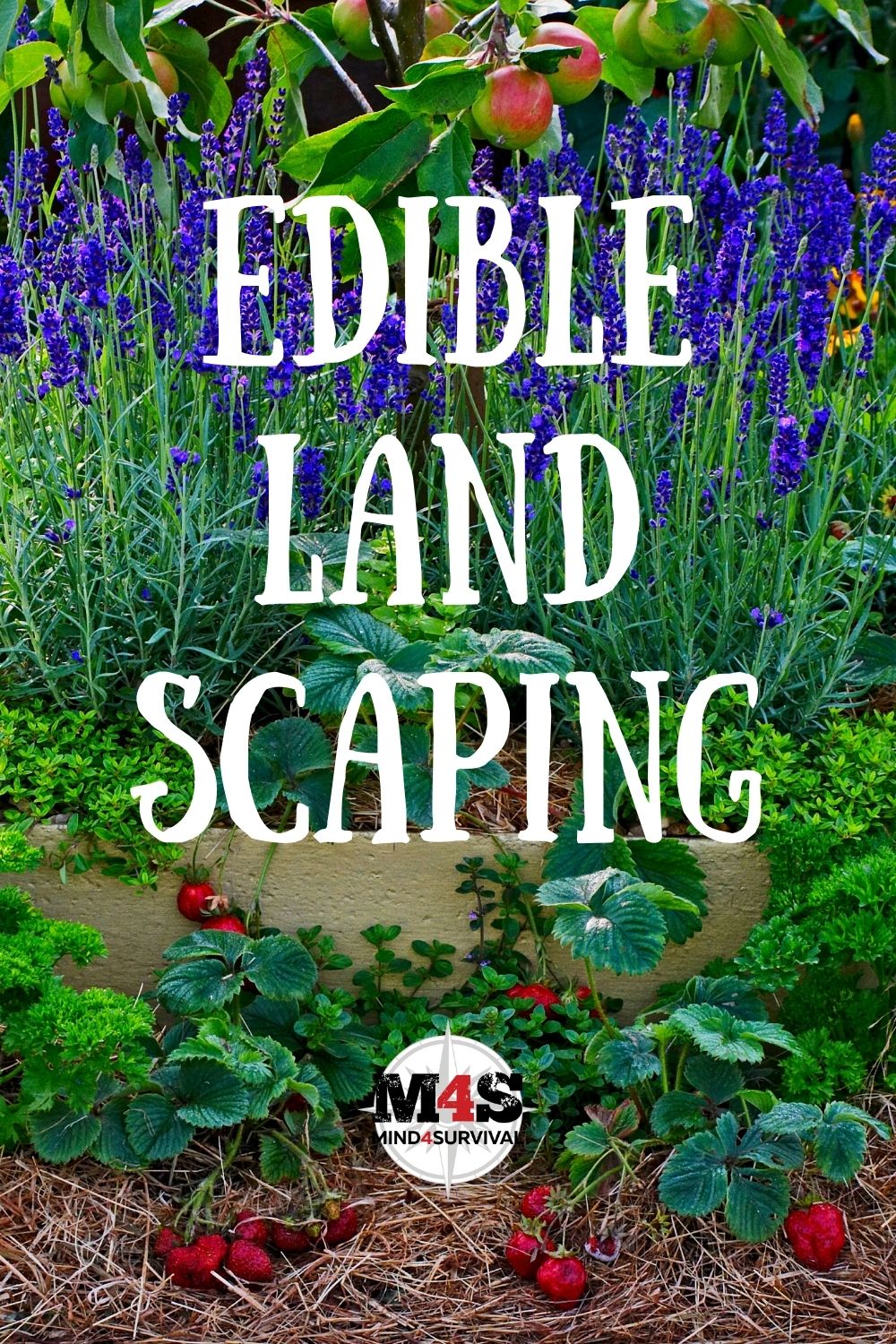 Stay informed by joining the Mind4Survival! 100% Secure! 0% Spam!
Mind4Survival is a free, reader-supported information resource. If you make a purchase through our link, we may, at no cost to you, receive an affiliate commission.