How Long Does Stored Water Last? It Depends.
Last Updated June 16, 2023
|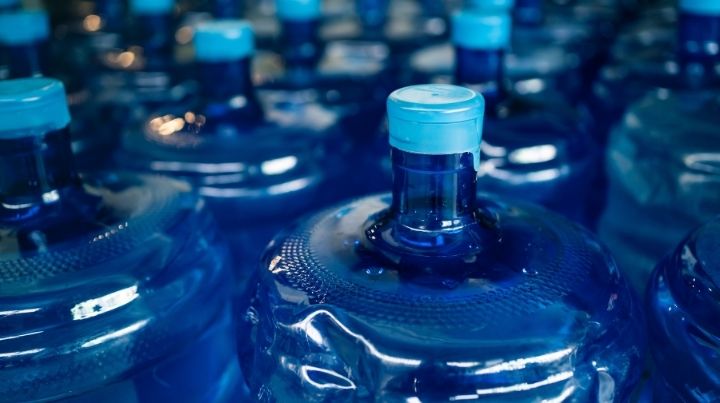 How long does stored water last? That's a common question in the prepper world for old and new preppers alike. While some people like to give definitive answers like "one year" or "6 months," there are just too many variables at play for a straightforward rule.
First, we'll talk about the lifespan of different types of stored water, and then we'll talk about the variables that can affect this.
How Long Does Stored Water Last? 4 types of Water Storage
There are many different ways to store water, but here are the four most common and how long they last.
Commercially Bottled Water
Commercially bottled water is available at nearly every store and gas station you can find. This is one of your longest-lasting options because it is sealed once it's bottled. You may notice "expiration dates" on bottled water. This is due to the potential breakdown of the plastic, not the water itself. Unopened bottled water never actually goes bad, but plastic can begin to leach into the water, which is not ideal. However, if the water is stored optimally, you have at least two years before the plastic starts to break down.
Commercially Canned Water
Commercially canned water is one of the most expensive ways to procure water, but the long shelf-life makes it worthwhile to have some on hand. One of the most popular brands is Still Water, which claims to be shelf-stable and fresh for up to 50 years. Several emergency food brands have their own lines of canned water.

Home-Stored Water (Indoors)
Brian wrote about how to store water in great detail in this article. How long does stored water last indoors? When properly stored indoors, water can be stored almost indefinitely. However, heed the same precautions as mentioned with bottled water if you are keeping it in plastic vessels. You may find that it tastes "flat" if it has been sitting for quite some time. It's simple to re-oxygenate water. All you have to do is pour it back and forth between two containers a few times, which will greatly improve the taste.
Home-Stored Water (Outdoors)
If you're keeping your supply outdoors, seek a food-grade, UV-resistant container. This water should be chemically treated to prevent the growth of algae. How long does stored water last outdoors? It's recommended to replace water stored outdoors annually due to exposure to the elements.
The Variables
Of course, as mentioned in the introduction, there aren't any hard and fast rules due to significant variables. Here are some of the things that can affect how long your drinking water will remain fresh and potable.
Hot Temperatures
If your stored water is exposed to extreme temperatures, it can affect how long the water will last. But this isn't so much because of the water itself, but due to the container in which it is stored. Extreme heat causes plastic to break down faster, leaching potentially unhealthy chemicals into your water.
Freezing Temperatures
Repeatedly freezing then thawing can cause plastic containers to break down far more quickly. Not only can it leach chemicals into your water supply, but it can also weaken the material and result in leaks. Also, water expands when it freezes, which can weaken or break any type of container, including cans, if there isn't room for expansion.

UV Exposure
When outdoors, water is generally kept in a blue or black container. This helps to protect it from UV exposure, which can hasten the growth of algae and bacteria. You can help prevent this growth by adding the appropriate amount of bleach to your container.
Cement Floors
Placing plastic water containers directly on cement floors can cause your water to become contaminated. Any chemical that has been on that cement can leach into your water. Some blogs say that it just makes it taste or smell like a contaminant, but I would not recommend consuming water that has a whiff of kerosine, for example. If it smells like a chemical, then it is contaminated by that chemical. This is a very simple problem to avoid. Just lift your containers up on a couple of 2x4s.
So, How Long Does Stored Water Last? It Depends.
It's impossible to say precisely how long your emergency water supply will stay fresh. Still, in ideal conditions with the correct pre-treatment and a high-quality container, you can store it almost indefinitely. Of course, you may not have the perfect conditions, particularly during a longer-term emergency. It's strongly recommended to have multiple methods of water purification in case you need to treat your stored water before drinking it.
How do you store your drinking water? Do you have any water storage tips? Let us know what you think in the comments.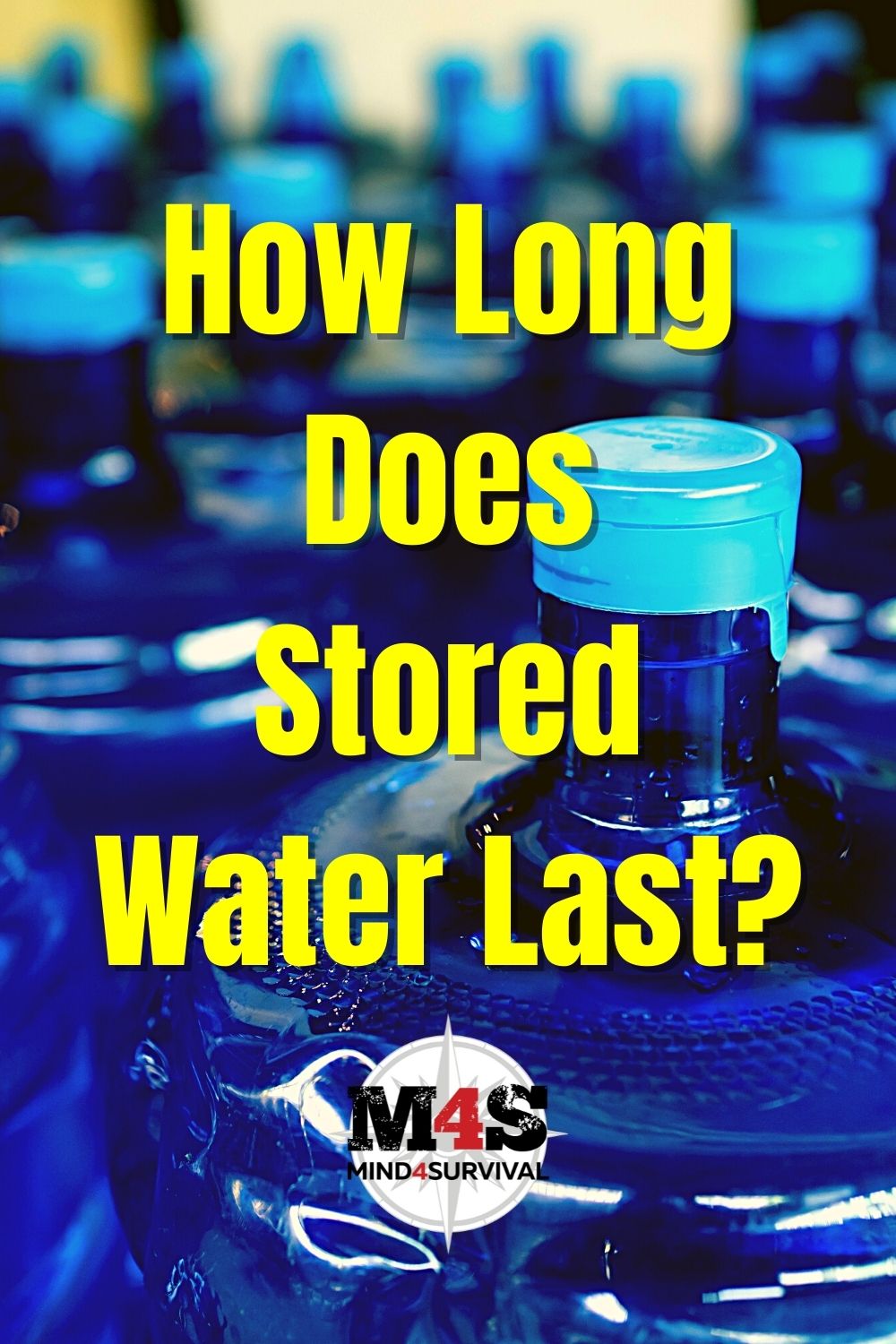 Stay informed by joining the Mind4Survival! 100% Secure! 0% Spam!
Mind4Survival is a free, reader-supported information resource. If you make a purchase through our link, we may, at no cost to you, receive an affiliate commission.