Layering Clothes: How to Layer Clothes to Stay Warm and Dry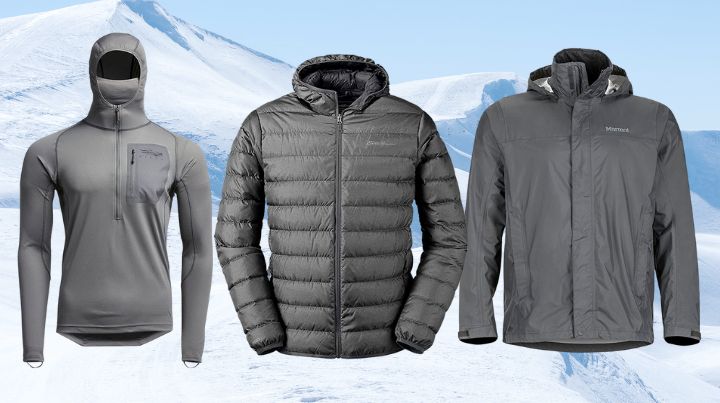 Podcast: Play in new window | Download
Layering clothes is an essential concept for preparedness. Whether it be just a casual hike, bugging out, or dealing with any other SHTF scenario, the ability to layer clothes on your body can make or break your success.
Let's categorize our layers into three groups; wicking (inner layers), warmth (middle layers), and weather (outer layer). The 3 Ws allow us to layer clothes and approach our everyday activities and the ambient conditions and set ourselves up for success.
First, we'll define the layers, then discuss their practical usage together. Now, read on to learn more about how to layer clothes.
Disclaimer: This article contains affiliate links that I may receive a small commission for at no cost to you if you choose to purchase a product through a link on this page.
1. Wicking Layer (Inner Layers)
Our wicking layer (base layer) is what's next to our skin. Generally speaking, the primary goal of the base layer is to dissipate moisture (sweat) from our body and make evaporation happen easier.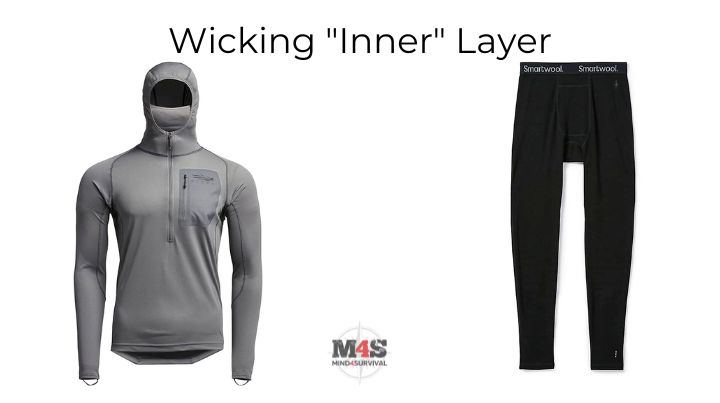 A base layer can be very thin and lightweight for hot conditions or have more insulating properties for cooler or downright cold weather. And, for purposes of this article, base layers do not include your favorite pair of skinny jeans.
The base layer is usually a synthetic or natural fabric like merino wool. Synthetics usually wick better but often stink more when a person sweats. Merino wool has the benefit of insulating even when wet and is naturally anti-microbial.
As a general rule, I would try to stay away from cotton. While comfortable, it doesn't wick exceptionally well and doesn't insulate when wet. More on synthetic versus natural insulation later.
Wicking Layers Options:
2. Warmth Layer (Middle Layers)
Our second "W" is warmth. This layer's primary purpose is to keep us insulated. While this layer may be overlooked in warm climates, I recommend having some kind of warmth layer on hand. If you're forced to be in a static position after dark, after sweating, an insulating layer may keep you comfortable and maybe even prevent hypothermia.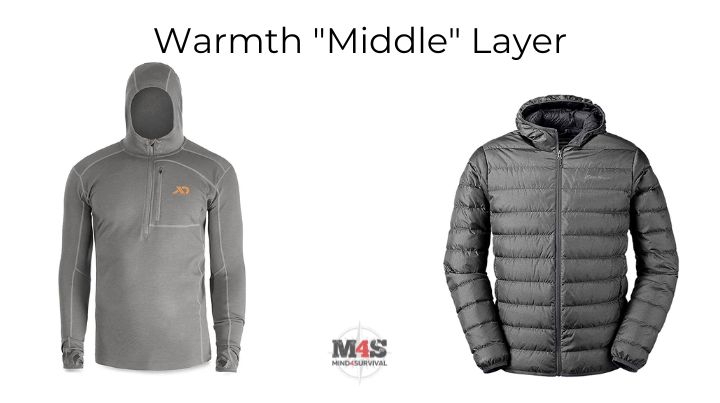 A warmth layer is usually fleece (synthetic) or a puffy downy layer. You may wear both if you find yourself in a frigid environment. Fleece layers, especially gridded fleece, tend to assist in evaporation with the wicking layer. The puffy down layers can't be beat for a warmth-to-weight ratio, but traditional down layers fail quickly when they get wet. Some newer treated down layers are better but still not ideal in very wet environments.
Warmth Layer Options:
Here are a couple of examples of warmth layers. These layers can be combined for added warmth if the situation requires it.
3. Weather (Outer Layer)
The last "W" is for weather. Nothing ruins your day like being soaked to the bone and a cold wind whipping through you. Worse than a bad day, being wet and cold with a wind can kill you. Many people think hypothermia only sets in with temperatures near freezing, but it can set in with temperatures in the 50-60 degree range.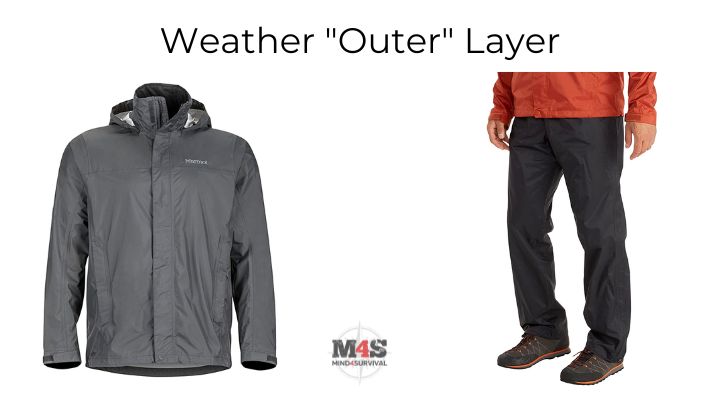 The primary job of the outer layer is to keep external weather conditions off of you. A water and windproof outer layer can be thin, breathable, lightweight, or heavy-duty depending on your activity level, outside conditions, and budget. The old adage about outer layers is that you can have it lightweight, breathable, or cheap; you can have any 2, but not all three.
Weather Layer Options:
Here are good choices for reasonably inexpensive outer shell tops and bottoms that will keep the rain and wind off you without being too bulky.
How to Layer Clothes Video
Wind Shirt
I want to take a moment to discuss a couple of outlier pieces when it comes to how you layer clothes. By outlier, I mean they might be very specific or take a hybrid approach. The first is a wind shirt. This is one of my favorite pieces for a few different environments.
First, if I'm in an arid environment with a lot of wind, I like it to keep the sun off of me, but also, as the name implies, the wind and dust as well. I also use it occasionally when wearing a warmth layer and in cold, windy conditions, but there is very little chance of precipitation.
That said, I would rarely consider this type of layer for an SHTF scenario. It's just a little too specific. I can get the same effect from a good waterproof layer that also blocks wind.
Here's an example of a really good wind shirt that's durable and packable but specific in its use.
Soft Shell Jackets
Let's discuss soft outer shell jackets a bit. While they advertise being the best in outer layers' breathability, insulation, and water resistance, I find that the conditions need to be exactly right for this piece to be effective.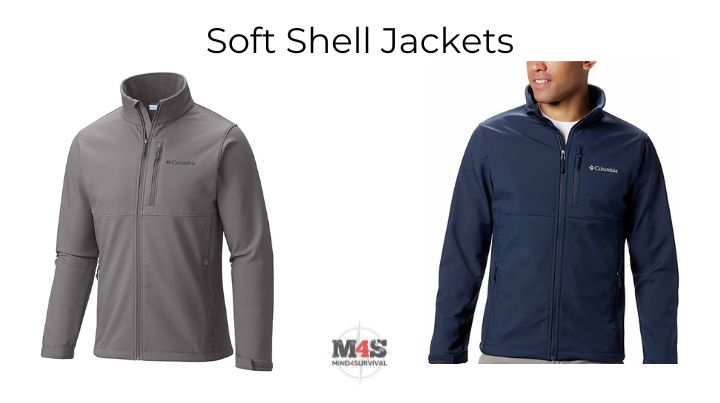 If it becomes too cold or too wet, or I exert myself too much, the shortcomings of a soft shell quickly show themselves. Again, probably not a layer I would invest in for an SHTF scenario. I'd rather have the flexibility of multiple layers instead of expecting one layer to do everything.
Softshells such as the Columbia Ascender can do several things but have limitations.
Wicking, Warmth, Weather. Sounds Easy, Right?
As one of my favorite instructors says, "it's simple, just not easy." We have to understand how to use the layered outfit as a system. Wearing everything you have in your backpack usually isn't going to translate to success.
We must understand what layers to use for our activity and ambient conditions. While I can't give a solution for every possible scenario in this article, I can offer a few guidelines.
First, if you plan on being on the move, dress cooler than you think you need as you layer clothes. For instance, if you break camp before first light and you intend to cover some miles with a pack on your back, I wouldn't advise having your puffy layer on. You'll find yourself overheating quickly, sweating too much, and risking being too cold when you stop moving. Even with temperatures near freezing, you will be plenty warm if you're moving. Save that puffy outer layer for when you stop. That's when the ambient cold temperature will sap you of your body heat.
Second, if you think there's going to be any precipitation, ensure those "Weather" layers are already being worn or readily accessible. If you get soaked by a rainstorm, it will take a significant effort to get you dried out.
Hoods
I'll offer a few other recommendations about layers. I really like hoods on everything. My wicking layer usually has a hood, my warmth layers have hoods, and my weather outer layer DEFINITELY has a hood.
The upside of having hoods when I layer clothes is to keep the sun off my neck, prevent my body heat from escaping, or the rain off my head outweighs any downside of having the hood. And because I'm frequently mixing and matching my layered outfit based on the conditions and my activity, I want the option no matter what I wear.
Zippers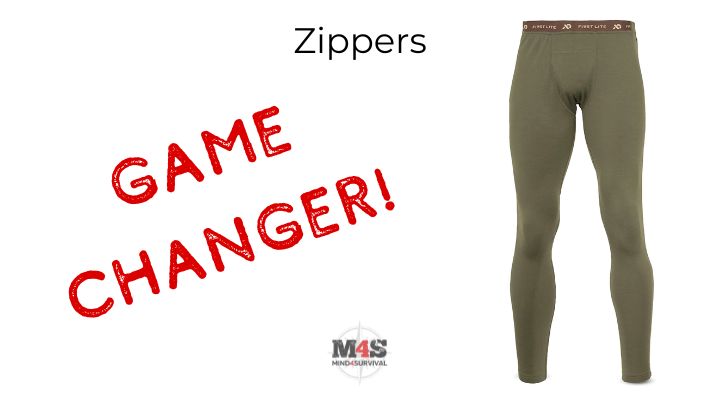 I also like zippers on my layers. Zippers allow me to dump body heat if I'm exerting myself, close off all access to the elements, and allow me to adjust my ambient temperature much easier than not having them.
Speaking of zippers, a few companies are now offering base layer bottoms that zip off. This means that you can have a warm base layer on, and without removing your pants or boots, you can zip them off as you get warmer.
An example of a zippered base layer is the First Lite Men's Kiln Zip Off Long John. Game changer!
The Bottom Line of Layering Clothes
Approaching outdoor activities with the 3 Ws in mind will allow us to consider varying conditions and activities when we layer clothes to protect us from a harsh environment.
While we can't expect to be able to cover every situation, we can overcome many expected conditions. This is critical for staying comfortable for a casual outing but can save our lives during an emergency.
What are your thoughts or experience with layering clothes? Tell us in the comments below!
Additional Resources: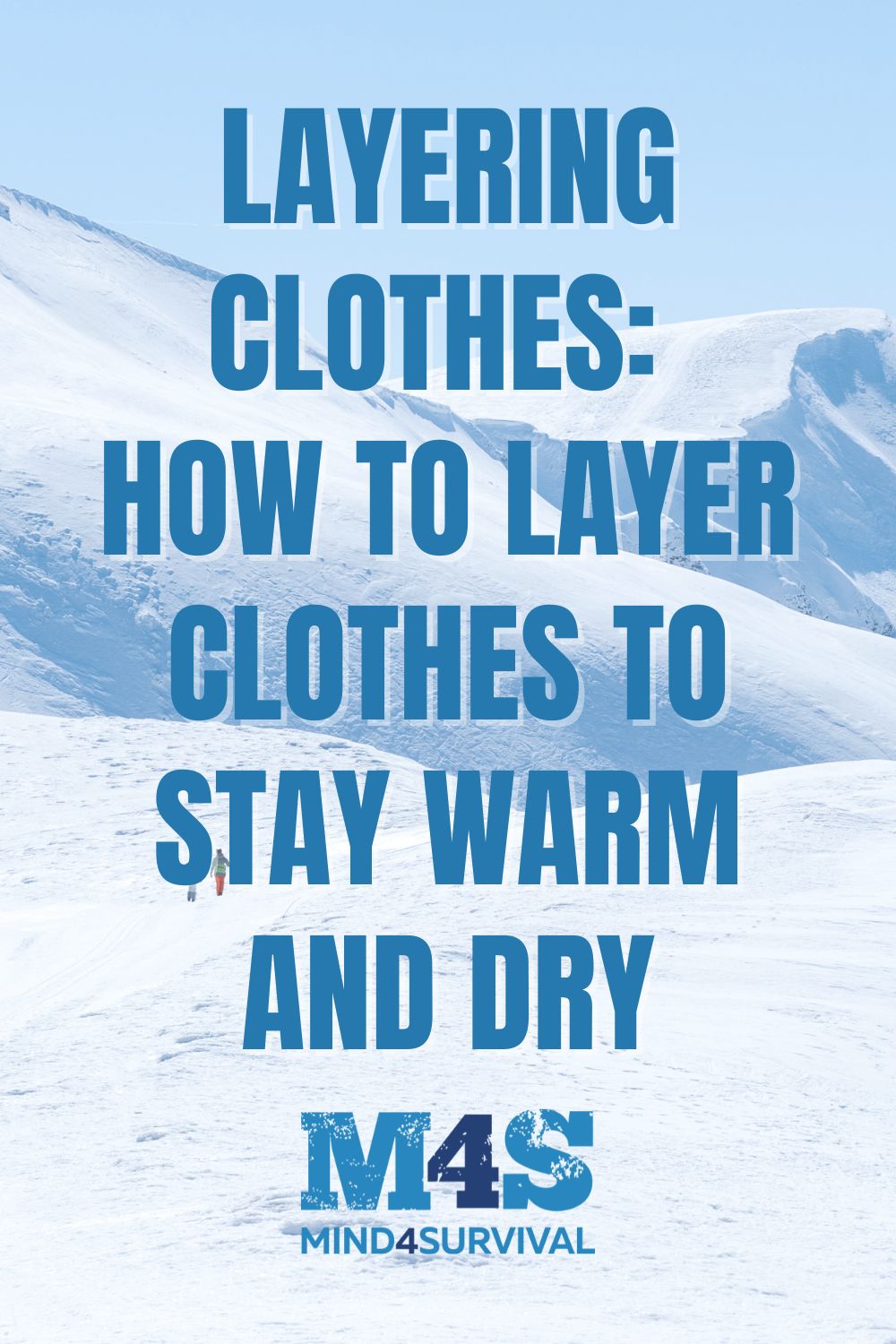 Stay informed by joining the Mind4Survival! 100% Secure! 0% Spam!
Mind4Survival is a free, reader-supported information resource. If you make a purchase through our link, we may, at no cost to you, receive an affiliate commission.