7 Best Self Defense Keychains for Safety and Survival (2022)
Last Updated April 28, 2022
|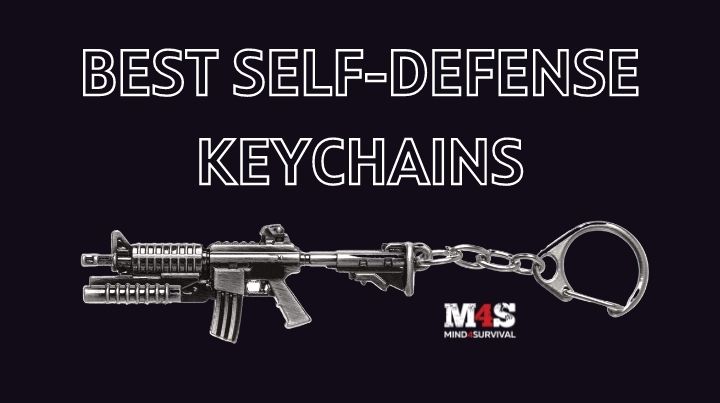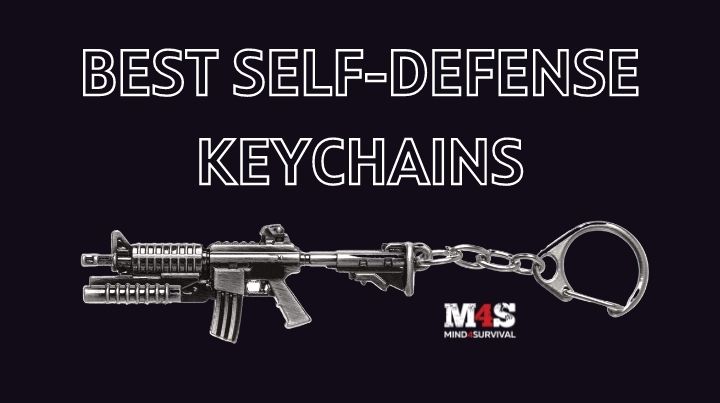 Self-defense is a big topic these days, and for a good reason. With crime rates rising, it's increasingly important to keep yourself safe from harm.
Self-defense keychains are a great way to do that because they're small enough to carry with you all day long – but still, pack a punch when you need them.
You can feel confident knowing that you have a way to protect yourself if things ever go wrong. These keychains are perfect for anyone who wants to be prepared for anything.
In this article, we'll look at the best self-defense keychains which are perfect for self-protection while out in public or even while taking an evening stroll.
Disclaimer: This article contains affiliate links that I may receive a small commission for at no cost to you if you choose to purchase a product through a link on this page.
What Are the Best Self Defense Keychains?
1. Sabre Self-Defense Kit w/Red Pepper Spray & Stun Gun w/Flashlight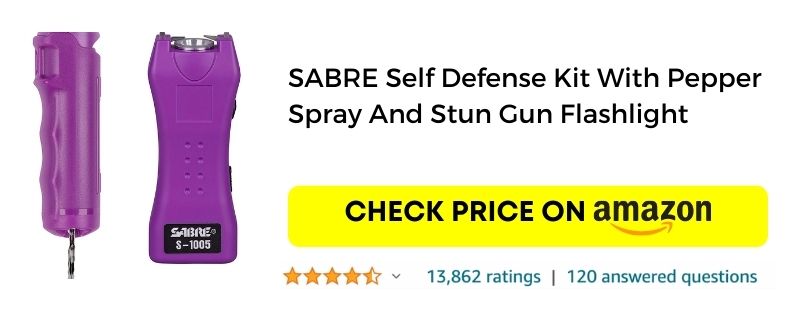 The Sabre Self-Defense Kit is an excellent choice for a self-defense keychain with multiple functions. The pepper spray and stun gun combo is very powerful and can be used in various ways. The led flashlight is also a great feature, especially in dark or dangerous situations. The kit also provides access to free training videos, which can be very helpful in learning how to use the items effectively.
Benefits:
Multiple ways to deploy,
Safety feature eliminates accidental deployment,
Free training videos
2. Safe Sound Personal Alarm, Self Defense Siren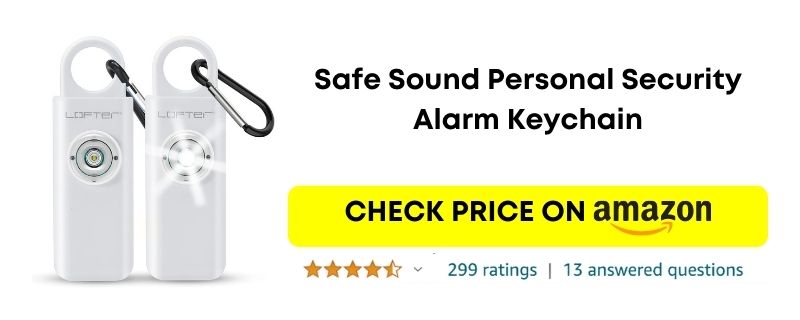 The Safe Sound Personal Alarm is an excellent self-defense keychain for those looking for an easy-to-use, personal security alarm option. This keychain features a 130-decibel alarm that can be activated with the push of a button. If you find yourself in a dangerous situation, this alarm will help to draw attention and scare off potential attackers.
Benefits:
It can be used to alert people for other things than danger (falls, etc.)
Suitable for all ages
No worries about your attacker using it against you
3. SABRE Pepper Spray Keychain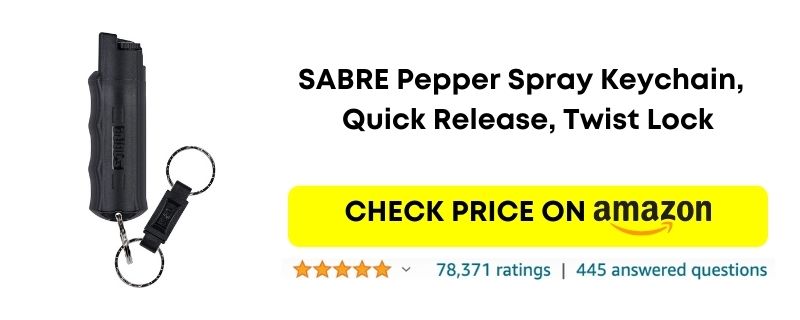 The SABRE Pepper Spray Keychain is a small yet powerful pepper spray perfect for self-defense. This keychain features a quick-release key ring and a locking mechanism to keep the pepper spray in place until you need it. The pepper spray comes with a key chain and lanyard so that you can keep it with you at all times. It also has a safety lock to prevent accidental discharge.
Benefits:
Long-range (10′)
It can be used up to 25 times
#1 police recommended brand
4. Gerber Shard Keychain Tool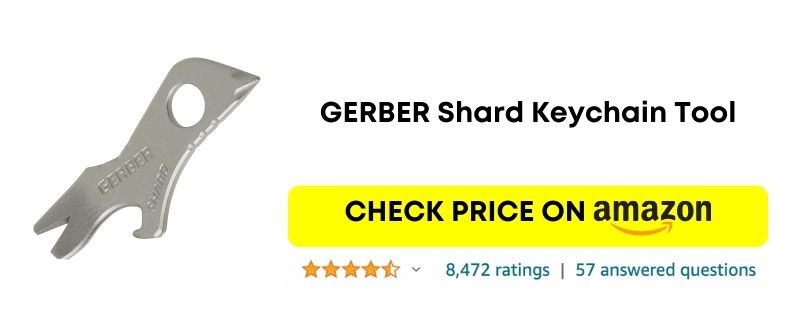 The Gerber Shard Keychain Tool is an excellent self-defense tool to have. It features a compact yet sturdy design with various useful tools that can come in handy in a pinch. The Shard has a bottle opener and can do everything from tightening screws and bolts to prying open boxes. And if you ever find yourself in a dangerous situation, you can use the tool's sharp edge as a weapon.
Benefits:
Inconspicuous, but the sharp end is great for personal defense
Always at your fingertips
Airline safe – You don't have to leave it home when you fly
5. Geekey Multi-tool | Stainless Steel Key Shaped Pocket Tool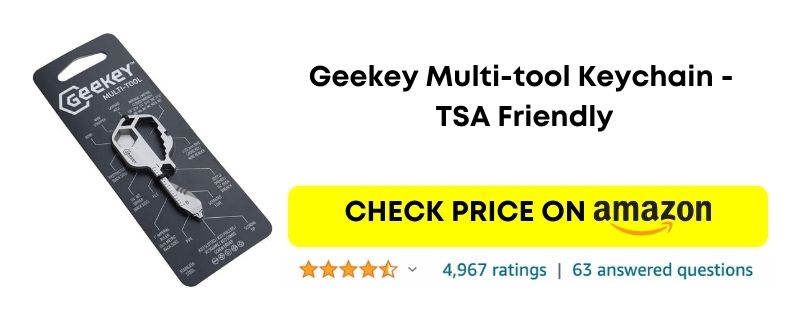 The Geekey Multi-tool is a stainless steel key-shaped pocket tool that offers a variety of features. These include a box cutter hidden on the key, a bike spoke key, and a TSA-friendly feature. The benefits of this tool include its easy hiding among other keys, the inclusion of a bike repair key, and its versatility.
Benefits:
Easy to hide among other keys,
One of the only keychain tools with a bike repair key included,
Versatile! There is even a pipe you can smoke on this key!
6. Streetwise 18 Pepper Spray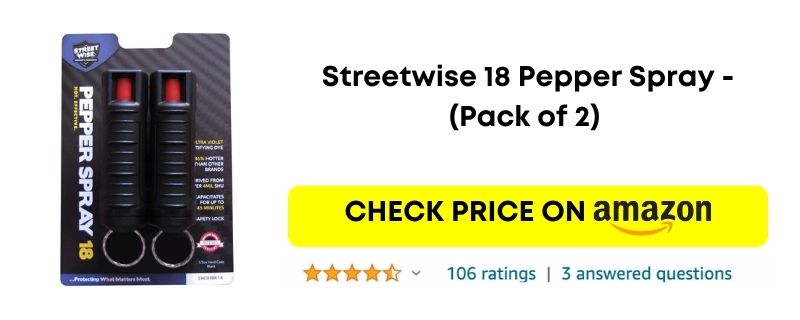 The Streetwise 18 Pepper Spray is a keychain with a pepper spray canister that you can quickly remove from the keychain. The pepper spray has a range of 18 feet and comes with a key ring, wrist strap, and clip. This keychain also includes ultraviolet marking dye, which marks the assailant with a bright fluorescent dye that can make it easier to find them.
Benefits:
Can keep something defensive with you in almost any setting
Two-pack
UV marking dye
7. SHvivik Emergency Whistle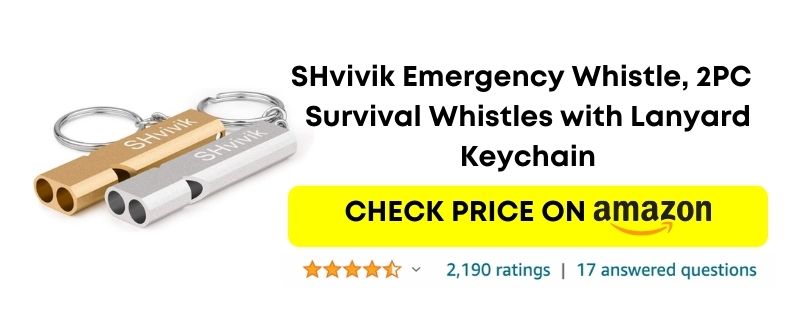 The SHvivik Emergency Whistle is a great self-defense keychain for those who want a small and lightweight personal security alarm. This keychain has a loud whistle that can be heard from far away, making it perfect for attracting attention in a dangerous situation. It's also made of durable materials that can withstand wear and tear and works in any weather.
Benefits:
120 decibels – easy to alert other people
Blows wet or dry
It doesn't rely on tech
The Bottom Line on Self-Defense Keychains
Self-defense keychains are a great way to carry protection with you at all times, no matter the situation.
These self-defense options include pepper spray, stun guns, knives, and more, so there's something for everyone.
If this sounds like something that would benefit you or someone else who values their safety, then get your self-defense keychain today!
The Sabre Self-Defense Kit is a great starting point for self-defense keychains!
Stay safe!