M4S 063: Six Safe Hiking Tips to Enjoy the Outdoors More
Last Updated June 16, 2023
|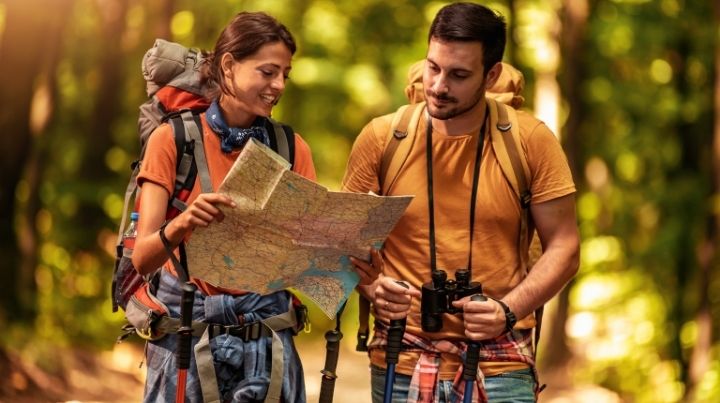 Podcast: Play in new window | Download
If you enjoy spending time in the great outdoors, these safe hiking tips can help you enjoy it more.
Do you know that, according to the CDC, the third most common source of injury in the wilderness is hiking, with only sledding and snowboarding being more likely to result in injury? Do you also know that more deaths and injuries are attributed to hiking than to more dangerous activities such as rock climbing?
On top of that, Search and Rescue (SAR) teams report thousands of searches each year, with a significant number of those searches resulting in deaths. What makes these deaths and the thousands of injuries sustained each year in the wilderness is that these instances can be attributed to three things, poor judgment, lack of experience, and lack of knowledge. In other words, people overestimate themselves and their capabilities while underestimating Mother Nature.
These safe hiking tips can help you better enjoy your experience.
Now, I know that many of you enjoy getting out into the outdoors, getting off the beaten path, and hiking, which is incredible. However, I have one question for you. Do you ever think about your capabilities and work to minimize the potential danger to you and those who depend on you?
In the end, hiking is fantastic, and these safe hiking tips can help you enjoy it without incident.
1) Don't Go Off the Trail.
Staying on known and marked trails makes is one of the easiest ways to avoid being lost and, therefore, one of the most important safe hiking tips. However, if you become lost, or as we said in the military, temporarily misoriented, staying on a known trail will help search and rescue (SAR) teams find you sooner.
SAR teams most commonly search along trails. So, the farther you wander away from a known path, the less likely your chances are of being found and the longer it will take.
Even though it may be tempting, avoid shortcuts. Typically taking off-trail shortcuts is discouraged. You can harm the area by blazing your trail. However, if you must take a shortcut, make sure to take a few minutes to look at your map to make sure you're not going to get yourself into a jam.
2) Be Prepared for the Hike
Carrying the right gear and supplies is super important no matter how long of a hike you are going for. Just like on Gilligan's Island, what starts out as a short, but fun adventure can turn into an extended survival situation should Murphy rear his ugly head. Prepare for longer when heading out for your three-hour tour.
While traveling light is always good, at a minimum, you should consider bringing these essentials with you:
Water: The amount of water you need to carry depends upon your environment, the difficulty of the hike, and how long you'll be hiking. Remember, it's always best to err on the side of caution when it comes to a life-sustaining resource such as water. If you're absolutely positive there is water that you can safely filter, you can get away with carrying less with you. Here's more information on purifying water.
Food: Bring some lightweight, hard-to-crush snacks like trail mix, jerky, nuts, and dried fruit.
Flashlight: If you become lost, there's a good chance you may be spending the night in the woods, desert, or wherever you are. Therefore, a flashlight will help you to be able to see and signal to others. White light is visible for miles at night.
Fire Starter: If you are stuck in poor conditions or stranded overnight, fire-lighting for warmth and signaling is very important.
First Aid Kit: Spending the night or a few days in the wilderness can result in some small and also severe injuries. The downside is that even minor injuries can be a problem when out in the wild. Having the ability to clean and cover a wound is essential for proper hygiene and safety.

When prepping your first aid kit, consider the type of injuries you are most likely to experience. For example, when working in the kitchen, expect to slice your hand on broken glass. Similarly, when going outdoors, you'd be more likely to suffer ankle sprains or bone fractures. Pack ace wraps and other joint support methods along with SAM splints, etc.

Signaling Devices: Should you become lost, having the ability to signal to others and searchers is critical to a successful outcome. So, consider a reflective signaling mirror and a whistle or other noisemaker when packing your outdoor kit.
Knife: Never leave home without it. I prefer a multi-tool as opposed to a larger knife with a narrow focus of use. A multi-tool will prove so useful; it may just amaze you, not to mention saving your life if you become lost.
Clothing: Carrying clothing appropriate for the environment and hike itself is crucial when preparing to go out for a walk in the boonies. Warm summer days can lead to freezing nights. In some areas, a sudden storm can cause a rapid temperature drop and torrential rain. So, think ahead and be prepared, especially for a surprise weather change.
Shelter: This doesn't need to be a tent. A tarp and ingenuity can work as well as a stout and less packable tent does. If your concern is getting lost, use colors that stand out. Likewise, if you're concerned with blending in, more natural colors will do the trick.
Even if you're headed for a short walk, one of the most important safe hiking tips is to prep for a longer outing. This woman went for a quick walk in the Hawaiian jungle that turned into a 17-day ordeal.
3) Prepare to Navigate
Avoid getting lost by knowing where you are. So, even if you're going to an area you think you know well, pack a map. Preferably you'll find an excellent topographic map. Also, don't forget, if you don't know how to read a map, learn before you go. It's not difficult, and it's fun. Not to mention, knowing how to read a topographic map could save your life.
I always carry a GPS and a compass when out and about on a hike. I prefer to use the compass because it's fun and somewhat of a disappearing art thanks to GPS technology. With that, I do carry a GPS as a check and balance against my compass. Some people think this is not keeping with the tradition of going at it with just a compass. Unless you can eat your compass when you become lost, using technology to keep you on track is an excellent thing. When it comes to picking out a good GPS unit, look at these, which contain affiliate links to Amazon. (If you purchase through these links, I may earn a small commission.):
GPS Units
Garmin Foretrex 401 Waterproof Hiking GPS: The Garmin Foretrex is an excellent little GPS unit for $150. Amazon reviewers rated it at 4 ½ stars with almost 550 reviews. It's lightweight, reliable, and sells for about $150. I used one of these units for years overseas and still carry one to this day in my bug-out bag. It's not a fancy unit, but it's lightweight, comfortable to operate, and convenient to carry.
Garmin GPSMAP 64 Worldwide with High-Sensitivity GPS and GLONASS Receiver: This $204 GPS unit is rated at 4-stars with over 900 reviews on Amazon and comes in various configurations. This device has a quad-helix antenna and high-sensitivity GPS and GLONASS receiver. GPSMAP 64st locates your position quickly and precisely, even in heavy cover and deep canyons. The advantage is clear – whether you're in thick woods or just near tall buildings and trees, you can count on GPSMAP 64st to help you find your way when you need it the most.
Bad Elf 2200 GPS Pro: The $155 Bad Elf 2200 is rated at 4 ½ stars on Amazon, with over 400 reviews. It is an external GPS receiver that uses Bluetooth wireless technology to feed GPS data directly to up to five (5) paired iPod touch, iPhone, or iPad devices. This GPS has satellite lock, battery life, latitude, longitude, altitude, direction, speed, and time directly display on the backlit LCD screen and a data logging feature to record trips.
Here's some quick GPS Trivia.
GPS is a U.S.-based satellite navigation system with 33 satellites in orbit. Our U.S. GPS can provide users with less than one foot of accuracy when plotting their exact position. GLONASS is a Russian-based satellite navigation system with 24-orbiting satellites that is similar to and can act as a back-up to GPS.
It's worth mentioning that you should always have and know how to use a map and compass as a backup to a GPS. In addition to the usual problems associated with electronics, along with potential satellite decay, GPS and GLONASS systems have the potential to be shut down by their respective governments, as happened to the Indian military during the 1999 Kargil War, which was part of the ongoing conflict between Pakistan and India.
4) Have a Plan
Too often, people head off into the wilderness for an easy hike with no plan in place. You're mistaken if you don't think of a plan ahead of time. Think about where you're going and for how long, even before you leave the house.
If you have a GPS, start by entering essential waypoints such as the trailhead, parking lot, nearby ranger stations, and other landmarks. Next, write down those waypoints and their coordinates, along with an overview of the trail and route you plan to hike. Include your name, start time, and expected return time, along with contact info for yourself and your relatives.
Leave a copy of the plan at home, with a friend, and n your car at the trailhead. This way, if you don't return when expected, people know where to start looking for you.
5) Don't Become More Lost
People often try to find their way out of a dangerous situation by continuing to walk around. Typically, if you become lost, you should sit in one spot so that you don't make a dangerous situation worse. If you are 100% certain you know the way, you can backtrack to a more likely location to be found.
You may discover that you actually did not know how to get back to the trail. Take to heart the most important of all safe hiking tips: STOP. Stay put and do what you can to protect yourself from the environment. Do what you can to draw the attention of Search and Rescue.
One way to reorient yourself is using your GPS, map, and compass to establish waypoints to which you can backtrack. You can also photos of the trail and significant terrain features at specific points. This will aid you in reorienting yourself relative to your photos.
Also, consider carrying some marking tape, chalk, etc., with you. That way, if you become lost, you can mark your path if you do choose to move around. Which, of course, as mentioned before, may not be such a great idea.
6) Educate Yourself
There are certain skills you need to learn before spending wandering around in the wilderness.
Understand how to use your gear.
Know how a compass works. Understand how it relates to your map and GPS.
Learn how to read a map.
Know how to start a fire.
Be able to make a shelter.
If you're not sure where to begin, you may want to join a local meetup group. You can also talk with a park ranger or look for ideas online. Remember, as Benjamin Franklin said, "An investment in knowledge pays the best interest."
Like all things with preparedness, having gear is no good unless you know how to use it properly.
The Bottom Line on Safe Hiking Tips
You must know how to use your brain so that you stay out of trouble. Remember, it's not the action you take that gets you into trouble. Instead, it's the thought to do the action that is the real culprit. So think before you step! Here's an example of a friend who went against her better judgment and had a heck of a fall when hiking.
Patience can be difficult, especially when you're getting lost and nervous. Never forget, you mustn't make a bad situation worse.
Stay calm, think things through, and make decisions that are helpful instead of harmful. Don't be in a rush to take action. You want to take the right action. Always stay calm and prioritize what you need to do to ensure the best possible outcome.
Do you have any safe hiking tips? Have you ever had any issues while out hiking? Let's talk about it in the comments below.
Stay safe,