158: The Instructor with Tim T.R. Hendricks
Last Updated June 22, 2023
|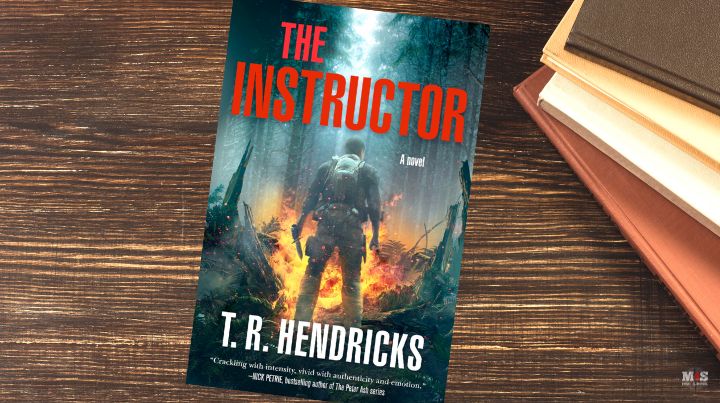 Podcast: Play in new window | Download
Tim T.R. Hendricks is here to discuss his experiences as a tank platoon leader, turned intel officer, turned security professional, and everything that led to his new book, The Instructor, which is available now for pre-order on Amazon. In this episode, Tim opens up about his tumultuous experiences during and following the Iraq war, along with the path leading to writing his first novel.
As an Army lieutenant, Tim trained to command a platoon of tanks in battle. However, upon his arrival in Iraq, he was put in command of an ad hoc infantry platoon and their humvees patrolling the streets of the Sadr City section of Baghdad. Not only did he have to contend with gaining acceptance as a leader of a group of battle-hardened soldiers, but he also had to overcome the challenges of senior leaders who believed in outdated methods of operating that didn't meet the needs of those fighting on the ground. For example, being ordered to pass out food to hundreds of starving people while trying to protect them, his platoon, and himself from the militias who wanted them all dead.

In this episode, Tim also talks about how, after leaving the military, he found what he thought was a secure job, only to lose it when the economy crashed. Out of work with a pregnant wife, Tim did what many former military members do—he took a job in the security industry. With that new life in mind, Tim and I discuss how his time in Baghdad translated to providing executive protection for a host of A-List celebrities and influencers in New York City.
Eventually, Tim used his intelligence and security background to become a corporate background investigator. On that note, Tim provides insight into what people need to be aware of regarding their own background screenings, should they ever need one.
Some of the most common problems that trip people up on background investigations are:
Education – fraudulent degrees

Employment history

Criminal history – not being forthcoming and honest about their past

Financial problems
Finally, we discussed his new book, which I just finished, enjoyed, and gave two thumbs up. The book is titled The Instructor and has a great plotline full of intrigue, suspense, and action that any prepper will enjoy. The Instructor is a cross between Mac Bolan and Jack Carr's, The Terminal List.
With that, here is a Synopsis of "The Instructor" from the T.R. Hendricks site:
Derek Harrington, retired Marine Force Recon and SERE instructor, is barely scraping by teaching the basics of wilderness survival. His fledgling bushcraft school is on the cusp of going out of business and expenses are piling up fast. His only true mission these days? To get his ailing father into a full care facility and to support his soon-to-be ex-wife and their son.

When one of his students presents him with an opportunity too good to be true-$20,000 to instruct a private group for 30 days in upstate New York-Derek reluctantly takes the job, despite his reservations about the group's insistence on anonymity. But it isn't long before the training takes an unexpected turn-and a new offer is made.

Reaching out to an FBI contact to sound his concerns, Derek soon finds himself in deep cover, deep in the woods, embroiled with a fringe group led by a charismatic leader who will stop at nothing to get what he wants. When what he wants becomes Derek's head, the teacher is pitted against his students as Derek races against time to stop what could very well be the first attack of a domestic terrorist cell.
Go check it out now. The book is The Instructor: A Derek Harrington Novel. Check it out on Amazon today!
Stay safe,