Benchmade Infidel 3300: Best Review & Guide (2023)
Last Updated January 30, 2023
|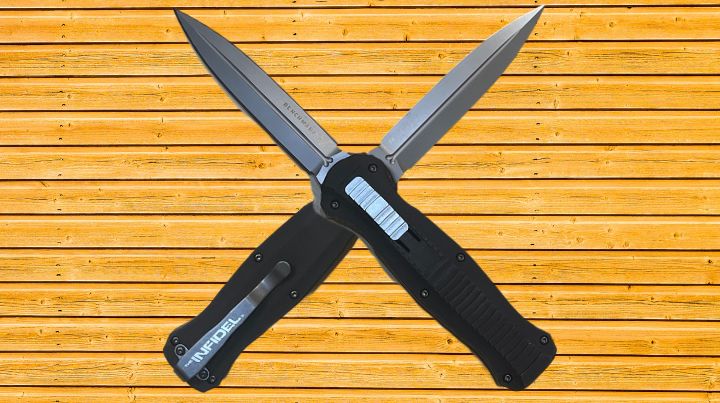 The Benchmade Infidel 3300 is a push-button, out-the-front (OTF), automatic-opening and closing (double action), double-edged knife. This fully automatic knife has a cool factor of 10, with the heft and grip that I associate with solid, well-built Benchmade knives.
If you're in the market for a Benchmade Infidel, this review is for you!
Disclaimer: This article contains affiliate links that I may receive a small commission for at no cost to you if you choose to purchase a product through a link on this page.
What I Like About the Benchmade Infidel 3300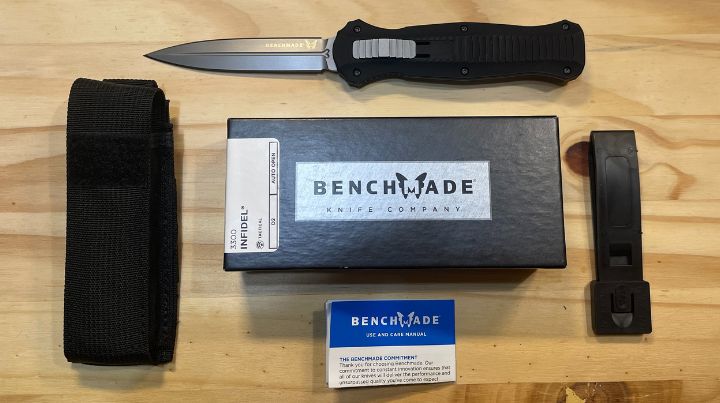 Yes, this popular OTF knife has a definite cool factor that knife enthusiasts like me will like. However, why do I like it besides the coolness factor?
Fits the Hand
First, this Infidel OTF fits nicely in my hand. The matte satin finish and scaling provide confidence that this knife will stay put when put to work.
Dual Action Mechanism
I also like the double action mechanism, which requires a fair amount of force to activate the deployment of the dual plain-edge blade.
Speed of Deployment
Using my video editing equipment, I was able to time the blade's deployment from engaging the trigger switch to fully deploying at just over 1/10th of a second.
In other words, this smooth, reliable action is fast! Not only is it fast to deploy, but its retraction performance is equally as fast.
Dual Plain Edge Blade
Another feature I like is that the Benchmade Infidel blade length measures nearly 4″, ending in a sharp, high-carbon steel spear point. This knife definitely packs a punch.
What I Don't Like About the Benchmade Infidel 3300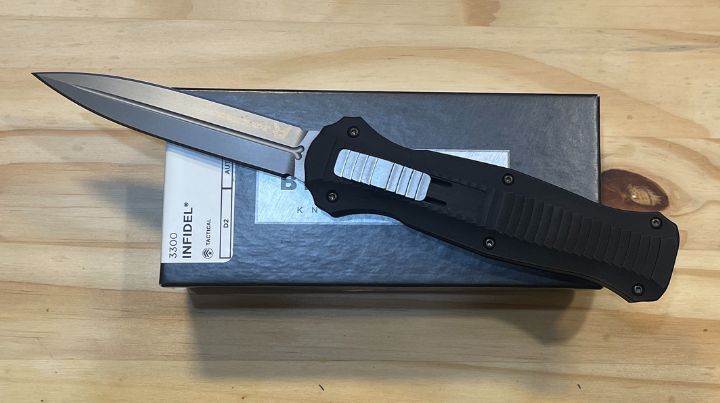 What I don't like about the Infidel OTF is the same issue I have with all automatic knives—the potential for a disastrous in-pocket opening.
Potential for Pocket Activation
Granted, the deployment switch does take a bit of force to operate, helping to prevent accidentally discharging the blade inside your pocket and beyond.
To alleviate the potential of an accidental pocket discharge, the knife comes with a molle-compatible case to keep the knife out of your pocket.
However, using the case inhibits the most crucial benefit of automatic knives—speed of deployment.
Use Caution When Carrying
In the end, carrying this knife loosely in the pocket, or secured via the pocket clip, as with any weapon, requires both solid situational awareness and attention to detail. Anything less, under the correct circumstances, may result in a severe injury.
Legalities
Another downside of the Benchmade Infidel is that it runs afoul of many states' draconian laws. Therefore, check the laws regarding automatic and OTF knives before purchasing or doing interstate travel.
Please be careful NOT to let your enthusiasm for a really cool knife get you jammed up with law enforcement.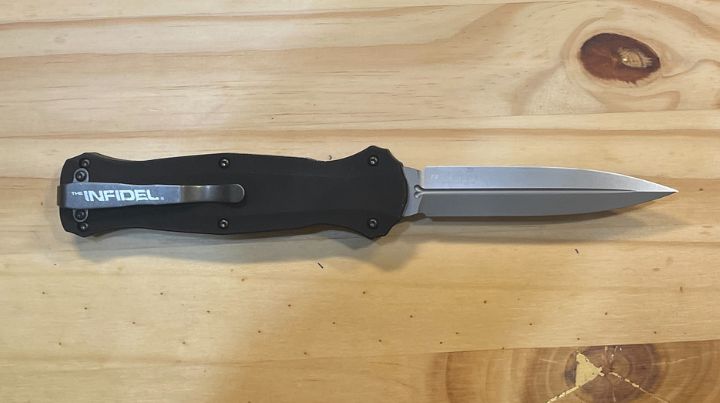 Benchmade Infidel Price:
The Infidel is definitely NOT a budget-friendly knife. The Infidel will set you back between $400 and $500. And, while it is not an inexpensive knife, it is a knife that should last and pay you back dividends over the long run. As with anything, quality has a price, and the Benchmade Infidel price tag is no exception.
Benchmade Infidel Key Specs:
Mechanism: Out-the-Front
Action: Automatic-opening
Blade Steel: D2 (60-62 HRC)
Blade Length: 3.91″ (9.93cm)
Blade Thickness: 0.124″ (3.00mm)
Open Length: 8.91″ (22.63cm)
Closed Length: 5.00″ (12.70cm)
Handle Thickness: 0.59″ (14.99mm)
Weight: 4.90oz. (138.91g)
Benchmade Infidel Features:
Blade Edge: Plain
Blade Steel: D2 (60-62 HRC)
Blade Style/Shape: Double-Edge Dagger
Clip Type: Deep-Carry, MALICE CLIP® (MOLLE Compatible)
Clip Position: Tip-Down
Glass Breaker: No
Handle Material: 6061-T6 Aluminum
Handle Color: Black
Lanyard Hole: No
MOLLE Compatible: Yes
Sheath Type: Cordura
Use: Tactical
Manufactured: Made in the USA!
What are OTF Knives?
An OTF knife, also known as an out-the-front knife, is an automatic knife with a blade that slides or snaps out from the front of the handle.
OTF knives are popular among collectors and users alike due to their unique design and versatility.
While they are typically smaller and more compact than other types of knives, OTF blades can be rapidly put into action with the easy push of a button.
The Bottom Line on the Benchmade Infidel 3300
This popular OTF knife featuring several substantial benefits, such as exceptional construction, high-end materials, fast action, and easy deployment, makes this Benchmade tactical auto-opener a must-have for any knife enthusiast.
What are your thoughts on the Benchmade Infidel 3300? Tell us in the comments below!
Additional Resources:
Stay safe,