Victorinox Swiss Army Knife: Review & Guide (2023) 
Last Updated June 19, 2023
|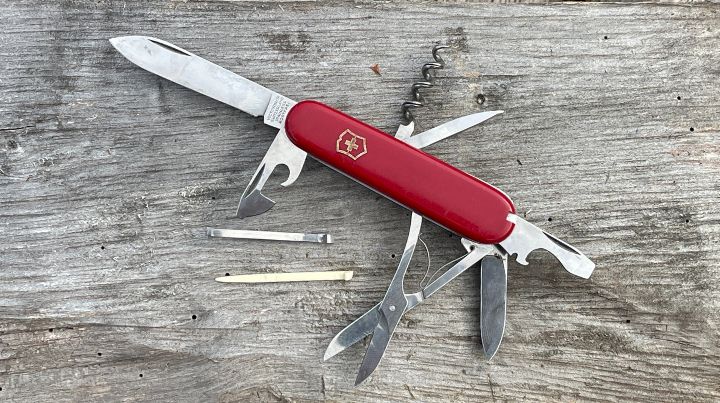 Since I was a kid, I've always loved my Victorinox Swiss Army Knife. They are the original multitool. However, unlike a multitool and large pocket knives, the average Swiss army knife is easy to carry, doesn't freak people out, and has a well-documented history of proven value. That's why I use it as my everyday carry knife and why I'm writing this article.
Benefits of a Swiss Army Knife
As I stated, one of my go-to everyday carry knives is a Swiss army pocket knife. I carry the knife for a variety of reasons, including:
Medium Pocket Knives
While some Swiss army pocket knives are too big for easy and non-patterning carry, most are small to medium in size. And, despite their easier-to-manage size, they pack a powerful punch of capability and versatility.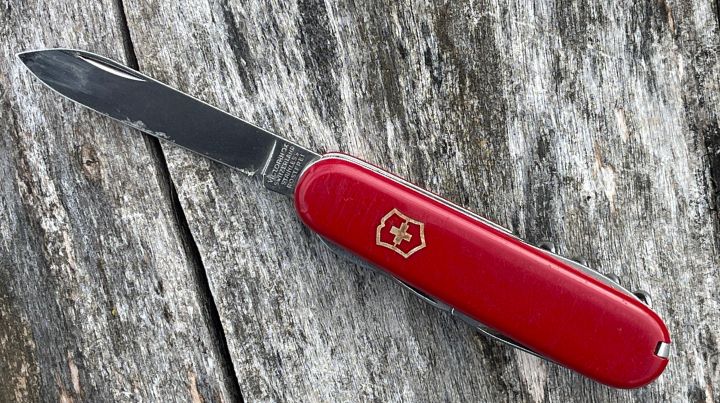 Disclaimer: This article contains affiliate links that I may receive a small commission for at no cost to you if you choose to purchase a product through a link on this page.
The Original Multitool
Regardless of your situation, you can find a Victorinox knife to suit your needs. Some of the more popular features of Swiss army knives include:
Screwdrivers
Tweezers
Wood saw
Magnifying glass
Pen knife
Key ring
Wire stripper
Carrying a Swiss army knife is not only cool, but it is also like having a small toolbox in your pocket. In short, Swiss army pocket knives help prepare you for a variety of problems that may arise. And what's more important than always being ready? (Hint: that's a rhetorical question)
Reliability
Each Victorinox knife is constructed from first-class stainless steel and is based on over a century of proven reliability and Swiss precision.
History of Victorinox Swiss Army Knives
According to the Victorinox website, the company was founded in 1884 by Karl Elsener, who began providing knives to the Swiss military in 1891.
However, it wasn't until six years later, in 1897, that Elsner introduced his original Swiss army knife to the world with his Swiss Officer's and Sports Knife editions.
Since then, his company has continued to grow and expand based on a reputation for quality, reliability, and effectiveness.
How Swiss Army Knives are Made
How to Clean a Swiss Army Knife
As with any tool, your swiss army knife requires occasional cleaning and maintenance. Anyone who regularly carries pocket knives knows that you don't have to use them for them to get dirty. Even in the best conditions, pocket lint alone can fill a knife.
According to SwissKnifeShop.com, there is a seven-step process to cleaning Swiss Army Knives. Those steps are:
Step 1: Remove All Detachable Tools and Batteries (If Applicable)
Remove all detachable tools, such as tweezers, toothpicks, screwdrivers, batteries, etc. Clean the non-electronic parts with warm, soapy water, and let dry thoroughly.
Step 2: Clean Your Swiss Army Knife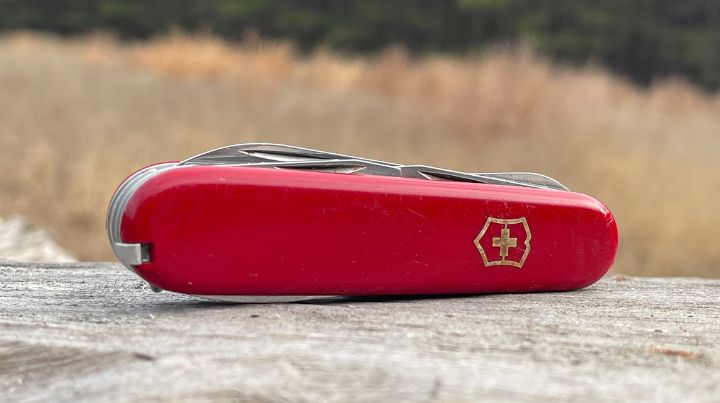 There are two options for cleaning Swiss army knives. Which option you choose depends on whether or not your knife has electronic components.
How to Clean Swiss Army Knives Without Electronic Components
With all of your knife's detachable tools removed, clean the entire knife in warm water. Do this cleaning by:
Carefully open, clean, and close each tool.
Consider using mild soap to clean the more stubborn dirt and grime.
Use the toothpick to get dirt and debris out of the nooks and crevasses.
Thoroughly rinse your knife.
How to Clean Swiss Army Knives With Electronic Components
Warning: Do NOT submerge your knife in water if it has electronic components!
Clean Swiss army knives with electronic components by:
Open each component and clean it with a dry to slightly damp cloth.
As before, use the toothpick to get dirt and debris out of the nooks and crevasses.
Allow anything cleaned with a damp cloth to dry completely.
Note: Victorinox Swiss army knives are manufactured with a protective coating on the electronic components. Therefore, if any parts do get wet, remove the batteries and let everything dry thoroughly before using it again.
Cleaning Notes:
Never put your knife into the dishwasher because the heat and detergent may damage your knife.
Do not use harsh abrasives or rust remover.
Step 3: Thoroughly Dry Your Swiss Army Knife With All Implements Open
After drying your knife with a lint-free cloth, leave it in a safe place with all the implements open to completely air dry.
Step 4: Polish and Clean Your Swiss Army Knife Handles
One downside of a Swiss army knife is the wear and tear placed on the appearance of the plastic handles. If these scratches bother you, consider using a polishing compound such as Flitz polish applied with a soft rag or microfiber cloth.
Step 5: Lubricate Your Swiss Army Knife With Knife Oil to Keep Tools Protected and Moving Smoothly
Washing or prolonged use of your knife will reduce and eliminate any previously applied lubricants. Therefore, it's important to lubricate your knife occasionally and after cleaning.
Follow these steps to lubricate your pocket knife properly:
Create a workspace by laying out a small cloth or paper towel to soak up any oil drops.
Externally: with the knife closed, add a drop of oil to each of the tool's external hinges.
Internally: carefully open each tool, placing a drop of oil on all moving parts.
Carefully open and close each lubricated tool to help spread the oil.
Let the knife sit for 30 – 60 minutes.
Wipe off any excess oil.
Step 6: Replace Any Missing or Worn-Out Accessories
With your knife cleaning complete, it's time to replace broken or worn-out accessories. Amazon Replacement Parts
Step 7: How to Sharpen a Swiss Army Knife
Finally, follow whatever process you use to sharpen your pocket knife safely and effectively.
Here's an article I wrote on: How to Sharpen a Knife Without a Sharpener
Tips and Tricks of a Swiss Army Knife
Best Swiss Army Knife
I'm a fan of all Victorinox Swiss army pocket knives. With that, some of these medium to small pocket knives are in the running for the best Swiss army knife.
My everyday carry pocket knife is a decades-old version of the Evolution. I love its small size, thin design, and after years, its rugged usefulness.
Another great carry option is what many consider the best Swiss army knife, which is the Victorinox Huntsman. The huntsman comes loaded with features that any outdoorsman or prepper will love.
The Bottom Line on the Victorinox Swiss Army Knife
The Victorinox Swiss Army Knife is an incredible option for anyone who wants to be ready for many tasks. It has a proven track record and durable construction, and it is easy to carry, effective, and stylish.
If you're looking for a knife for everyday use, you won't go wrong with a Swiss army knife.
Do you have experience with a Swiss army pocket knife? Tell us in the comments below.
Additional Resources:
Stay safe,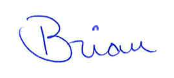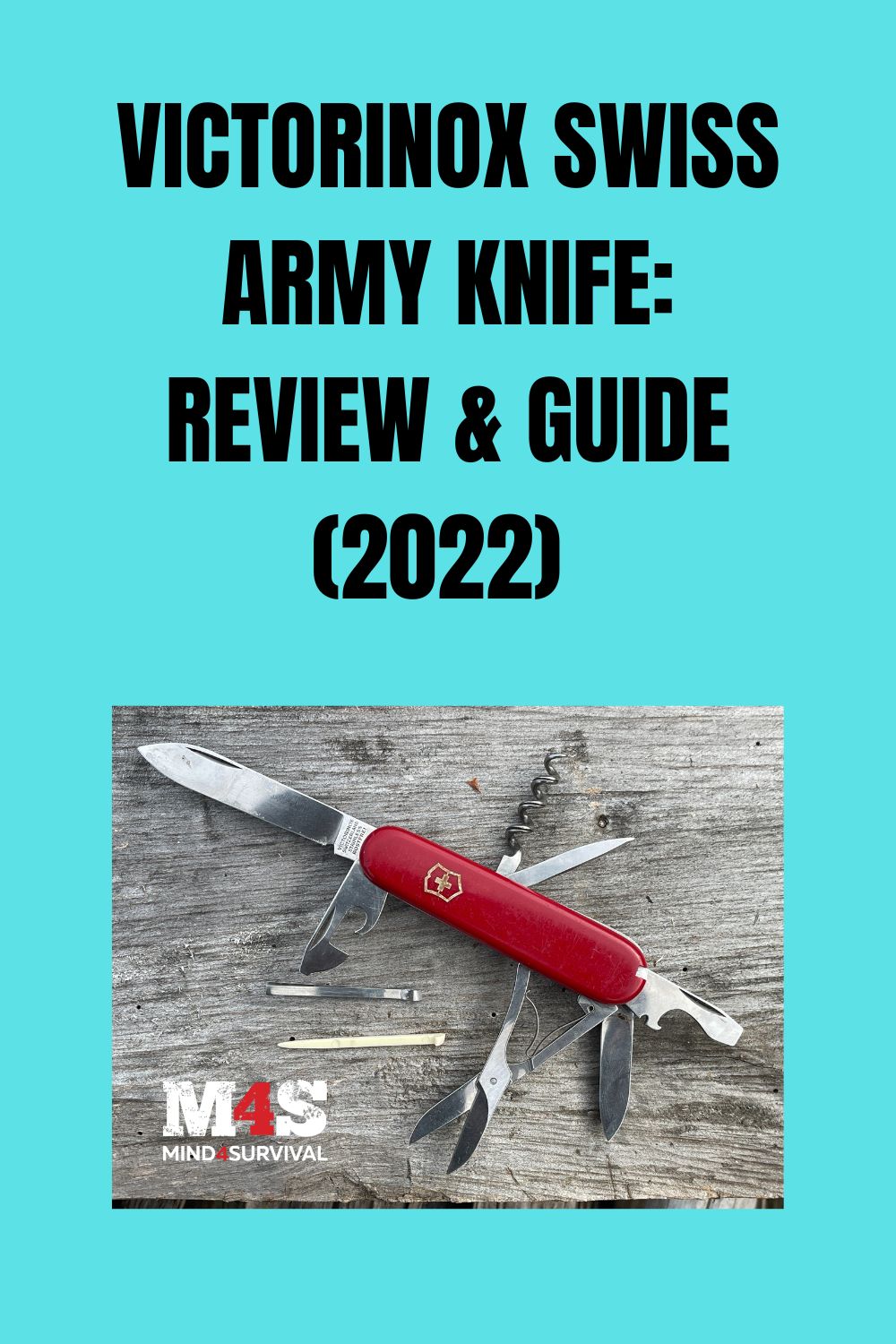 Stay informed by joining the Mind4Survival! 100% Secure! 0% Spam!
Mind4Survival is a free, reader-supported information resource. If you make a purchase through our link, we may, at no cost to you, receive an affiliate commission.