Everyday Carry On Kits for Air Travel
Last Updated June 22, 2023
|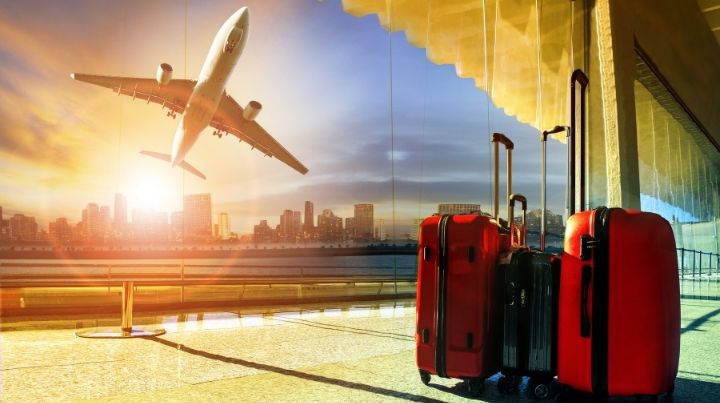 Since your normal EDC won't work for air travel, you'll need to make some adaptations to create an everyday carry-on kit that won't get you tackled by the TSA.
When traveling by air within the US, you should consider following a tiered everyday carry for air travel strategy. The tiered approach uses a stepped strategy for determining what you carry as part of your EDC preparedness. We'll go over this game plan first, and then we'll adapt it for air travel.
First Tier EDC
The first, or base tier, includes everything you physically carry on yourself, in your pockets, etc.
The base tier is perhaps the most important. It is essential because it includes the supplies you'll have regardless of what goes on around you. For example, you may be in a situation where you cannot access or carry your other supplies.
Second Tier EDC
Your second tier should include the items you can carry in a small EDC bag. This bag could be a fanny pack or other small pouch.
Because it's small, it allows you to carry supplies and equipment that don't easily allow for EDC on your person.
If appropriately sized, these bags can carry a good variety of supplies and equipment, but they do not seem out of place in most environments because they're small. With that in mind, make sure you look low-key and stay away from the tactical ninja, Molle webbing look.
Third Tier EDC
The third tier and additional tiers consist of the bags, backpacks, etc., that are too big to carry everywhere.
Perhaps you have a backpack or duffle bag that you leave in your car, truck, office, or other strategic location. You can consider this tier to be in line with your actual bug-out bag (BOB) or get home bag.
This tier gives you the ability to store and carry plenty of supplies and equipment.
The Travel Twist: Your Everyday CARRY ON Kit
While you must always work on fine-tuning your EDC to your situation, traveling, primarily by air, can throw you a curveball. After all, you can't carry weapons or other essential EDC items through security and onto a plane. Therefore, setting up your EDC and bug out/get home bag to be what you need when you arrive at your destination takes strategic thinking.
The critical point in all of this is whether you are traveling with weapons and other items prohibited everyday carry-on items. If you don't have any prohibited things, then you can bring your entire loaded BOB if it's not too big.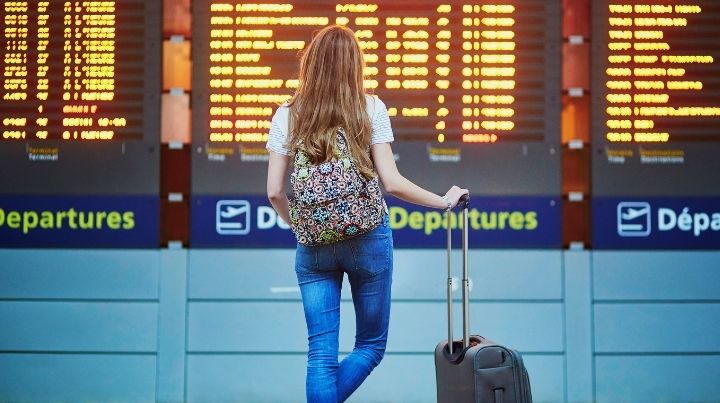 In for a Penny, In for a Pound
If you are flying with items prohibited from being carried on, you're stuck checking bags. So, if you decide to check bags, you should consider the "in for a penny, in for a pound" philosophy. This philosophy dictates that since you're already taking the time to check luggage, you might as well bring everything.
By doing this with thought, you'll be able to separate your regular tiered supplies into your checked baggage and everyday carry-on luggage. Then, when you arrive at your location, you'll be able to reassemble your gear into all of your usual tiers. This means after arriving at your destination, you'll have tiers one, two, and three all set to go.
When traveling, using three pieces of luggage can work. Three pieces of luggage should get all of your needed EDC and bug-out bag supplies to your destination.
Don't Let Your Guard Down
Is being on vacation or away from home any reason to let your guard down? No, it's not! In reality, when you're away from home, you're at higher risk.
Why is that? It's simple – it's because you're possibly on your own and away from your support network. Therefore, what you have with you, is probably all you'll have to help you get through any stressful situations. As well, when we're vacationing, we're there to have fun, not think about disasters and emergencies.
Confirm the Rules and Regulations
Do your due diligence if you plan on transporting firearms, knives, and other items. First, you need to confirm the airline and TSA policies. Doing this ensures you don't do anything to cause yourself problems at the airport.
Next, check the laws and regulations for where you are going. For example, transporting certain firearms, etc., into some cities and states can cause significant problems with local law enforcement. Getting yourself into a jam with law enforcement over a gun is definitely not the way to start a fun-filled vacation or a business trip when you're on a schedule.
So, know before you go. Ignorance is not an excuse in the Internet age.
If your destination is not a place that is friendly to your beliefs, your options are to reconsider going there or to adapt to the rules of your destination.
Your Luggage
When checking luggage for air travel, you will want to consider three to four pieces. In this case, these pieces will include:
Carry on Bag #1 – a small bag that you can keep at your seat.
Carry on Bag #2 – Backpack, etc., that goes into the overhead storage.
Checked Bag #1 – Hard-sided firearms case.
Checked Bag #2 – Rolling duffle, backpack, or another type of checked bag.
Everyday Carry On Bag #1 – Small Seat Bag
This is a small carry on bag that has enough room for just a few items. You'll keep this bag with you at your seat. Since it's with you at your seat, you'll want to include things you may need on your flight.
Everyday Carry On Bag #2 – Bigger BOB Style Bag
Carry on bag #2 can be a backpack or other similar items that will store in the overhead bin. This should carry things that you may need in the event your checked bags are lost. You can also include items that will be part of your overall tiered everyday carry-on plan.
When deciding what bag to use for traveling, make sure you consider the logistics of your travel. Are you walking long distances? Will the bag be cumbersome, etc.?
Checked Bag #1 – Firearms Case
If you're checking luggage because you want to bring your EDC gear with you, it may be because you're bringing firearms. If so, the first piece of luggage you should pack should be your hard-sided firearms case.
When transporting firearms, the case needs to be hard-sided and lockable. Many are compact enough to hold two pistols, several magazines each, and a couple of boxes of ammo. Checking more than one firearm may be overkill. However, as mentioned earlier, if you're already checking bags, you might as well go all in.
Again – remember to check TSA, airlines, and local regulations at your destination before transporting firearms and other items.
Checked Bag #2 – Bigger Bag for the Rest of Your Kit
Your second checked bag can be your suitcase, rolling duffle, or whatever piece of luggage you choose. The second piece of checked luggage can be used to carry the items that you either don't want to wear or that are prohibited in carry-on luggage.
The TSA does random searches of checked baggage. If you are putting knives in your checked bags, they should be in sheaths – the last thing you need is a TSA agent pawing through your luggage and getting cut. Keep in mind that knife laws, like gun laws, vary by destination. This is particularly true if you are flying outside the United States. For foreign travel, the Spyderco UK Penknife adheres to the laws in almost every country.
Don't forget to consider the logistics of where you're going. Not all bags are well suited for traveling, despite them being ideal for a bug out or other situation. It's up to you to do the risk versus reward analysis to determine what's right for your situation.
Putting it All Together
Once you arrive at your destination, you can take your gear and consolidate it into whatever setup works for you—for instance, stock up your small first-tier EDC bag for when you're out and about. Then set up your carry-on backpack to work as your BOB should a significant event occur.
Doing all of this takes time, effort, and in the days of airport fees, possibly money. But, once you get to where you're going, you'll be as ready as possible to deal with it. In the end, that's what it's all about, right?
Keep in mind to check the laws at your destination for any weapons you may wish to carry on your person. This CCW reciprocity map is a great resource and is regularly updated. Knife laws differ, too. They cannot be carried concealed in some places, but a clip on the outside of your pocket is enough to keep you on the right side of the law.
Sample Travel EDC Kit Plan
Here's my personal Everyday Carry On
Carryon Bag #1 – Small Seat Bag
Passport
Identification cards, debit cards, CCW permits, etc.
Watch (self-winding/automatic)
Itinerary
EDC Keys
Earphones
Smartphone
Charging cords for smartphone
Prescription meds
Over the counter meds
Sunglasses
Carryon Bag #2 – Tier Three EDC Bag and BOB
My main carry-on bag is my primary everyday carry-on for air travel focus when getting on planes. This is because I sometimes travel with only a carry-on. Therefore, this will be the heart of my BOB should my situation go south.
For my primary carry-on bag, I use a Professional Slim Junior Laptop Backpack. This is hands down, the best backpack I've found to use as a carry-on for traveling. It's a little pricey but is well worth it if you fly regularly. It is TSA checkpoint-friendly and has a ton of storage spaces. Those storage spaces are well thought out and are great for being organized. It's comfortable to carry and works well as a hasty bug-out bag. With that said, should it be considered a primary BOB? No, probably not, but for traveling purposes, you may find it, or something similar, to be suitable alternatives.
Clothes
Lightweight coat
Socks – both daily wear and backpacking/hiking.
Long and short sleeve shirts
Extra pair of pants
Baseball type of hat
Electronics
Computer with charger
iPad with charging cord
Backup battery
Food and Drink
A couple of meal replacement bars
A few coffee packs, electrolyte replacement drink mixes
Other Items
AR500 Level IIIA backpack soft armor This goes into the clothes section of the backpack. The Level IIIA will stop most pistol rounds. If needed, you can flip your back and wear it on your chest to provide you with frontal protection.
Personal hygiene kit – Toothbrush, shower stuff, over-the-counter medications, etc.
Photocopy of drivers licensed, concealed carry permit, etc.
Rubber door stop

Rubber door stops work great for an added layer of security when staying in a hotel or a room with questionable security.
Checked Bag #1 – Hard-sided and Lockable Firearms Case
Two pistols
Three magazines for each gun (magazines should be unloaded)
Two boxes of ammunition
Checked Bag #2 – Rolling Duffle Contents
Clothes
Electronics
Food, Water, and Cooking
Firearms and Related Items
Concealed carry holsters.
Knives or other sharp instruments.
Anything else that you don't carry on or put in your hard-sided gun case.
Tier Two EDC – Small EDC Bag Carried in Checked Bag #2
I also put my second-tier small EDC bag (the Patagonia Atom Sling) in checked bag #2. This little bag can carry essential items that I want when out and about at my destination.
However, in an emergency, this bag can be used for someone who may not be prepared. You may be traveling with others or meet someone along the way. If they are unprepared, this will help them, which could help you. After all, going through a major event on your own may not be the best option. If not, then this bag could help increase your overall flexibility and resiliency.
Fire Starting Kit
Over the Counter Medications
First Aid and Trauma Kit
Other Gear
The Bottom Line on Everyday Carry On Kits for Air Travel
The strict rules surrounding air travel can really put a cramp in your prepper style, but with these everyday carry-on kits and tiered packing lists, you can take your trip with the most safety and security possible.
Stay safe,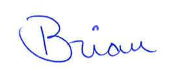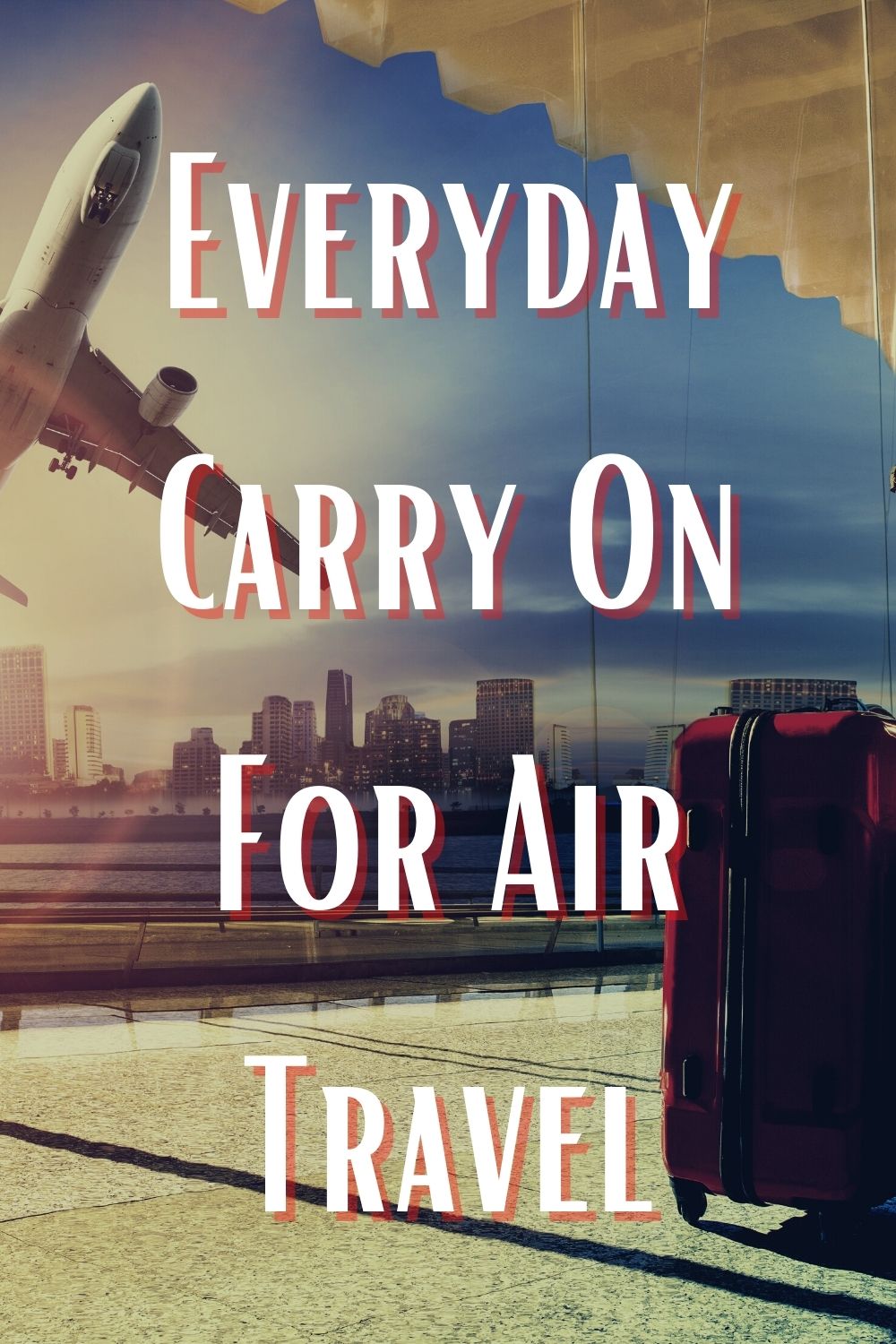 Stay informed by joining the Mind4Survival! 100% Secure! 0% Spam!
Mind4Survival is a free, reader-supported information resource. If you make a purchase through our link, we may, at no cost to you, receive an affiliate commission.