Freeze-Drying Pros and Cons (From an Owner!)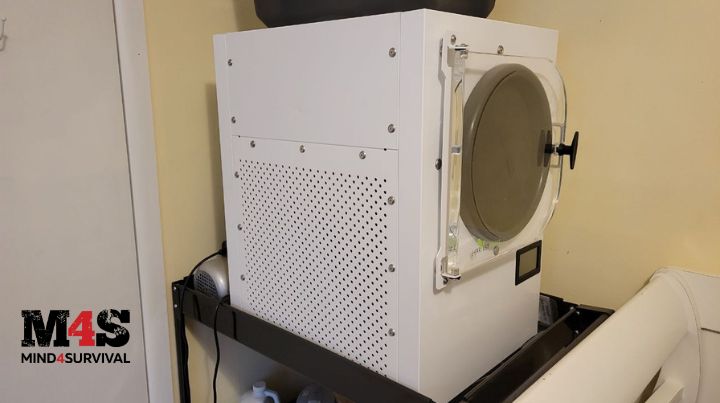 I bought my freeze dryer in 2017. At that time, I felt an urgency to prep and to get my food preps up to a certain level. I had a lot of canned food stored, but when I considered what I wanted to make with it, I had a lot of holes in the ingredients. I looked at purchasing freeze-dried ingredients. And I did buy some, but most had dates on them that were" best by" sometime in the next year or so. Those dates are just suggestions to me, but I knew that my husband would look at those stamps and declare that stuff inedible if we went beyond them. When I did the research, I saw that freeze-dried food had the potential to be good for 25-30 years. And long-term storage was what I wanted.
I considered buying the buckets of food. But I quickly determined that wasn't a good option for us. I used the information to make my case for a freeze dryer to my non-prepping husband. I looked at the buckets of food and felt we would only enjoy eating maybe 50% of the foods inside. He doesn't like a long list of vegetables. Neither of us especially likes oatmeal. We don't drink milk, especially powdered milk. He is very much a meat-and-potatoes, hearty-meal kind of guy, and the protein was scarce in a lot of the meals. At that time, the amount of calories they provided for a day's worth of meals was not enough to survive. He quickly saw the wisdom in my logic and agreed that a freeze dryer would be our best option.
Freeze Dryer Delivery
Once I ordered it, we had about a six week wait till it arrived. Delivery was tricky. A tractor-trailer wasn't going to be able to deliver to us, so when the trucking company called to let us know that they had the freeze dryer and would be delivering it to us, we told them that we would come pick it up. It was big and heavy, but we got it off the pallet and into our vehicle without incident. Sadly, I didn't realize that a mylar sealer was part of the package listed on the bill of lading. We didn't receive that, and it was nowhere to be found when I called the trucking company later. So my bonus was not so bonus-y. Make sure to check your packing list to make sure that you have everything listed on there before you sign it.
Setting It Up
The setup was all on me. We purchased a cart from Harbor Freight and placed the freeze dryer on top. I would definitely do that again. We decided to put it in our spare room. It's not an ideal location, as it does make some noise, and we live in a small house with just a main area and two bedrooms. My husband helped to put the cart together and put the freeze dryer in place, but then it was my baby.
I unpacked the vacuum pump, and Harvest Right provided detailed instructions on how to do a test run. The test run of frozen hashed browns went well, and I was off and running. A big con is the weight and maintenance of the vacuum pump. The thing is heavy, and with my setup, I had to move it after every batch to drain and change the oil. I know that they now have a pump that is easier to handle. It's also more expensive, and I don't know what I would have chosen if it was available when I purchased mine. But if you can't lift 30 lbs., go with the oilless option that doesn't require regular moving.
Getting Started
It didn't take long to set up. I think now they might recommend that your first load was bread, but at that time, I didn't have a recommendation, and my first load was frozen hash browns. That first load took 34 hours, and I was off and running. I kept a log of the date, what I made, and how long it took for the first ten batches. For the next 25 or so, I just listed what I made. Then I gave that up, too. In retrospect, the good thing about the log is you know how many batches you've done and when you should deep clean the vacuum pump. I do that on more of a guessing schedule than I should. Newer setups might be different.
Now We're Rolling!
Once I started doing the batches, my goal was to keep the freeze dryer busy. I think the best plan is to have a second set of trays to get the next batch pre-frozen. But the con side is that you need to keep space free in your freezer to do so. It seems when I have a spot in the freezer, I fill it pretty quickly. You also need to have some plan to stack the trays and keep them separated. I used dowels. Some people use the little pizza thingies that keep the box lid from mushing into the pizza.
Once I started running batches, the product started to pile up. I stored it in canning jars and vacuum-sealed the lids. That kept air and moisture from reaching my food. When I used up a dozen or so ½ gal jars, I would have a mylar packing party. I purchased the thickest mylar bags that I could find. I looked for some on Amazon but ended up buying from Harvest Right. I can count on the quality of the bags. As I didn't get the piece of sealing equipment, I used a hair straightener. It works well.
The con here is that I ended up buying plenty of accessories I had no idea I would need at the start. I purchased a scraping tool that helps lift food off the trays. Molds help to form bite-sized pieces of certain items. Silicone mats prevent food from sticking to the trays. I bought a funnel with a large mouth that helped to fill the bags. It kept the top of the bags clean so there weren't any crumbs at the top and they would seal well.
Long-Term Storage
Once you start filling, you will need to open the oxygen absorbers and move quickly. It's not a good time to be slow and methodical. You need to work rapidly so that the OAs can do their job after the bags are sealed. Removing the oxygen is part of what helps the food stay viable for years. I would fill the mylar bags and seal all but a small space on all of the bags. Then I popped open the OA bag and filled the mylar bags quickly, squeezing out what air I could and sealing as I went. I asked my husband to help with this part so we could go faster.
Any leftover OAs were vacuum sealed with a food saver. I store the mylar bags in black plastic bins to limit any light exposure, and those bins are stacked in a closet in a building I use for storage.
My Favorite Freeze-Dried Items
Keeping the freeze dryer busy can feel like a part-time job. I am constantly thinking about what the next load is going to be. I try to keep some bags of frozen vegetables ready to go so that if I don't have something ready, I can do a batch of those. Another favorite is shredded cheese of several varieties. Casseroles with shredded cheese are comfort food to me, and I think they would be regular fare if SHTF. I often try to cook double batches of dinner and freeze-dry the leftovers.
I also do some things just to know that I have them. Roast beef with gravy. As talk about factory-created beef stirs, I want to know that I have a supply of real beef. This is a big positive. You can know the source and quality of the food that you store. I know that the spaghetti sauce is my husband's yummy recipe, not from a jar, even though I have some jarred sauce in my prepper pantry. I have done many complete main entrees, and I have done many different ingredients to make entrees. I find value in both.
Drawbacks
One negative aspect is that some things I wanted to freeze dry can't be done. Peanut butter, butter, and anything with too high of a fat or sugar content are all no-go. The fats go rancid more quickly, and the sugar kind of explodes in the machine. Food is too expensive to waste that way. I try to find out if someone has already successfully done whatever it is that I want to do.
Online Freeze-Dryer Communities
Which brings me to another positive. There are several good Facebook groups where you can ask questions and get ideas. If you search for groups with "freeze dryer" in the name, several options will come up, and you can find the one that works best for you. I belong to several groups, and if I have a question, I will ask it in all of the groups, but on a daily basis, I scroll past a lot of the activity.
I'm not interested in all of the candy and ice cream posts. But that can be a fun side of it, too. Also, selling freeze-dried candy can be a side hustle. People pay good money for these freeze-dried treats, and you could make some extra cash, which is a definite plus. That hasn't been on my radar. People also have lots of creative ideas. One woman shared that she made Thanksgiving dinner for her son stationed overseas and his buddies in his platoon and shipped it to them. What a great idea! Several people talked about making meals for truckers to take on the road. So many options!
Everything's Better with Bacon!
In the interest of "science," I opened a bag of bacon that I freeze dried in October 2020. Bacon has a lot of fat and is unlikely to last 25 years. But what is an apocalypse without bacon? I would hate to find out, so I have some freeze dried. We won't be eating bacon and eggs, but a casserole with some bacon pieces in it will be so wonderful. We opened this bag and had a snack. It was delicious.
Final Thoughts
My freeze dryer will be headed to my brother's home 600 miles away for a year or so. I bartered a quarter of a cow of his grass-fed beef for that option, so he will pass through this area in a few weeks and pick it up. I already am enjoying the beef. He hopes to boost his long-term food storage, too.
Overall, I am quite glad that I made the purchase. I love knowing where my food came from and what is in the dish. My hubby loves knowing that he won't find any peas hidden somewhere. (his least favorite vegetable) I can't answer if you are on the fence and wondering if it's right for you, but I'm so glad we did it.
Additional Resources:



Stay informed by joining the Mind4Survival! 100% Secure! 0% Spam!
Mind4Survival is a free, reader-supported information resource. If you make a purchase through our link, we may, at no cost to you, receive an affiliate commission.