Sanitizing Water Containers: Here's How to Do It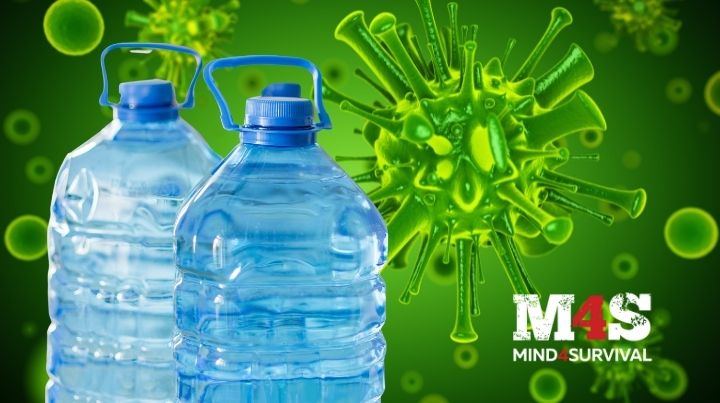 Your stored water is only as clean and pure as the container holding it. To make sure your supply is safe to drink, sanitizing water containers before filling them is essential.
There are a few different ways to sanitize your containers, depending on the material they are made from. Be sure to sanitize the lids as well as the containers.
Wash Them First
It's important to note that sanitizing water containers and washing them is not the same thing. It's impossible to sanitize a dirty container.
Gather whatever food-safe containers you've collected. Then run a sink full of hot, soapy water and wash them. A bottle brush can be very handy to get into narrow-necked bottles. If your hands are too big to go into jars, you'll want to get a glass brush. This set contains a brush for nearly any kind of vessel you might be washing.
There's no need to dry your containers before moving on to the next step.
Sanitizing Water Containers: Glass
If you're using glass containers, there are three different ways to sanitize them. You can use boiling water, your oven, or bleach.
Use boiling water.
Use your water bath canning pot or a large stockpot for sanitizing water containers that are glass jars.
Place the jars in the canner on the rack. If you aren't using a canner, pad the bottom of your pot with a towel. You don't want the jars to bang together and break while they're boiling.
Pour in enough water that it goes over the openings of the jars and fills them. Bring the pot to a boil and allow it to boil for 10 minutes. Then use a jar lifter to remove the jars. Place them upside down on a thick towel, so you don't damage your counter.
Do not put glass containers into water that is already boiling. Bring the pot to a boil with the containers already in it.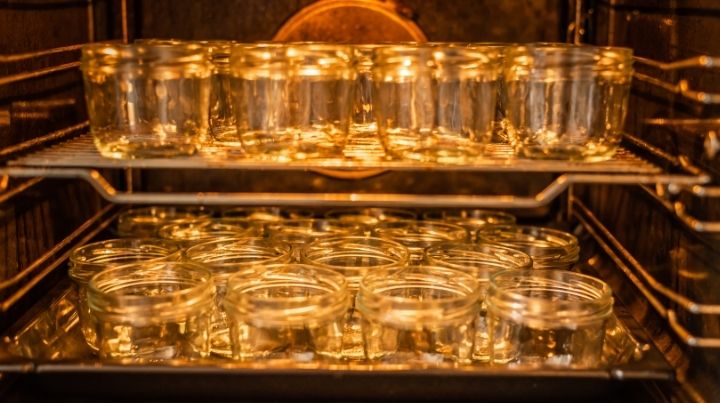 Use your oven.
Here's how to use your oven to sanitize glass containers.
Preheat your oven to 225 degrees Fahrenheit. Put the containers on a roasting pan or cookie sheet. Then, slide them into the oven for at least 20 minutes.
Allow the jars to cool before filling them with water. If you fill them straight from the oven, your glass containers could shatter, leaving you, at best, with a big mess, and at worst, with an injury from hot, flying glass shards.
Use bleach.
Since the bleach method is the same for glass or plastic, you can follow the instructions below for either material.
Sanitizing Water Containers: Plastic
Plastic containers can't withstand the heat methods described above for glass containers. You can use the following method to sanitize either glass or plastic containers.
Make a solution of 1 teaspoon of bleach to 1 quart of water. Make sure the bleach is unscented household bleach. Fill the containers with the solution, put the lid on them, then shake them well to make sure the bleach touches all the inside surfaces. Allow the container to sit for a minimum of 30 seconds, then pour out the solution. You can use the same solution more than once, so for example, you could fill six containers, sanitize them, and then pour the solution into your next six containers. You could repeat this three or four times without making a fresh solution.
You don't have to rinse the containers before filling them with the water you want to store.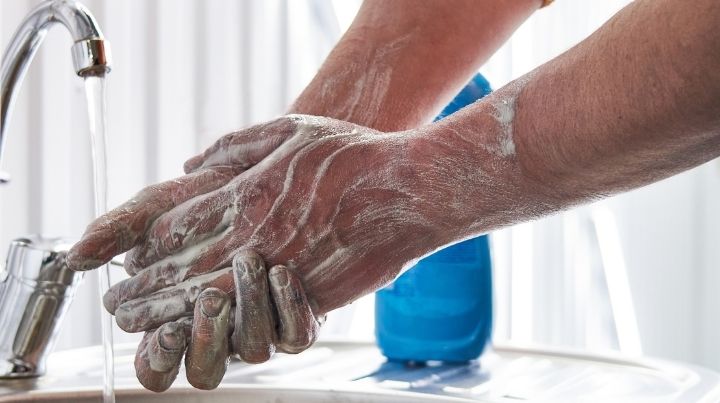 Don't Contaminate Your Jars and Bottles
Be careful not to contaminate the containers you just spent all that time sanitizing.
Make sure your hands are clean.
Don't touch the inside of the containers or lids.
Don't let them sit for too long before filling and closing them. Let them cool off, then fill them.
Some people water bath can water and process it using jar lids to seal it. With lids in such shortage, I would avoid using them to seal jars of water. Simply closing the containers tightly is sufficient, especially if you follow the correct DIY water storage process described here.
The Bottom Line on Sanitizing Water Containers
It doesn't make sense to go to all the effort of storing water for emergencies if you're not going to go through the steps to do it properly. Putting clean water into unsanitary containers is a waste of your time and energy, and you'll end up needing to purify the water at the time of use. In an emergency, you'll already be spread thin handling the crisis, so why make extra work for yourself when you can take that out of the equation beforehand?
How do you sanitize your water containers? Do you have any tips or tricks we didn't cover here? Tell us about them in the comments.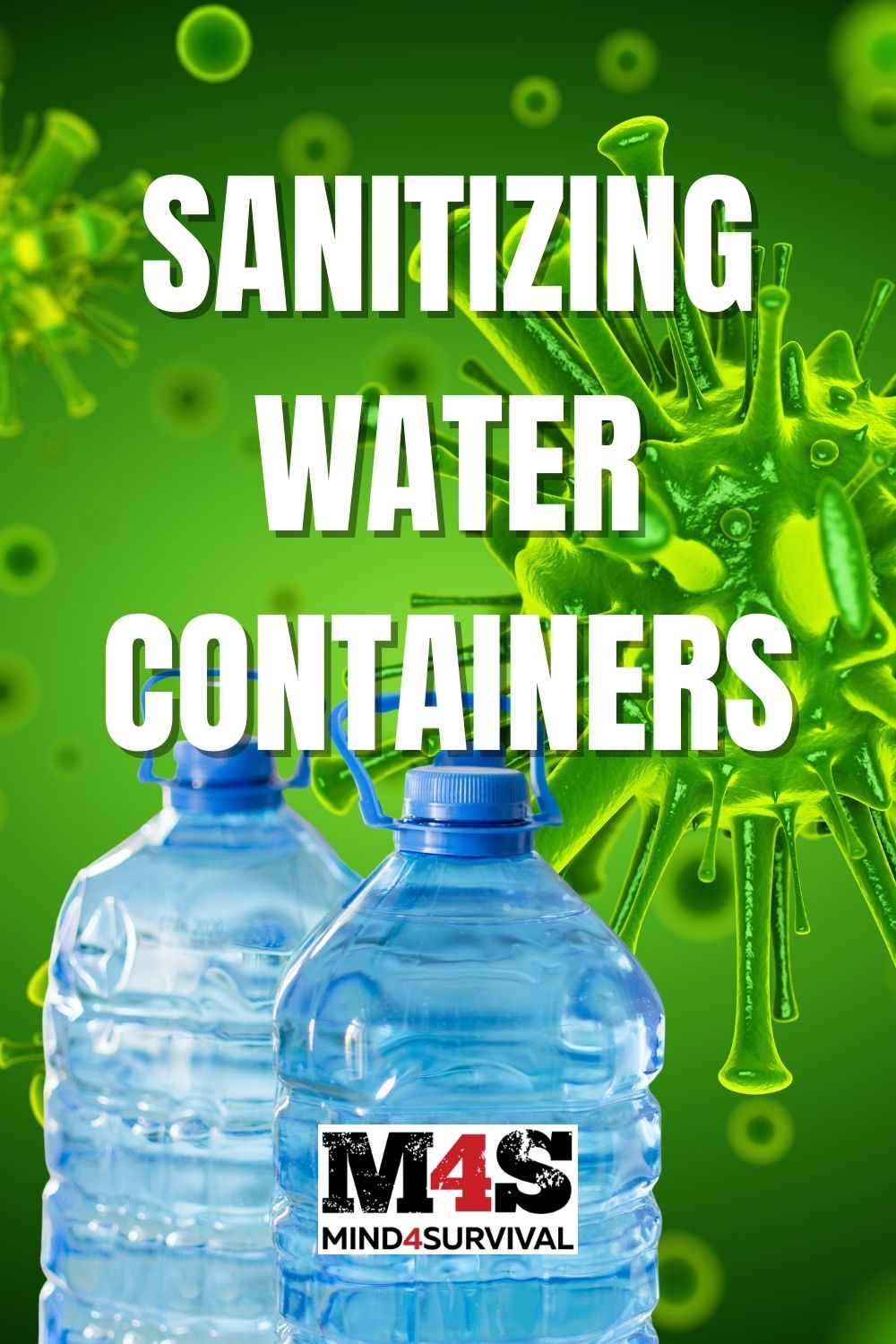 Stay informed by joining the Mind4Survival! 100% Secure! 0% Spam!
Mind4Survival is a free, reader-supported information resource. If you make a purchase through our link, we may, at no cost to you, receive an affiliate commission.