10 Best Thrift Store Finds for Living a Self-Reliant Life (2023)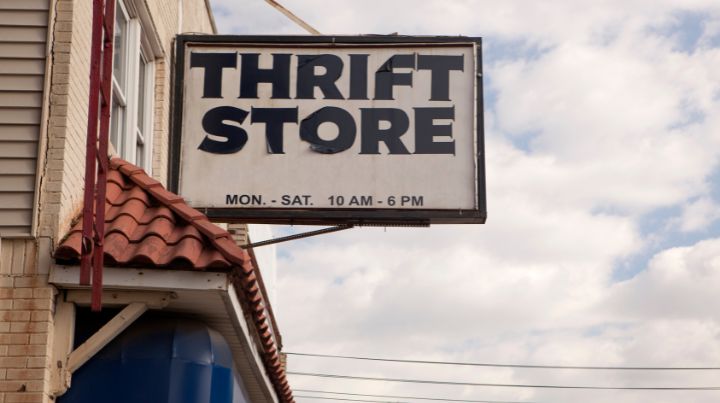 Thrift store finds are always a welcome surprise. Thrift store finds can be a lifesaver for self-reliant-minded people on a quest to stock the cupboards, shelves, and foot lockers of their homes, bunkers, and caches!
Thrift store shopping provides everyone with the ability to maximize the value in both their day-to-day life and their preparedness life. To that end, here is a list of the best thrift store finds for people seeking a self-reliant lifestyle.
1. Dehydrators
Dehydrators are often a topic of discussion in preparedness groups—and justifiably so. Dehydrators are great for resilience-minded people because they allow you to preserve food for later use. Do you have a garden or leftovers?
Dehydrators are an excellent choice for making your own long-term storage food stockpile. Some of the food items that make for great dehydration are meat, bananas, vegetable crips, and apples. So, the next time you're rummaging through a thrift store, keep your eye out for a dehydrator and begin adding even more to your food pantry!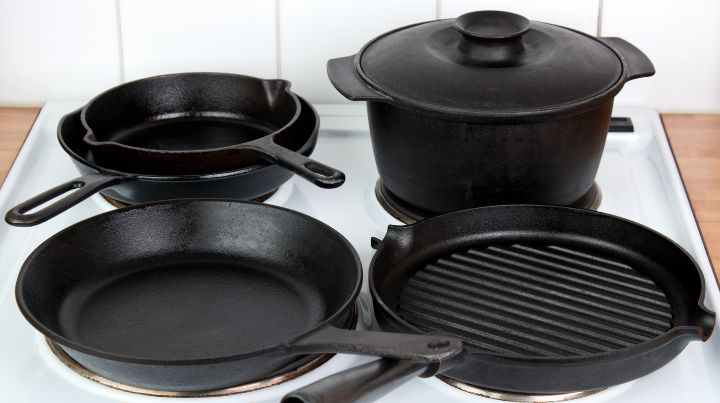 2. Cast Iron
Cast iron is one of the most durable materials available, making it perfect for preppers who want to invest in long-lasting cookware. It is also very affordable, especially if you buy it from a thrift store.
Cast iron can be used on any type of stove, including induction cooktops, and it heats evenly, which is essential for cooking food evenly. It is also oven-safe, so you can use it for baking as well as cooking on the stove. And because it is so durable, you don't have to worry about taking good care of it – it will last for years with proper maintenance.
Whether you are just getting started with prepping or you are a seasoned pro, cast iron is a great addition to your meal preparedness arsenal.
3. Winter Coats
One of the best things you can do to prepare for a winter emergency is to invest in a good winter coat. While winter coats are not only practical, good ones are often expensive. That's where the art of good thrift store shopping is helpful.
A good thrift shop can usually be counted on to have a selection of winter coats in good condition, and even some high-end department stores occasionally put them on clearance.
In addition to keeping you warm, a winter coat can also be used as an extra layer of insulation in your sleeping bag or as a makeshift pillow. If you're prepping for a winter storm, make sure to add a winter coat to your list of essential supplies.
4. Wool Blankets
Wool blankets are an awesome local thrift store find. That's because wool is an incredibly durable material that can withstand a lot of wear and tear.
It's also very effective at insulating against both heat and cold, making it ideal for use in a variety of climates. And if you're looking to save money, you can usually find wool blankets at your local thrift shop and the occasional garage sale.
As with all thrift store treasures, make sure to wash clothes, blankets, etc., before using them. They can often be musty from storage, dirty, or worse. With a few wool blankets in your closet, you'll be prepared for the cold when it arrives.
5. Boots
One important part of being self-reliant is having the right clothing and gear. Boots are an essential piece of gear for preppers, as they provide protection from the elements and can help to prevent injuries.
Local thrift stores, garage sales, a flea market, or online are all great places to hunt down your next pair of high-quality, low-cost boots. Fortunately for value and bargain hunters, thrift store boots can be just as effective as new ones, as long as they are in good condition and fit properly.
You should always try on boots before purchasing them to ensure that they are comfortable and will provide adequate protection. Also, before purchasing, make sure to perform a thorough inspection of the sole, the stitching, and the inside.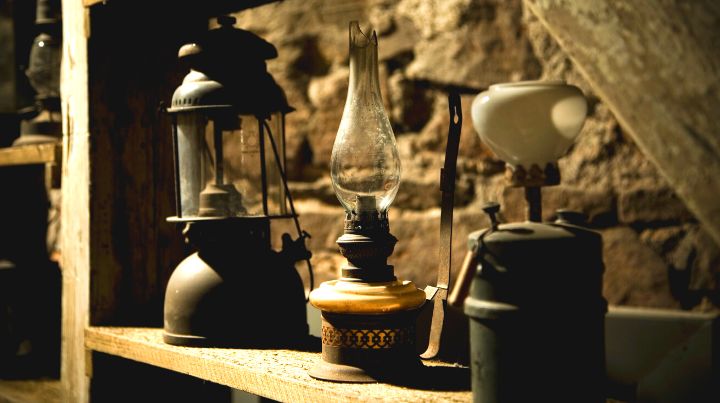 6. Oil Lamps
Local thrift shops are a great place to find oil lamps at a fraction of the cost of new ones. Oil lamps are relatively simple devices that have been used for centuries.
Oil lamps are an affordable and reliable light source that can be used in a power outage or other emergency situations. They don't require electricity to operate, and they can provide a steady light source even during a power outage.
Make sure to take extreme care when using oil lamps. Here are five simple steps to help you stay safe when using oil lamps (Source):
Never leave the lamp unattended
Place the oil lamp out of reach of children and pets
Use refined white oil (kerosene)
Before ignition, you must moisten the wick with oil
Avoid spills
7. Kids Clothes
As anyone with kids knows, clothing for children isn't cheap! As a matter of fact, the cost of raising a child to adulthood, without including college, is $233,610. That's right, it costs the average family nearly a quarter of a MILLION dollars to raise a child.
So, for those budget-minded, value-seekers out there, thrift store shopping or a flea market trip provide great opportunities to lighten the drain on your bank account while keeping your kids clothed.
8. Books / Manuals, etc
While it's important to have the right supplies on hand, it's also crucial to have the knowledge to use them effectively. That's where books and manuals can come in handy.
A trip to your local thrift shop can yield a wealth of resources on topics like emergency first aid, survival skills, do-it-yourself repairs, and more. And since preppers are all about being prepared for anything, it makes sense to have a wide range of manuals on hand—you never know when they might come in handy.
So if you're looking for a way to add to your preparedness library, be sure to check out your local thrift shop. You never know what kind of informational treasures you might find.
9. Board Games
Board games are a great example of a prepper item that you can find at thrift shops and yard sales. Not only are they relatively inexpensive, but they can also provide hours of entertainment in a power outage, the apocalypse, or other emergency situations that involve hours of boredom.
Best of all, people of all ages can enjoy board games, making them a great option for prepping families. So next time you're at a thrift shop or yard sale, be sure to keep an eye out for board games. They just might be your most fun prepper find yet!
10. Items for Resale
One way to be prepared is to have items on hand that can be used for barter or resale. This could include items such as canned goods, tools, and even clothing.
While some people choose to buy new, thrift stores and garage sales are great sources for finding prepper items at a fraction of the cost. Not only can preppers find items that are already in good condition, but they can also often find items that are new or gently used.
By shopping at thrift stores and garage sales, preppers can stretch their preparedness budget and still have the supplies they need to be ready for anything.
The Bottom Line on Thrift Store Finds
To sum it up, thrift stores are a great place to find items at a fraction of the cost. Not only can you find items that are already in good condition, but you can also often find items that are new or gently used. By shopping at thrift stores and garage sales, self-reliant people can stretch their preparedness budget and still have the supplies they need to be ready for anything.
Do you have a favorite thrift store find? Tell us about it in the comments below.
Additional Resources:
Stay safe,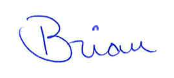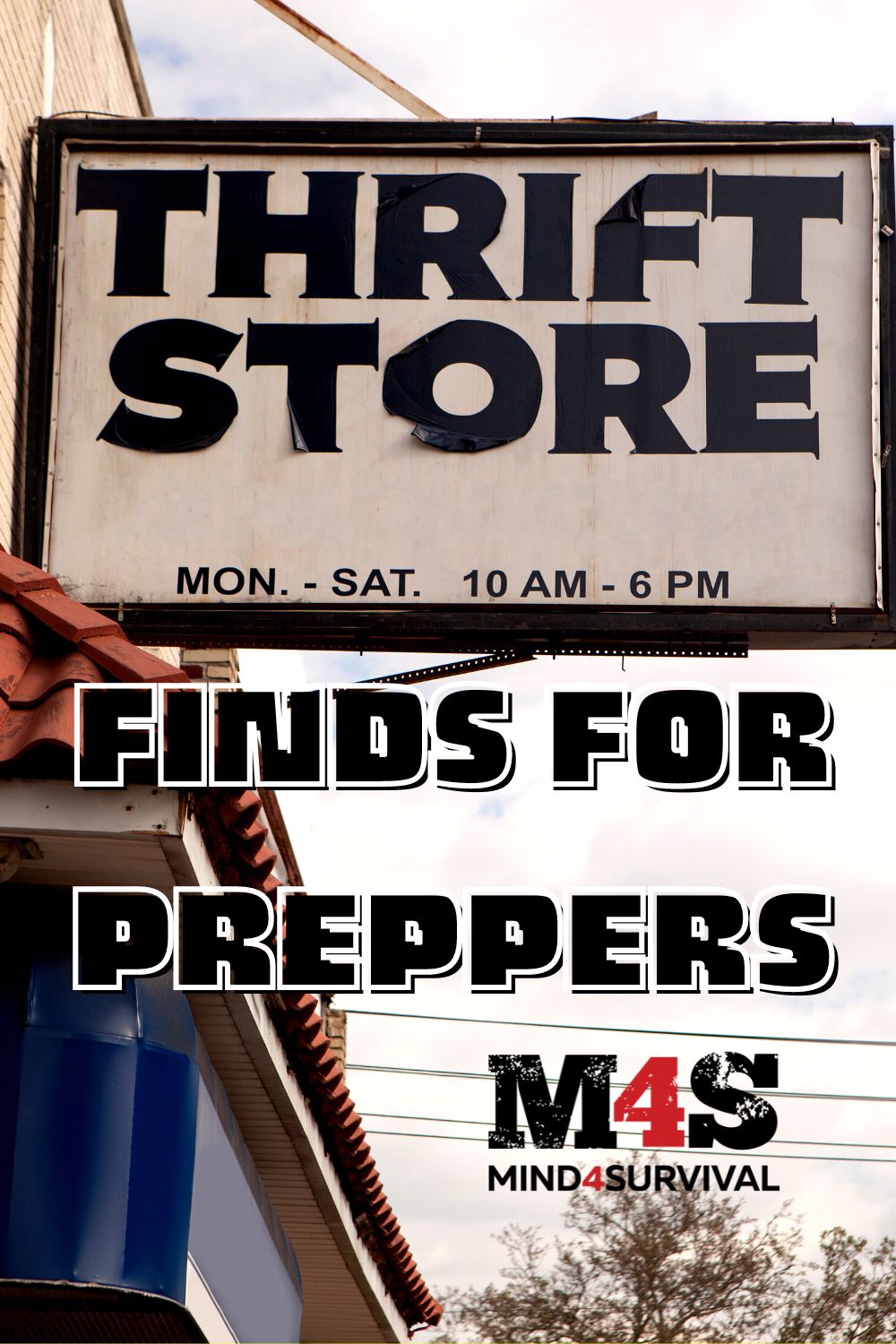 Stay informed by joining the Mind4Survival! 100% Secure! 0% Spam!
Mind4Survival is a free, reader-supported information resource. If you make a purchase through our link, we may, at no cost to you, receive an affiliate commission.