What to Do if You're Caught in a Riot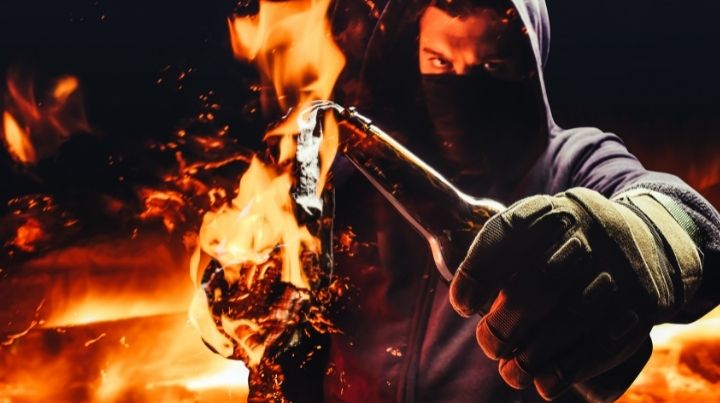 It doesn't really matter where you're at these days. The world is a tinderbox. One minute you're spending a nice afternoon window shopping, and the next minute, all hell is breaking loose. Do you know what to do if you're caught in a riot?
Civil unrest is becoming a more frequent occurrence, often organized via social media and messaging apps. Any time there's a verdict, it doesn't really matter which way it goes. A riot may ensue. Chaos regularly erupts when there's a police-involved shooting. The appearance of unpopular public figures, groups who disagree politically showing up at one another's shindigs, statues that are suddenly deemed inappropriate… it doesn't take much these days for ordinary people to turn into violent mobs. And if you happen to be unfortunate enough to be in the area when this happens, through no fault of your own, you have to figure out what to do if you're caught in a riot.
Here's What to Do If You're Caught in a Riot
Plan A.) Leave Immediately.
This article assumes that you aren't deliberately out there rioting with everybody else and that you don't want to be in the midst of a riot. Perhaps you were attending what was supposed to be a peaceful protest about a cause you deeply support. Maybe you were just walking down the street to the bus stop and suddenly found yourself in the middle of a burgeoning episode of unrest. It could be that the crowd separates your workplace and your parking place.
Whatever the reason you happen to be there, leave. Leave immediately. If you have children with you, go even faster. The very safest course of action is to get away from the riot as quickly as possible.

Plan B.) How to Get Out of the Crowd
But what if the riot has evolved around you, and you find yourself in the center of things? That makes it a whole lot trickier to just leave. Whatever you do, don't try to take a horizontal path directly to the sidelines. That's a good way to get trampled or pushed down by an angry crowd. Make your way to safety diagonally, exit down the nearest side street, and revert to Plan A.
Plan C.) Try to Blend In
Depending on the mood of the crowd, extricating yourself might not be as simple as moving diagonally with the group. Mob mentality is a scary thing and can cause ordinarily nice, law-abiding people to do things they'd never do ordinarily. Dr. Wendy James writes of the psychology of mob behavior:
A mob mentality phenomenon has occurred throughout human history, whether witch-burning, religious zealotry, political protests or reaction to perceived racial microaggressions.

Three psychological theories address crowd behavior.

First is Contagion Theory, proposes that crowds exert a hypnotic influence on their members that results in irrational and emotionally charged behavior often referred to as crowd frenzy.

Second is Convergence Theory that argues the behavior of a crowd is not an emergent property of the crowd but is a result of like-minded individuals coming together. If it becomes violent is not because the crowd encouraged violence yet rather people wanted it to be violent and came together in a crowd.

Third is Emergent-Norm Theory that combines the two above arguing that a combination of liked-minded individuals, anonymity and shared emotions leads to crowd behavior.
Clearly, this is not a good situation in which to find yourself. It's imperative not to set yourself up as the perceived enemy when people are influenced by a mob mentality. This is literally a life-and-death situation.
You don't want to break any laws or commit acts of violence or vandalism, but otherwise, blending in is reasonably easy. Even if it goes against your grain, act like the people around you. Chant the same slogans. If there's a sign on the ground, pick it up. All the while, work your way diagonally to the edge of the crowd (Plan B) so you can get the heck out of there (Plan A.)
What to Do If You're Caught in a Riot in Your Vehicle
Being caught in a riot in your vehicle is a totally different situation. You'll see lots of bravado out there in Internetland about how you should just speed up because they'll either move or get run over. That's a great idea…if you want to go to prison or get dragged out of your disabled vehicle and beaten to death.
Another not-so-great idea is pulling a shotgun. If you are vastly outnumbered, you're only going to be able to take out a few people before, again, you are dragged out of your vehicle and beaten to death.
Greg Ellifritz of Active Response Training has an excellent article on how organized many of these riots are, with spotters, drones, snipers, and aerial support. Depending on the level of the situation, you will not be able to drive your way out of this.
In short, his advice:
The only way to win in this situation is to avoid being there. Most protests are not spontaneous. The rioters want media coverage, so they announce their protest sites in advance. Pay attention to your local scene and avoid those areas, especially after dark. Doing that will be better protection than having a belt fed machine gun in your back seat. Stay away from this mess…

…If you get caught up in one of these things, you absolutely MUST stay in your car unless the rioters attempt to burn you alive inside. The vehicle provides at least a little bit of cover from the rioter's gunshots. Staying inside proves that you didn't "go looking for a fight." You may also have more legal protection in your vehicle than on the street in states with some form of "Castle Doctrine."
Again, not being in the area is crucial. Check out his article for several other solutions he recommends.

Can You Use Deadly Force If You're Caught in a Riot?
Legally, use the least amount of force possible to get away. Either wait patiently if you feel your life is not at risk, or maneuver your vehicle very slowly and carefully. Keep moving very slowly, giving people plenty of time to get out of the way. DO NOT gun it and plow them over. Remember, when this ends up in a courtroom, the side with the most witnesses often wins.
USConcealedCarry.com also has advice about using deadly force if you're caught in a riot. They recommend that you call 911, capture images and video of the situation, and keep moving (slowly) if you can. Dave Young, founder, and director of Arma Training, concurs with Ellifritz:
Turning around and immediately leaving the area, if possible, is your best option. If you cannot turn around or go around the group, driving your car slowly through a group of protestors may be seen as a reasonable use of force. But unless you can articulate a reasonable fear of death or great bodily harm, you can't use your car as a deadly weapon by driving over people or accelerating through the crowd.

"If you can drive away, do so. That might mean driving on the sidewalk or on the shoulder of the road or through the median," said Young. "Escape is your first option."
What If Your Vehicle Isn't Drivable?
What if your vehicle won't move because it has stalled or been otherwise disabled? Then you must judge the demeanor of the crowd. If you're just surrounded, and they aren't paying attention to you, sit tight and don't try to draw attention to yourself. However, if they're attacking your car and trying to break the windows, the time to fight back may be at hand. Remember – this is your absolute last resort.
Young advises:
"Fighting through a large, violent crowd is one of the most dangerous situations in the world. Often the sheer number of attackers can overwhelm even heavily armed and well-trained individuals. Exiting your vehicle is the last resort in a very dangerous situation," said Young. "The first and best option is to avoid such situations. If you happen upon such a protest, do your best to get away immediately. There is no telling when the crowd can turn violent."
If you have family members with you, remember that whatever actions you take, they will pay for too at the hands of an angry mob.
Your Best Bet Is NOT to Get Caught in a Riot
Although it isn't always possible to avoid every dangerous situation, riots tend to be one of those things that people know about. Set up something like Google alerts and keep apprised of things going on in your area. Unfortunately, it just takes one person to turn a peaceful protest into a violent mob scene, so avoiding protests, even though it's our constitutional riot to protest, is also the safest route.
Have you ever been caught in a riot? What was the experience like? Share your stories in the comments.
Additional Resources: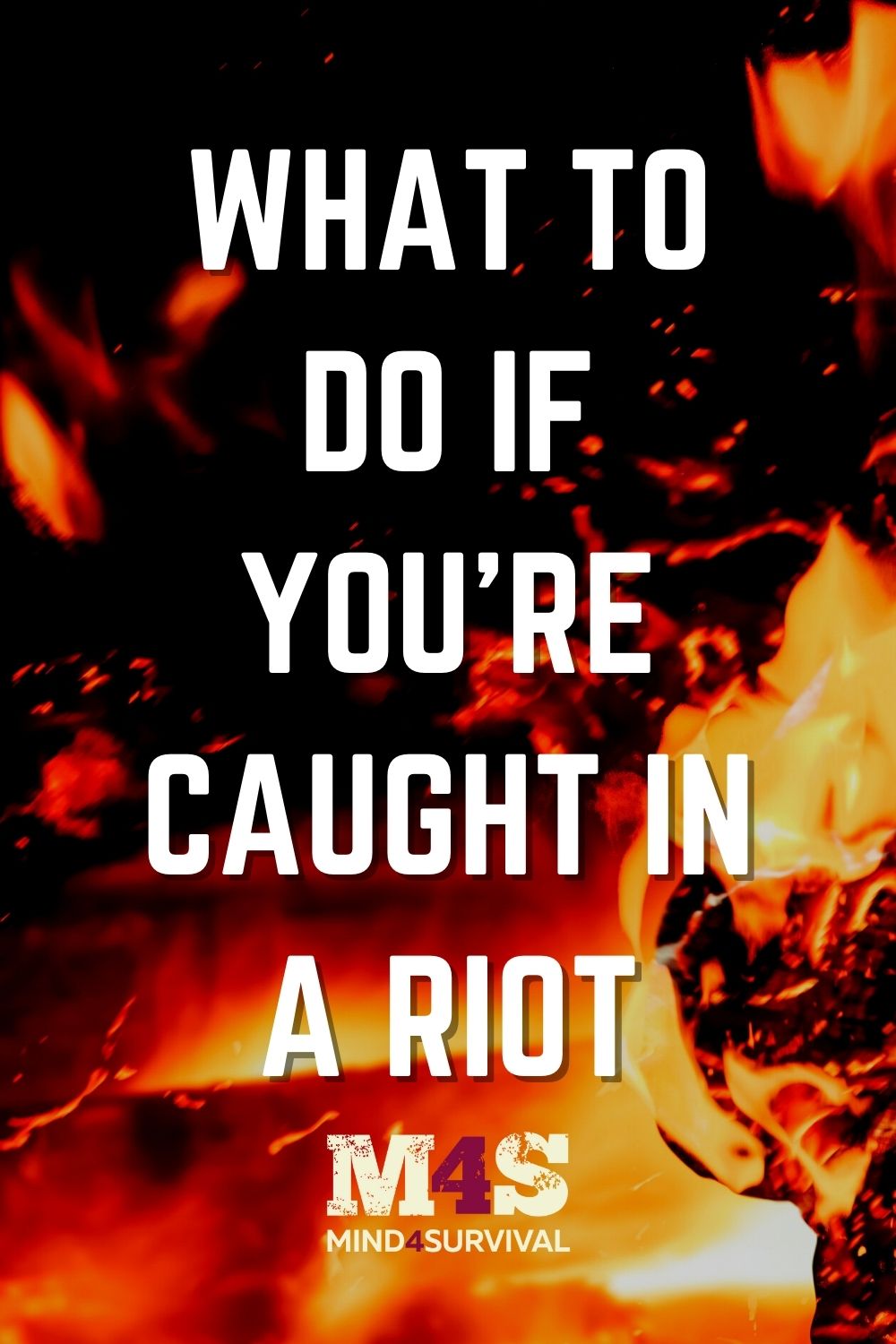 Stay informed by joining the Mind4Survival! 100% Secure! 0% Spam!
Mind4Survival is a free, reader-supported information resource. If you make a purchase through our link, we may, at no cost to you, receive an affiliate commission.