7 Awesome Prepper Gifts for Christmas 2023
Last Updated June 19, 2023
|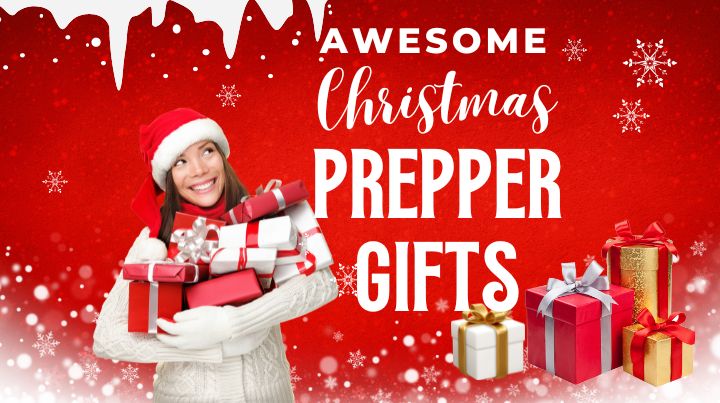 Are you looking for some awesome prepper gifts for a special someone in your life? Do you want something other than a junky pre-made survival kit or bland emergency food supplies? If so, then these gift ideas may be just what you and your loved one need for your survival situations.
Don't wait! Dive in and check out these best gifts today!
Disclaimer: This article contains affiliate links that I may receive a small commission for at no cost to you if you choose to purchase a product through a link on this page.
1. Portable Emergency LED Light Bulb (Rechargeable)
Looking for an emergency light that is both portable, rechargeable, and ready when the power goes out? Look no further than the Woonbasic Emergency LED Light Bulb! This light bulb provides 800 lumens of brightness and has a medium Edison base, making it perfect for use in a variety of settings. Plus, the Woonbasic is easy to take with you wherever you go, thanks to its compact design.
Features:
100% portable light source.
Great for emergency purposes – screw these bulbs into any light fixture, then, when the power goes out, flip the switch and let there be light!
9w with 800 lumens of brightness!
Self-charging!
100% UL standard compliant
The Woonbasic Emergency LED Light Bulb is an excellent product that will make a wonderful gift for any survival-minded person.
2. Battlbox Monthly Subscription
The Battlbox Monthly Subscription is a great gift for the prepared person in your life! This subscription box is the gift that keeps on giving and includes everything you need for your next outdoor excursion, camping adventure, or emergency situation. The box comes packed with high-quality gear from industry-leading brands and includes both tips and plans for making the most of every adventure!
Features:
Four subscription levels start at just $34.99.
Delivered every month – unsubscribe anytime!
All boxes have a value of at least 50% over the box price.
Get access to survival gear year-round!
Subscribe for the "Knife of the Month" pack!
So order the gift that keeps on giving and get your favorite father a Battlbox Monthly Subscription today and help him be ready for anything that heads your way!
3. Faraday EMP 10L Dry Bag by Frog & CO
If you're looking for a durable dry bag that can stand up to the elements, look no further than the Frog & CO EMP 10L Dry Bag. This tough little bag is made of rip-stop fabric and can withstand anything you throw at it – from water to mud to sand. And because it's a Faraday bag, it will protect your gear from EMP and RFID signals, ensuring that your electronics are safe and sound. Whether you're headed out on a camping trip or preparing for an emergency, the Frog & CO EMP 10L Dry Bag is an essential piece of gear.
Signal Proof! Block Cellular, Wifi, Bluetooth, GPS, RFID, NFC, CME, and EMP.
Simple 3-Step Waterproofing! Your gear is completely protected from water damage too.
The durable rip-stop Faraday Dry Bag material is tightly woven together to stand up to all kinds of abuse.
The roll-up top works as a sturdy and comfortable carrying handle.
Don't wait! Order this EMP-proof dry bag today, and be better prepared for tomorrow!
4. Sidekick Individual First Aid Kit (My Medic)
If you're looking for a versatile and reliable first-aid kit, then My Medic Sidekick First Aid pouch is a perfect choice. Whether you're headed out on a hike or just want to be prepared for everyday scrapes and bruises, this pouch has got you covered.
My Medic is packed with everything you need for basic first aid, including bandages, antiseptic wipes, gauze pads, and more. Plus, it's all organized in a handy zip-up pouch that's easy to grab and go. And if you ever need to use it in an emergency, the clear pockets make it easy to find what you need quickly.
Features:
Enhanced organization with the new folding page design.
Extra space allows personal customization.
The Hypalon MOLLE panel is lightweight and highly durable.
Don't wait until it's too late – be prepared for anything with My Medic Sidekick!
5. Family Board Game – Wildcraft! an Herbal Adventure Game
Looking for a fun, educational board game the whole family can enjoy? Wildcraft!, an Herbal Adventure Game, is perfect for kids ages 4-8 and up. This cooperative board game teaches 25 medicinal plants and problem-solving skills as players work together to save the sick animals in the forest.
Players take on the role of animal helpers, working together to find the right herbs to cure sick animals before time runs out. Along the way, they'll learn about each plant's unique medicinal properties and how to use them. Wildcraft! is more than just a board game – it's a fun, interactive way to learn about herbal medicine and nature.
Features:
Fun and strategic challenge that's also easy to follow – NO READING REQUIRED.
A perfect mix of adventure and learning about 25 edible and medicinal plants, where they grow, and how to use them!
Wildcraft! is made in the USA with 100% recycled and recyclable materials.
Gather your family and friends and get ready for some fun learning with Wildcraft!
6. The Ready Family: My First Prepping Book
The Ready Family: My First Prepping Book is the perfect way to introduce your family to the world of preparedness! Featuring the lovable Mr. and Mrs. Ready, this fun and informative book helps explain the basics of emergency preparedness in a way that kids (and adults!) can understand.
With charming illustrations and simple text, The Ready Family shows how easy it is to be prepared for whatever comes our way. From building an emergency kit to making a family evacuation plan, this book covers all the essentials for staying safe in a disaster. Plus, it includes valuable tips for dealing with specific types of emergencies, such as hurricanes, earthquakes, and power outages.
The Ready Family: My First Prepping Book is a must-have for any family who wants to be prepared for anything life throws their way. Order your copy today!
7. 52 Prepper's Projects for Parents and Kids
When it comes to preparing for the unpredictable, there's no better teacher than David Nash's 52 Prepper's Projects for Parents and Kids. In his book, Nash provides a project a week to help parents and kids work together to get ready for anything.
From building a 72-hour emergency kit to creating a family disaster plan, and food storage, each of Nash's 52 projects is designed to teach valuable survival skills while promoting bonding and fun. Whether you're a parent who wants to instill a sense of confidence in your child or a kid who wants to be prepared for anything, 52 Prepper's Projects for Parents and Kids is the perfect guide.
The Bottom Line on the Best Prepper Gifts!
When it comes to getting the best gifts for the prepper in your life, look for the more unique and different survival gear. Preppers typically have lots of stuff, but not always lots of useful stuff that also make great gift ideas.
So, avoid the old pre-made survival kit and consider something special from this list, something like the Frog & CO EMP 10L Dry Bag! You can't go wrong!
Additional Resources: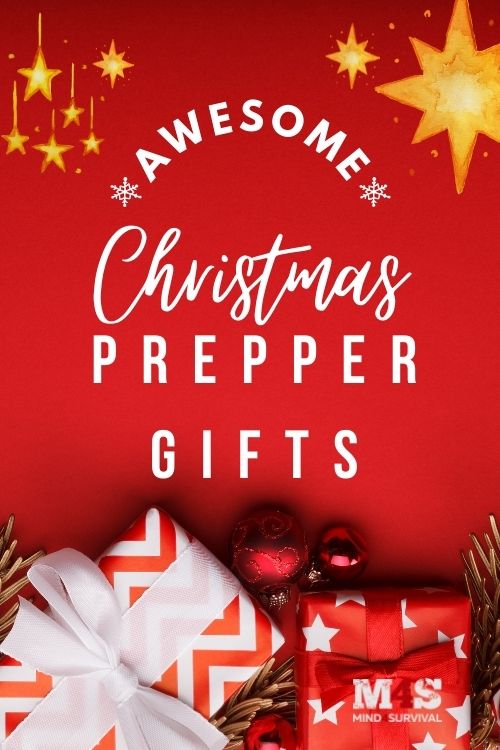 Stay informed by joining the Mind4Survival! 100% Secure! 0% Spam!
Mind4Survival is a free, reader-supported information resource. If you make a purchase through our link, we may, at no cost to you, receive an affiliate commission.