Water Storage: It's Not Just for TEOTWAWKI
Last Updated August 15, 2023
|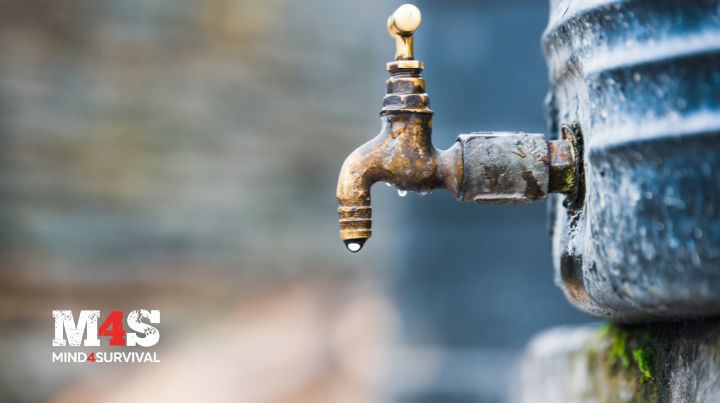 When people think about stockpiling water for SHTF situations, they might envision a dramatic event like an enemy attack or major societal breakdown. And while these are real possibilities, we're far more likely to encounter mundane household mini-disasters. When we do, we find our preps come in handy for these, too.
A Little Background
When I bought my current property, I had no experience with rural homes. During the home inspection, when the inspector was explaining how the well worked, I asked what people did during power outages. He told me there were different off-grid power options but that most people just kept big cisterns.
So I began keeping cisterns along with household drinking water and my Berkey, and they've come in handy on multiple occasions. I'll share these occasions just to illustrate how being reasonably prepared comes in handy not only for significant events like hurricanes, but for minor household breakdowns, too.
For some background, my home is an old homesteading cabin that had plumbing and electricity added eighty or ninety years ago. The plumbing collapsed in the 80s and was completely rebuilt, but very cheaply.
I bought my home knowing that the plumbing was not in good shape; I had planned to embark on some major rebuilding after moving in. But my financial situation changed shortly after buying the property, and we've been making do with periodic outages ever since.

Mini-Disasters
Grid-Down/Well-Down
Since the well is tied to the electrical grid, we lose water whenever we lose power. In general, my area has a decent power supplier, but we have violent storms. When power gets knocked out in the winter, it's not a big deal if snow is on the ground because I can just collect that, melt it over the stove, and use that for household needs. However, one year we lost power for 14 hours in the heat of summer when 80 mph winds blew a tree into power lines. My stored water came in handy that day!
Repairs Gone Awry
I lost water for a day at a time when part of the hydrant broke, and then I realized that the shutoff valve (which would have kept water in the pipes in the house) was broken, too.
Because of some patched-together wiring, I've even lost water after doing simple maintenance. My hydrant had been leaky, so I shut off the well at the breaker to adjust it. I performed the adjustments I needed to, but then the power wouldn't come back on. Instead of having water off for 15 minutes, I lost water for more than half a day while figuring out what had gotten knocked out of place.
More recently, I again shut off the power at the breaker because I needed to replace the pressure switch. I've replaced enough other kinds of hardware over the years; I thought I could do this too.
Well, I was wrong. I got everything in place correctly, but finding the exact pressure adjustment for my somewhat-finicky well turned out to be more of an art than a science, and I needed help. Instead of having the water off for half an hour, we had it out for an entire afternoon.
And then, after we got the water back on, ate dinner, and washed the dishes, a storm blew through and knocked the power out, which meant that, shortly after getting the water back on, we lost it again for the rest of the day.
It Could Have Been Worse
All my kids and I could do was laugh. But we were able to because, as annoying as these situations were, I had water on hand for my animals, my garden, and my household. Having full cisterns has made a huge difference in every one of these incidents. I spend days like these grumbling and rolling my eyes while driving around looking for parts and calling friends for advice instead of having a full-blown panic attack.
And these are all mishaps involving a well, but people on city water can have mini-disasters, too.
City Water
I lived in the Chicago area as a kid. My parents were always afraid of pipes bursting in cold weather and dutifully let the faucets drip on those nights it dropped below -20. However, the cold never caused problems for us; we lived in a cheap home with big, beautiful trees. And those big beautiful trees had big powerful roots that managed to break the water main, and we lost water for a few days while waiting for that to get fixed.
I was on city water more than ten years ago when I was living in a different region of the country, and a hurricane blew through. Our power was knocked out for a day, which we were prepared for. However, the hurricane managed to break the tiny bit of plumbing outside our house, which meant we lost water, too. Fortunately, we were able to get it repaired within a day or so, but I remember thinking that the power outage was less annoying than the loss of water. And that was why, when I bought the rural property, I made a point of asking the home inspector what people on wells did during power outages.
Problems can happen anywhere. Maybe an enemy EMP will knock out the electrical grid. Perhaps you'll have a neighbor that does something stupid and knocks out power in your neighborhood. Either way, you'll need time to think about how you'll adjust to new circumstances, and that's exactly what full cisterns give you, time to think and adjust.

Emergency Water Storage
In case you're inspired to buy a cistern, a word of caution. Go to a store and pay for a new one unless you're getting something from someone you know and trust. If you buy a cheap used container on Craigslist or anywhere else online, you don't really know what's been stored in it before. The containers in which you buy 265 gallons of Roundup look a lot like some larger water storage units; I would not use those for anything I would wash with, give to my animals, or pour on my garden.
Final Thoughts
We've written before about Third-Worldization on this website. I agree wholeheartedly with the notion that while something exciting is possible, we're more likely to encounter a slow, steady decrease in quality of life. As this happens, having a clean, comfortable home will make all the difference in your and your family's mindset. Keeping water on hand will help you achieve that.
Additional Resources: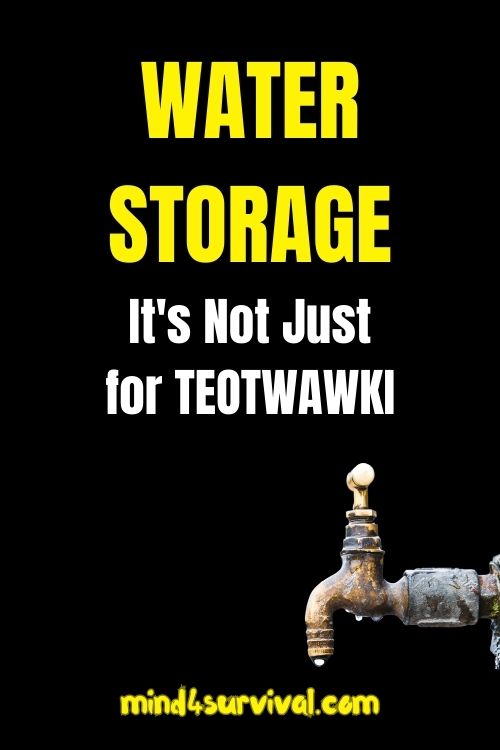 Stay informed by joining the Mind4Survival! 100% Secure! 0% Spam!
Mind4Survival is a free, reader-supported information resource. If you make a purchase through our link, we may, at no cost to you, receive an affiliate commission.